Searching for the best review management software can be overwhelming. After looking at the various features on offer, you may wonder what you really need to improve your online reputation. Then the confusing pricing plans can leave you thinking if you can afford it. Thankfully, finding affordable online review management is possible.
It's hard to know what to look for in a trusted review management platform if you have never used this type of product before. You may find software offering review monitoring, sentiment analysis, SMS marketing, Live Chat, review requests, response automation, and more.
But if you only want to get more reviews from customers, do you really need to pay for a ton of extra features you don't use?
Online business reviews are such a significant part of your reputation that you can't afford to make a mistake. For most businesses, getting a steady stream of real customer reviews is enough to start managing an online reputation. However, you need a review management solution that sends automated review requests and allows you to answer user reviews promptly.
If this is what you need from a reputation management tool, please read on. This guide will help you know what to look for in online reputation management software.
What Is the Best Review Management Software?
The best review management software must motivate your customers to leave feedback. It should send automated messages, notify you when new reviews come in, and generate reports. The software must make it easy for customers to leave feedback. Some popular review management services are Podium, Starloop, and Birdeye.
Related reading: Podium vs. Birdeye vs. Starloop — Which is Best?
Why Your Business Needs to Manage Online Reviews
Online Google and Facebook reviews can make or break a business. Reviews are so critical that they are more effective than traditional advertising. A 2019 study found that 96 percent of consumers don't trust ads. On the other hand, 82 percent trust reviews. For a customer to feel confident in their purchasing decision, they will turn to online reviews to verify if a business has a positive reputation.
Managing your online reviews is about making sure readers get the best image of your business, products, and service. If you provide excellent customer service, happy customers will be willing to leave positive reviews. However, if you leave getting online reviews to chance, you risk getting negative feedback from unhappy customers.
The way you manage reviews shows potential customers that you take pride in your business and value your customers. If you respond to all reviews—good, bad, and fake ones—you control your online reputation
How crucial is it to invest in reputation software to manage ratings and reviews? Statistics from the Spiegel Research Center show that the likelihood of a purchase is five times greater when a business has five reviews. Managing online reviews allows you to see which of your products needs more user reviews to boost your revenue.
Another reason to manage online reviews is that you protect your reputation from the impact of negative reviews. If you don't actively encourage customers to leave reviews, the chances are that you'll not reach the ideal review rating. Studies show that the perfect star rating is between 4.2 and 4.5. This requires getting plenty of 5-star reviews to offset any negative reviews you might receive.
Related reading: Why you don't always need 5-star reviews.
When you manage your online reviews, you are in control of how readers perceive your business. You can use your positive reviews as part of your marketing strategy and increase conversion rates—leading to more sales.
Online Reviews and Search Engine Optimization
User-generated content in online reviews also becomes part of your search engine optimization. When leaving feedback, authentic reviews contain keywords, phrases, and customer sentiment that Google uses to rank your website. Additionally, consumer ratings on your profile also show up on search engine results and Google Maps.
Review generation should become an integral part of a robust SEO strategy and your marketing campaigns.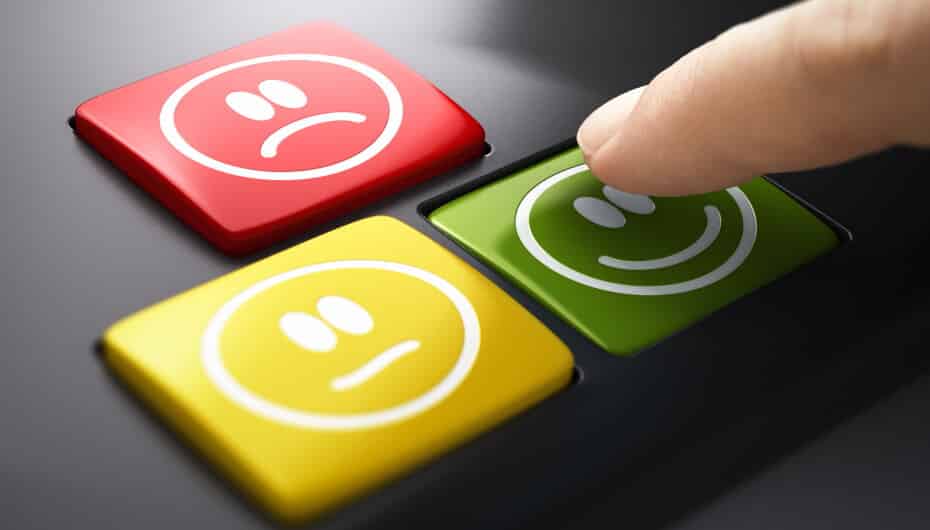 Features of the Best Review Management Software
Here are just some of the key features that you may want to consider when deciding on the best review management software:
Automated review requests—The most critical aspect of any software to generate reviews is to send review requests. Inviting customers by SMS or email is a proven way to get more reviews.
Multiple review sites—Google is by far the most beneficial online review platform. But don't forget the power of social media platforms. Facebook has a massive audience, and you might want to consider industry-specific review sites.
Unified inbox—For greater efficiency, you should ensure that all your reviews are stored in one inbox and with as much information as possible.
Review notifications—It's crucial to get instant review notifications so you can respond faster. A fast, appropriate response is the best way of dealing with bad reviews.
Review generation—An absolute must in review management is generating a steady stream of new reviews. It's a bonus if there is also negative review management support.
Ease of use—For most businesses, managing reviews should be straightforward. The more features in a review management platform, the more complicated it is to use. Additionally, any review request should be simple for customers to follow.
If you are looking for a solid review management platform, the above features are essential. Depending on your reputation management needs, you could consider software that has additional features such as the following:
Chat services—Web chat, video chat, and even employee chat groups are all helpful to increase collaboration and engagement.
Reports—For greater customer insights, review management software should generate reports on your reviews and even competitor analysis.
Business listings—Some software will ensure that your business listings are accurate and updated across various pages.
Sentiment analysis—This feature can help uncover shifts in feedback and customers who share the same negative opinions.
Integrations—It is essential that your review management software seamlessly integrates with the existing software you are using.
Social media monitoring—It can be helpful to monitor social media channels to see what people are saying about you online.
Surveys—By creating surveys, you can email or SMS links to gain even more customer feedback.
How to Choose the Best Review Management Software
The first thing most business owners will check with review management software is the price. Some pricing plans can be tricky to follow. And some review management sites such as Podium don't even publish their prices.
When looking at prices, check what is included in each pricing plan. Some professional plans require a costlier subscription for the advanced features. Evaluate the available features in the various plans. Choose one that only has the essential services you need. And make sure you can stick to a budget.
Finally, check if the price is per location. Multi-location businesses find that reputation management can become expensive if the basic cost only covers one location. If you have multiple locations, you will need to reevaluate your budget.
It would be best if you also looked for software that has a free trial period. You don't need to be locked into a lengthy contract, paying for review management services you don't use.
Before signing up for any reputation management software, it's a good idea to read reviews. You can check testimonials on the review site. However, they tend to be hand-picked and not always objective. The best way to get a feel before a purchase is to see what others are saying. You might also want to contact the review management support team to see how invested they are in their customers.
Related reading: The actual cost of review management software.
The Best Software for Managing Business Reviews
When considering features, price, ease of use, and review generation, Starloop shines above the rest.
It takes just a few minutes to set up your Starloop account, and you are ready to start sending automated, friendly review invitations via SMS and email. All your new Google and Facebook reviews are in one inbox that you can reach from a visually appealing dashboard. You get notifications of recent reviews, location, the customer's information, the star rating, and the review content.
Starloop has negative review management, and API integrations are coming soon.
Compared to other online reputation management platforms such as Podium and Birdeye, Starloop has a unique feature to encourage customers to leave reviews. Starloop has a "one tree for one review" policy that sets it apart from the competition. This means that for every review your business receives, Starloop plants a tree.
Customers are more inclined to leave reviews because they know they are making a difference to the environment. At the same time, your reputation as a green company gets a huge boost, and you get more reviews.
Starloop also excels when it comes to its pricing plan. All the fantastic features are included in a single monthly payment. The cost stays the same regardless of the number of locations you manage, and you get unlimited users. Unlike some popular review platforms, there is no limit to the number of customer reviews you can manage.
Another advantage of Starloop is that there are no lengthy contracts. You can start with a 14-day free trial period to explore the benefits. If you decide that Starloop is for you, you can enjoy a steady increase of new reviews from your customers. In fact, your investment is backed by a guarantee that you can triple the number of reviews you get.