How much is your reputation worth? For every business, large and small, its reputation is its greatest asset. The price of reputation management is relatively insignificant, considering what a damaged reputation can cost you. Most businesses realize that reputation is worth protecting at all costs.
Pricing and costs for robust reputation management vary. Much depends on the type of business you operate. In the digital age of social media, online reviews are among the most critical ways of managing a reputation. Think of online reviews as free online word-of-mouth advertising.
In the past, businesses gained a reputation by what their customers told their friends—the original word-of-mouth advertising. Also, it was sometimes necessary to spend a small fortune on advertising to get the word out there. It was what people said about your product and service that counted.
Today, reputation management is the same but with a modern twist—it's all online. As a business owner, you must be up to date on reputation management pricing and costs: all you need to know can be found right here.
What is Online Reputation Management?
Your online reputation is everything that consumers can find about your business online. Your reputation is what people read about you on your website, social media posts, and—most importantly—reviews. Online reputation management is your strategy to ensure that what people find online is positive. A solid reputation encourages them to visit your site and then convert to a paying customer.
The best way to create an online reputation management strategy is to be active on your social media pages, responding to comments and questions. Your website should be optimized for the user experience. And you need to reply to every review.
Related reading: Five reputation management mistakes to avoid at all costs.
Why Reputation Management is Crucial for Your Business
A reputation can make or break a business. Before online reviews and social media, an unhappy customer had a small audience to complain to—mainly friends and family. Today, a dissatisfied customer can tell the entire world. Studies show that 91 percent of adults will carry out an online search before making any purchasing decision. As soon as they hit the search button, they have the first impression of your business.
Reputation management is crucial because it's impossible to stop people from expressing their genuine opinions online. You should be grateful for this as this is a free source of advertising. However, if you don't manage what people are saying, your reputation can take a nasty dive.
Related reading: How to respond to every type of review.
The True Cost of Reputation Management
Businesses are constantly trying to find ways to reduce expenses. But reputation management is not an area where you can't afford to cut costs. A proactive online reputation management strategy requires time. However, investing in reputation management software saves time so that you can focus on other core business responsibilities.
The real question is—can you afford not to invest in reputation management? Here are some sobering statistics to consider:
Forbes reported that one negative article on the first page of search results could cost businesses 22 percent of their customers.
Four or more negative articles increase the risk to 70 percent.
One study found that having a bad online reputation can cost an extra 10 percent per hire if you are trying to recruit.
Reputation Management Software Pricing and Costs
We will look at three very different online reputation management software solutions, Podium, Birdeye, and Starloop. As well as the costs, you will be able to see the features that make them so popular.
Podium
Podium is software to help manage online reputation. The costs of using Podium for reputation management are not listed on the website. However, prices can start at anywhere from $350 per month, per location.
Podium offers customers the chance to leave reviews on Google, Facebook, and several industry-specific review sites. There is the option to send automated review requests. The unified inbox helps to manage all your reviews and assign them to different team members to reply to. There are various chat options to enhance communication with customers and staff and the ability to create marketing campaigns and even request payments.
The main concern with Podium is the pricing plan. $350 is the basic plan. For the advanced features, it can be around $700. Again, this is per month and location. So, the cost can become exceedingly expensive—especially for small businesses.
Related reading: Five alternatives to Podium.
Birdeye
Birdeye reputation management software costs $299 for a standard monthly plan and $399 for the professional plan for a single location.
Like Podium, it has automated review requests and a unified inbox. You can see reviews from Google, Facebook, and more than 150 industry-specific review sites. Birdeye has auto-syncing business lists that keep all your listings up to date. Your customers can use the referral feature and ticketing system. You can also create surveys to gain more insight into your customers. However, this feature-rich software might be too much for some. And all the features come with a hefty price tag.
Related reading: Five alternatives to Birdeye.
Starloop for Reputation Management
Starloop is a refreshingly simple reputation management software that only costs $194 per month—regardless of the number of locations you have. What's more, you can enjoy a 14-day free trial, and no lengthy contracts obligate you to commit. This feature sets Starloop apart from Birdeye or Podium, neither of which have a free trial and month-to-month contract.
Automated review invitations are sent to customers via SMS or email. With a few clicks, customers can leave reviews on Facebook and Google. The dashboard is visually appealing and lets you see the customer details, the review site, the full review, and the star rating. While the price is excellent, some businesses might miss features like online chat, surveys, and other review sites.
Related reading: Comparing Starloop with Podium and Birdeye.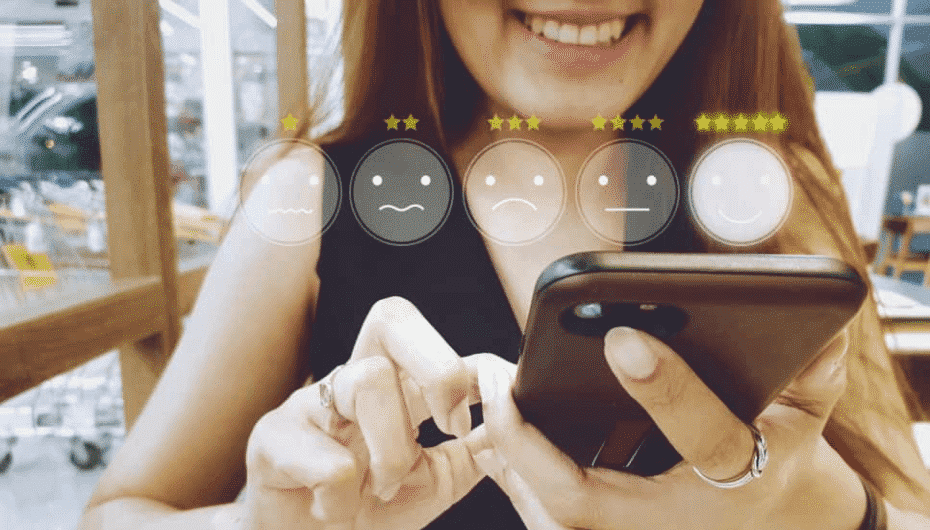 Use Google Reviews to Manage Online Reputation
Google is the most popular search engine and the most popular review site. Between 2015 and 2016, the number of Google reviews grew by 278 percent. While industry-specific reviews should not be ignored, using Google reviews to manage your online reputation is essential.
To use Google reviews to manage your online reputation, make sure you have the proper notifications settings.
From your Google My Business (GMB) account, you can change the notification settings. This allows you to receive information when a new review or customer posts photos to your business profile. Being notified of recent activity will enable you to monitor what people are saying about you. You can also respond promptly to every review—essential for reputation management.
How to Choose the Best Reputation Management Software
Here is a short guide on choosing the best reputation management solution for your needs.
1. Decide what you need
Review management is essential, but you may feel that you have this under control. In that case, do you need reputation management software to increase customer engagement or to boost the number of new reviews you receive? If your business is highly active on social media, you should include social media monitoring. If you struggle with visibility, getting more reviews can boost local SEO ranking.
2. Keep customer service in mind
When the overall goal is to improve your customer service, and customer experience, your reputation management software provider should have the same ethics. Be sure that when you research and contact providers, the representative makes you feel like your business is important to them, not just your dollars.
3. Don't rush the decision
For small businesses, reputation management can be a significant investment. Don't feel like you must rush into choosing software. It's easy to be swayed by all the bells and whistles some of the more expensive software solutions offer. But it's more important that you research online reputation management software that ticks your boxes.
For most businesses, getting more online reviews and managing them is the best way to start a reputation management strategy.
4. Only use a provider who is ethical and trustworthy
Google, like many review sites, has strict rules about review practices. Some companies are happy to turn a blind eye to this just to show results. Steer clear of reputation management solutions that offer any of the following:
incentives for reviews
create fake websites or review accounts
promote link spamming or spambots
stuff your website with keywords to the extent that the content is illiterate
Why Choose Starloop for Reputation Management
Starloop has gained an incredible reputation for its ease of setup and use. You don't need any technical knowledge to manage your online reputation, and the fantastic team is both professional and supportive. After a few minutes to set up your account, you can start sending automated, friendly invitations to customers. Once customers have left their review, you receive a notification.
One of the unique features of Starloop is the results. Aside from managing your online reputation, users are amazed by the number of new reviews they get. Starloop doesn't offer free coffees or other gimmicky incentives. For every review your business receives, Starloop plants a tree. This unique feature is something no other reputation management software offers. Customers are motivated to leave a review knowing they are helping the environment. Furthermore, your business reputation gets a massive boost as being a green company.