Do you want to get more reviews but don't know how to go about it? Starloop has a unique solution to your problem—we plant a tree for every review you get. Planting a tree gives your customer a unique ethical incentive to write a review. They feel good about doing something positive for the planet, and getting more reviews strengthens your business brand. Read on to find out more about Starloop's mission to help reforest the planet.
It can be tricky to know how to ask customers to leave their feedback. On the one hand, you don't want to seem like you're begging. But on the other, you don't want to resort to gimmicky offers to encourage them to write the review. After all, do your customers really need another free pen?
Knowing how to get more positive reviews is an issue all business owners face. There is a mountain of pressure to keep up with the latest digital solutions. Although many solutions are automated, it still leaves a lot of manual work, particularly for getting more online reviews. Consumers also lead busy lives, and it's easy to forget to leave feedback. Additionally, many consumers don't realize how critical Google reviews are to the success of your business.
How "One Tree for One Review" Works
Starloop is a unique company that plants one tree for each review you get. Each tree planted is one more step towards helping to reforest the planet and repair our damaged biosphere. This model of "one tree for one review" is a perfect example of regenerative economics. We combine reforestation with online review acquisition.
How does the "one tree for one review work"? Starloop uses AI to automate processes that allow you to get more reviews without effort and fast. The review management software sends emails or SMS messages to your customers, inviting them to leave reviews on sites like Google Reviews and Facebook Recommendations.
We have ensured that friendly scripts don't put any pressure on the customer. All we do is invite them to leave feedback with the promise that we'll plant a tree if they do.
Plus, you can add team members to save even more time. Besides getting more real reviews, you can also track your reviews and reputation from one dashboard, even if you have multiple locations.
Of course, there are tremendous benefits to your business of getting more Google reviews with Starloop. However, the benefits are more wide-reaching. Why? This is because Starloop bases its principles on regenerative economics.
What Is Regenerative Economics?
Capital assets are those goods and services we require for our well-being. In economics, we have one of two options—we can consume the asset until it no longer provides us with what we need or regenerate it. In most cases, regenerative economics concentrates on the earth as our capital asset and the goods it gives us.
Sadly, we are heading down a slippery slope towards consuming our capital asset rather than regenerating it. This is most apparent in our environment. It is time for humans to focus on a new economic system that focuses on building a healthy, sustainable system.
Regenerative economics is based on eight principles:
Right Relationship—The human economy is closely tied to culture and the ecosphere. So, there must be a cooperative relationship between them all, where we can understand the earth's limitations.
View Wealth Holistically—Wealth is no longer limited to financial capital.
Innovative, Adaptive, Responsive—As our world changes at an accelerated rate, we need to adapt to our changing environment and find creative solutions to our problems.
Empowered Participation—A healthy human economy depends on the self-organization and empowered participation of everyone. Our negotiations, while may be of self-interest, still benefit the health of the whole planet.
Honor Community and Place—A regenerative economy creates resilient communities that consider the traditions, beliefs, culture, and local environments.
Edge Effect Abundance—The edges of systems are more inclined to cross over and integrate with the next system. These systems tend to benefit more from diversity and ongoing learning.
Robust Circulatory Flow—Finding ways of reducing waste to avoid filling up landfills. This can be in the form of repairing, reusing, donating, and recycling.
Seeks Balance—It is essential to find a balance between efficiency and resilience, collaboration and competition, diversity and coherence, and various sized companies.
So, in essence, regenerative economics benefits local communities and, ultimately, the plant. But how can using regenerative economics help your business be successful? Let's look at how getting more reviews helps your business succeed.
The Benefits of Planting a Tree for Every Review
The plant is our capital asset, and the trees are the Earth's lungs. So, we must regenerate this asset. Studies estimate that since 1990, 420 million hectares of forest have been lost. There is no doubt that the world needs more trees.
Now imagine that 1 hectare is about the same size as a football field. It's not just the trees that are being destroyed. Numerous animals are close to extinction due to their homes disappearing.
Here are some more reasons how we can benefit from planting a tree for every review:
We depend on forests for more than just oxygen. We need them for paper, word, fruits, pharmaceuticals, and more. Furthermore, 90 percent of people living in extreme poverty rely on forests for part of their income.
Forest ecosystems play a crucial role in climate regulation, water purification, as well as pollination.
Reforestation increases biodiversity and restores the natural environment for vast numbers of plants and animals, preventing extinction.
The root systems of forests help to prevent soil erosion. Soil erosion can cause landslides and flash floods. It also contributes to the loss of fertile land and an increase in pollution.
It's our ethical duty to take care of our planet and fix the mistakes we have made, not only for our sake but for the sake of future generations. Quite often, we assume that we can't make a difference. If everyone changed their way of thinking, the planet would be a far better place.
By using the Starloop software, you ask for reviews in the right way. And at the same time, customers are more inclined to leave positive reviews knowing that you are determined to do your part for the environment.
How Planting a Tree Gets You More Reviews
Leaving a review and knowing that you have contributed to helping the environment is a great motivator. Still, you need to ensure that you are taking an active role in getting more reviews.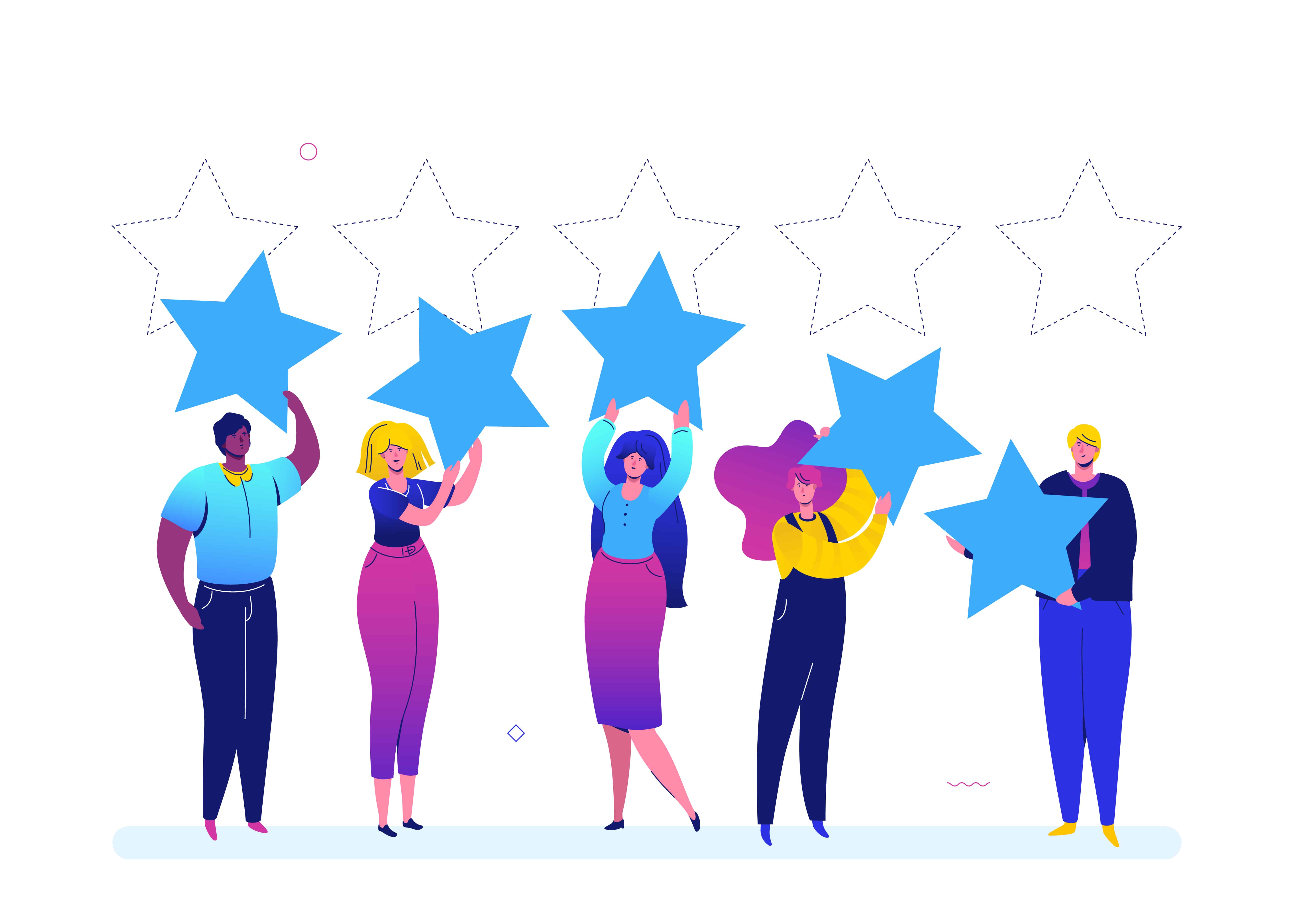 Let's look at other techniques you can use in conjunction with planting trees.
How to ask for online reviews
Asking for reviews is the best way to get more. Generally, customers are happy to leave a review if you ask them right and give them an incentive.
It is also possible to send follow up emails, SMS messages, or make phone calls to remind customers of the importance of their reviews. If your goods have been delivered, include a thank you card asking if they would mind leaving their feedback.
The online review process must be short and fast. If you include too many third-party links, your customers may abandon the process. It is also essential that you make the process as easy as possible by providing a link to your review site.
When using Starloop, your customers can open an email or SMS with a link ready for customers to click on. This keeps the review process quick and straightforward. If your customers are more tech-savvy, you can also create a Google QR code with Google My Business.
Why emails are better than texts for reminding customers to leave online reviews
Emails are generally the best way to remind customers to leave a review. It is the least invasive method of contact and prevents you from feeling like you are imposing. Customers often check their emails during breaks or when they have spare time. Therefore, they are more inclined to leave a reply—especially if they know it will only take a few minutes.
Often, it is easier to send bulk emails as part of your marketing strategy. Just make sure you select the customers you wish to send the email to instead of sending them to everyone in your database. You need to be aware of who is likely to leave a positive review and who has already received emails. Don't forget that newsletters and the release of new products are good ways of using emails to ask for reviews.
Responding to online reviews
When it comes to online review management, you must respond to every review you receive. There are two principal reasons for this. The first is that readers can see how you handle good and bad opinions of your company. The second is that Google rewards businesses that get more reviews and interact with customers. You will see your business appear the higher up in the local search results. This leads to more sales and more reviews.
Here are some general things to remember when responding to reviews.
Keep your response short and personalized, and include the customer's name as well as your own.
Thank the person for their insights. Whether the review is positive or not, they have still taken time to help you improve your product.
Apologize for any mistakes made, regardless of whose fault it was. Taking responsibility will earn you respect from other readers.
When necessary, offer a solution and read their review carefully because they may have included some ideas for how you can fix the problem.
Provide an email address or phone number so that you can take the conversation offline if necessary.
End on a positive note, reminding them that you are looking forward to hearing from them again.
Always respond to fake reviews and then flag them for Google to remove the bad review.
Plant a Tree and Get Reviews — In Conclusion
At Starloop, we believe that planting a tree for every review you get is one of the best ways to benefit your business reputation and the environment. We are sure that our "one tree = one review" model will also boost your brand reputation.
Please contact Starloop today to find out how you can start getting more reviews, and the planet can get more trees.