Learning how to respond in the best way to negative Google reviews has many advantages for your online reputation. Unhappy customers who leave negative reviews present you with a challenge. The negative review signals a breakdown in trust. The customer was expecting one thing but got something different. It's challenging to know what to say and how to say it when replying to a negative online review. However, there are many compelling reasons why responding to negative reviews must be part of your review strategy.
In this article, you will learn how to respond to negative Google reviews and what you say. You'll also find a handy template for responding to negative online reviews.
Why Respond to Negative Reviews
The first reason you should respond to negative reviews is that it's the right thing to do. Suppose you only reply to those who have left positive online reviews. In that case, it appears that you don't genuinely care about all your customers' opinions. Customers can view this as favoritism. It looks as if you are only interested in boosting your star rating. Responding to every type of review shows that you genuinely care about what people are saying—whether that's good or bad.
Another crucial reason to respond to negative Google reviews is that readers see how you handled the issue. Customers read reviews and your responses. Remaining calm and providing solutions reassures a reader that you are dedicated to the customer experience. This positive response increases the trust in your business. A customer who might think about complaining is less likely to when they have read previous responses to negative reviews.
Finally, you must respond to negative reviews because it can impact your ratings. According to Harvard Business Review, hotels that started to respond to reviews increased their rating by 0.12 stars. This might not seem like a lot, but responding also increases the number of reviews you receive. Every business owner would love to have 12% more reviews because of the impact on revenues. Further studies show that replying to just 25% of reviews can lead to a 35% in revenue.
Related reading: How to respond to fake online reviews.
Template for Responding to Negative Reviews
Before taking a more detailed look at how to respond to negative Google reviews, let's see a great example of a standard template for responding to negative reviews.
Dear [Name]
First, I would like to thank you for taking the time to leave your feedback. Your opinion counts, and we do our absolute best to make things better. I'm sorry that you were not completely satisfied with our product and we would like to make things right with you.
It would be great if you could contact us by phone on [insert number] or email [insert email address]. I would like to personally address your issue and any other concerns you might have. Thank you again, and we look forward to seeing you soon.
[Your name and position]
Of course, you can adjust the review response template to your needs. But the template contains all the essential features of replying to negative reviews. What are they? Please read on.
How to Respond to Negative Google Reviews
There is a big difference between responding to positive reviews and responding to negative Google reviews. The art of mastering how to respond to negative reviews is mainly to do with the personal touch. Consumers spot automated responses and are not impressed.
When replying to a negative review, it is essential to include each of the following steps in your response:
Include the customer's name—This is the first step to a personalized response. Whenever possible, add the customer's name. If you only have a username, it is best to address the review as "Dear customer."
Always thank the customer—You probably don't like what you are reading, but this doesn't mean that you shouldn't be grateful for their review. They have taken time to give you their feedback and what they have to say is a learning opportunity that you might not have received otherwise.
Repeat the negative—Rephrase the main issue in a few words. This acknowledges the problem and shows that you are listening.
Take responsibility—Blaming another department may seem like you are offering a viable reason for the problem. But to the customer and the reader, you are passing the buck. As a business owner, the buck lies with you. You will gain more respect from taking responsibility, even when the fault isn't yours.
Say sorry—An apology adds to the fact that you are taking responsibility. Many customers are only looking to hear that you are sorry for the mistakes made.
Offer a solution—You must reread the review because the customer might have provided suggestions to rectify the problem. Even if the mistake is not your fault, you still need to offer a solution.
Take the conversation offline—The last thing you want is to have too many back and forward conversations for readers to see. Always include a contact number and email address so that they can follow up with you away from your Google profile.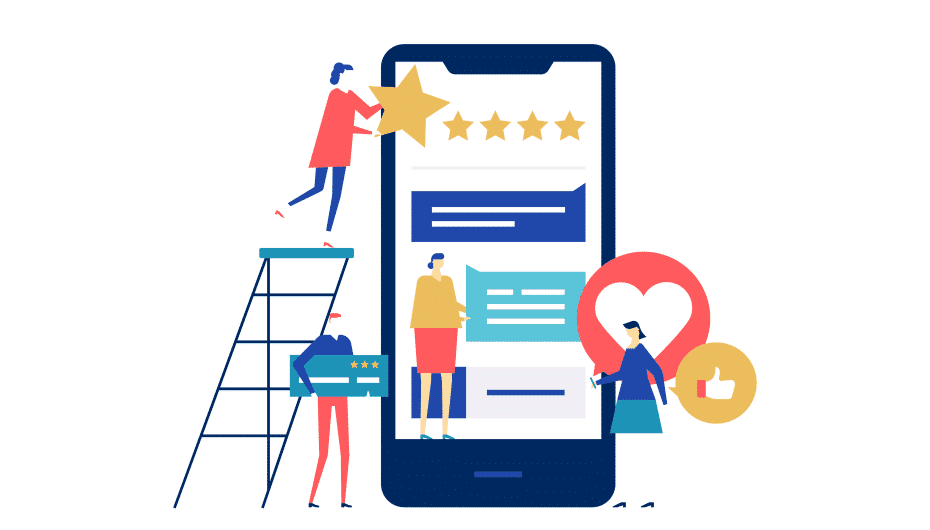 How to Turn a Negative Review into a Positive Review
Responding in the best way to a Google review gives you a second chance. In some cases, you can turn the negative review into a positive one. There is little point in responding to negative reviews if you don't follow up with the customers.
How can you turn a negative review into a positive one? The first step is to reach out to the customer to check that they are happy with the solution you offered. Email is one way to contact customers, but a phone call will be beneficial in some cases.
Suppose you hear that your customer is now satisfied. It is the perfect opportunity to ask if they would consider updating their review. If they aren't happy, you will need to find out exactly how you can improve for them.
It's also crucial to fix the source of your negative reviews; otherwise, they will keep coming in. Imagine what it could do to your reputation if potential customers see the same complaints over and over. If you successfully resolve the underlying issues, you improve your business and strengthen your reputation.
How to Avoid the Impact of Negative Reviews
Responding to negative reviews is just one way to minimize their impact on your business. One survey found that customers will continue to support a business if the owners respond to negative reviews.
So, it is crucial to take a proactive approach in getting more reviews. The more positive reviews you have, the less visible any negative reviews become.
One study suggests that 82 percent of consumers actively search out negative reviews. Does this mean that you should delete bad reviews out of fear for your reputation? The answer is no—if you respond to reviews correctly. The same study found that consumers spend longer on sites that publish both negative and positive reviews. And those websites experience an 85 percent increase in conversion rate.
Having a robust review management strategy is key to avoiding the impact of negative reviews. Here are a few simple ways to get more reviews:
Invite customers to leave feedback or their opinions rather than ask for reviews
Send email reminders to leave reviews
Provide incentives to leave reviews
Make the review process straightforward and simple
Getting reviews is key to your online reputation. Most consumers read online reviews before making purchasing decisions. If they find a lot of positive reviews, they will pay less attention to negative ones.
How to Use Starloop to Get More Reviews
Starloop is a review management solution to get more reviews. Starloop has created a unique solution to help businesses like yours triple the number of reviews they receive. First, the review process is straightforward. Second, Starloop provides an ethical, Google-friendly incentive for your customers to leave a review. For every review, Starloop plants a tree.
Starloop is a simple to use, cost-effective software to help your business to manage its review strategy. You can set up automated review invitations that are sent via email or SMS. Customers only have to click on the link to leave their reviews on Google or Facebook. From your Starloop dashboard, you can see all your reviews in one location.
When it comes to responding to negative reviews, Starloop makes it easy. Notifications of reviews alert you to new ones. This gives you the chance to take prompt action to respond in the right way to any negative review.