Wondering how to get online reviews? Copy this simple and effective tree planting method to get reviews we discovered by accident using. That's right, planting a tree for every review is a very effective way to get reviews. But we're getting ahead of ourselves here.
When you try to get reviews it feels like a gut punch when so few reviews actually show up.
Which sucks because in the Trust Economy, reviews are critical. It's why you're here. I can tell you right now, the biggest problem you'll face (and the one thing we hear all the time) is "People say they'll write a review but most don't follow through." It's time to change that and show you how to…
Win the 5-star reviews you deserve
Want to know how to get online reviews, easily and ethically? Our strategy is very different. It revolves around planting one tree for every review. This "plant-a-tree" concept has been so effective it landed us an interview in Forbes, has been responsible for getting over tens of thousands of online reviews and trees being planted.
Below you'll find our entire protocol. Copy it and start getting more reviews than ever before.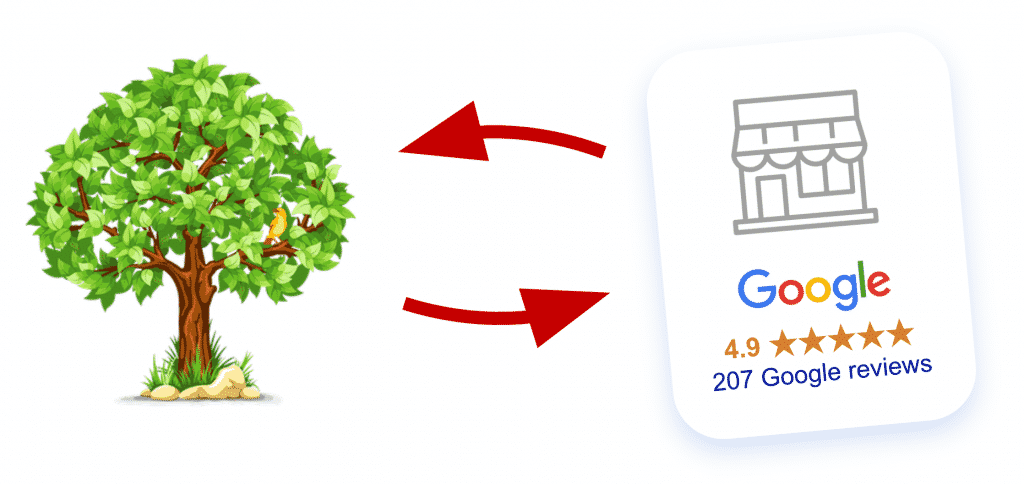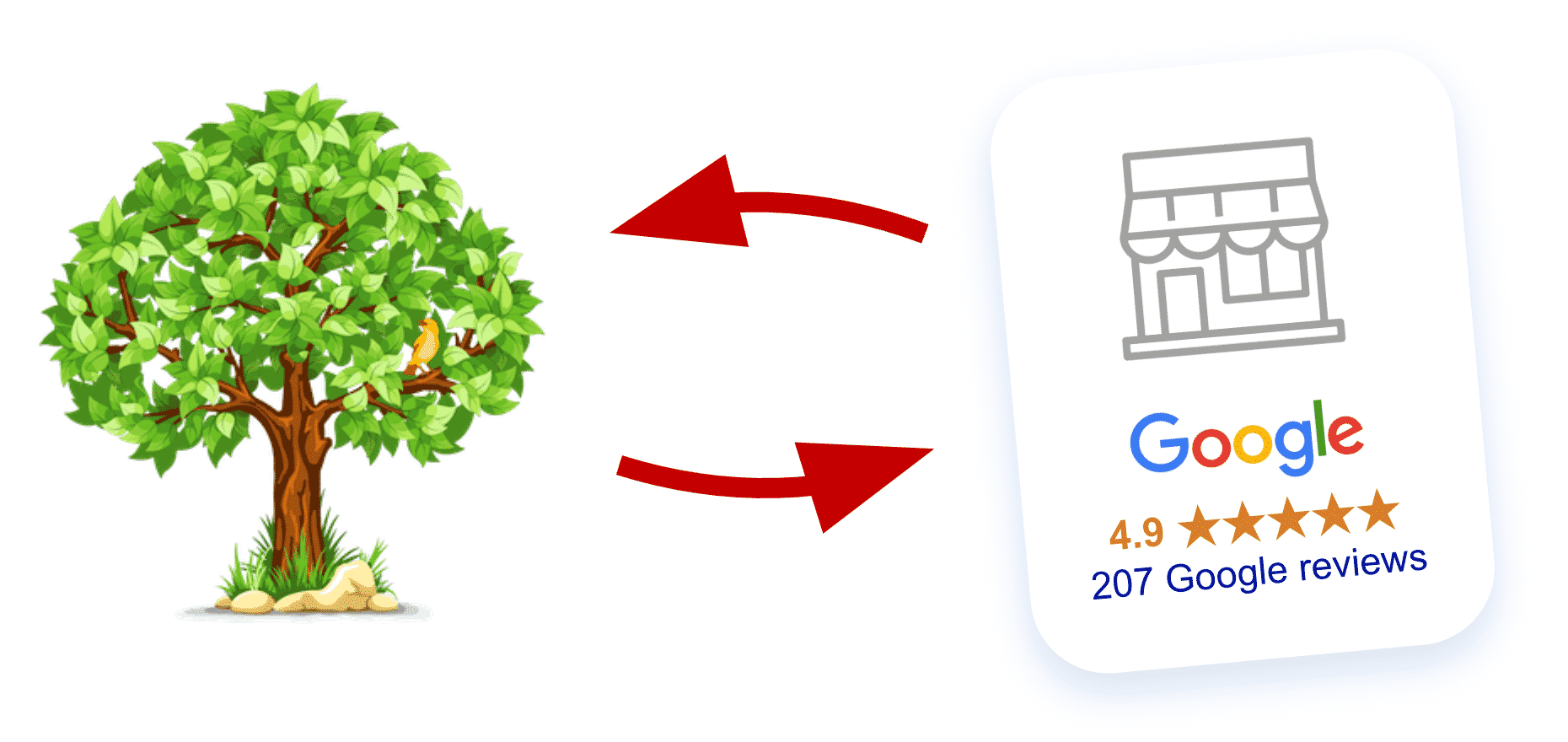 "The concept … is brilliant."
Shep Hyken, "How to Get Hundreds of Online Reviews", Forbes
People say they'll write write us review … but they just don't follow through.
How to get reviews (the easy way)
For the last 6 years we've focused on the most important part of online reputation management which is review acquisition. Here you'll get insights into what works and what doesn't. I hope this guide helps you avoid common pitfalls and take we've learned to win faster. Because we've tested everything and I mean everything. From offering Starbucks gift cards and Amazon gift certificates (cringe) to competitions and promos through to the eventual winner; planting a tree for each review.
I know planting trees sounds kind of crazy but the results of all this obsessive testing has been actionable metrics packed into this actionable protocol which is designed to help you get more five-star reviews than ever before.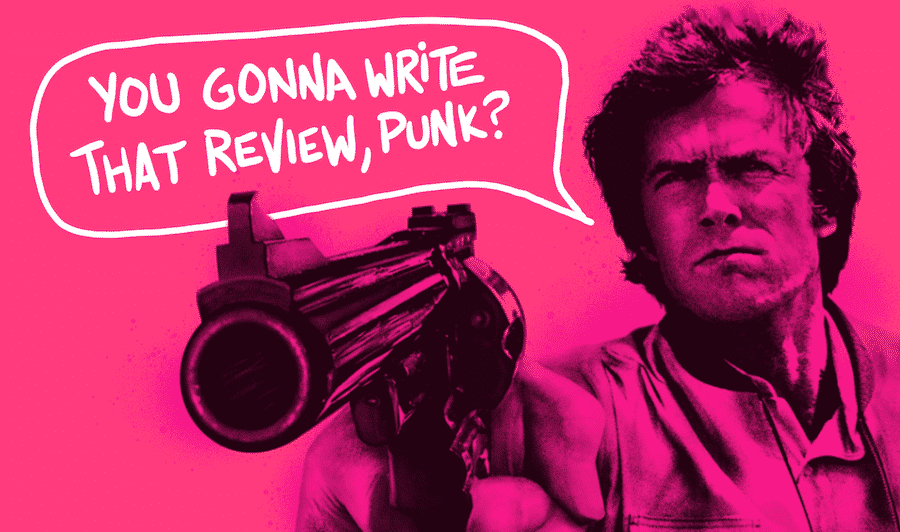 The Starloop Reputation Control System is the exact blueprint we use day in and day out for hundreds of brands and businesses. Everyday businesses use this simple system to take control of their online reputation AND exert their influence in the marketplace.
Why should you trust me? Why should you bother reading this? My name is Daniel and I'm the founder of Starloop.com, reputation management software that helps businesses get reviews. I can humbly and confidently say I know a thing or two about online reviews and by the time you're finished this guide you'll have a solid understanding of:
How to get online reviews (easily & ethically)
Why your reputation is so important
How to avoid common pitfalls and

Because Forbes says…
The Reputation Control System
This entire protocol, called Starloop Reputation Control System revolves around three Steps.
Step 1: Motivation
Step 2: Language
Step 3: Automation
Step 1 is all about solving the challenge of how busy your clients are AND how little they care about writing a review. These are huge hurdles. Everyone is busy these days and no one cares about writing you a review.
Step 2 is all about the language you use. The right scripts are of critical and asking "for reviews" is the worst way to get reviews. It's super awkward.
Lastly, Step 3 is about hitting the easy button. It's about automating everything so you can save time, save money and get more reviews than ever before.
Copy our protocol and start making it rain reviews on your business too. If you can plant some trees or do some other form of good along the way, then bravo. Because here's what you should be taking away from all this: Giving is the new getting. Smart brands understand that altruism and profitability aren't mutually exclusive. They're meaningfully intertwined.
Step 1: Motivation
The Law of Reciprocity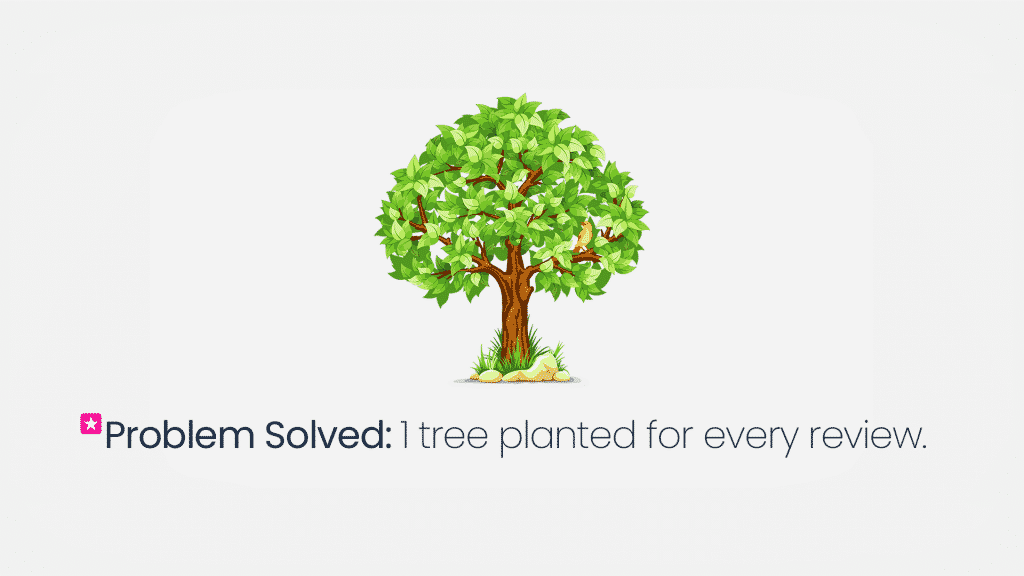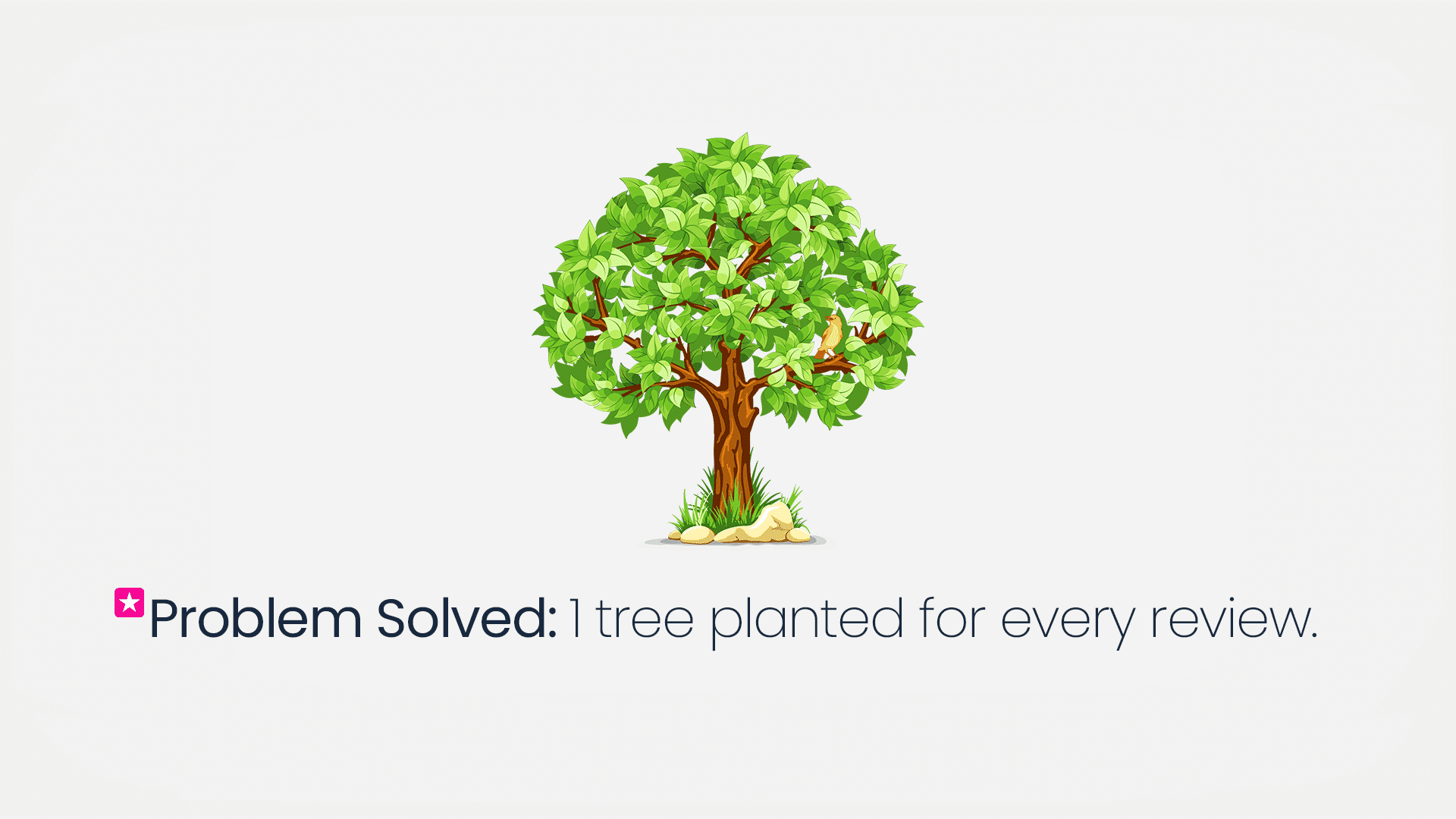 Have you heard of The Law of Reciprocity? It's this idea that if you do something nice for someone, they're quite likely to reciprocate, and do something nice for you. At Starloop we plant one tree for every review. It's a compelling idea that acts as a kind of ethical forcing function.
When we see people struggling to get reviews it's because of an imperfect understanding of modern life. Your clients have more important things to do than write you a review. Lets imagine your client, Susan. Today she has to:
Drop the kids off at school
Work a morning shift
Meet hubby for a lunch date
Get to a bank appointment
Go home do chores
Pick up the kids
Get dinner on the table
Netflix and chill
Write a review for your business
We can all appreciate how "Write a review for your business" would rank bottom of her list. This means you have a zero chance of getting a positive review from Susan. It's not that she doesn't like you. It's just that Susan, like the rest of us, has better things to do.
This problem can be boiled down to a simple "IF THIS THEN THAT".
IF - our clients believe that writing us a review is a low-priority
THEN - how do we make our request to write us a review higher priority?
It comes down to how do we motivate Susan to write you a review? First some caution here. Let's look at how NOT to motivate people.
Avoid these Motivators
Here are typical incentives we recommend you avoid using to get reviews:
Starbucks coffee cards
Amazon gift certificates
2-for-1 offers
50% off deals
Enter a draw to win X
These offers are a direct incentive resulting in some tangible benefit going to the Reviewer. The ethics of these kinds of offers are questionable at best and in many places are outright illegal. There are superior ways to ethically motivate people. Enter, tree planting and other acts of goodness.
Choosing the "Right" Motivator
We believe the right motivator is something altruistic and generous and wonderful. Something remarkable, a Purple Cow that cuts through the noise of every day life.
All of us have a million things to do that are more important than writing you a review. But, Susan (like all of us) is wired for generosity. If we invoke the Law of Reciprocity she is far more likely to care and write you a review.
You don't have to use tree planting. At Starloop we're on a mission to plant a million trees so that's what we do; one tree planted for every review. But you do you boo. You could invoke the Law of Reciprocity in a million different ways such as buy meals at the local soup kitchen, buy bikes for orphanages, donate sporting gear to local sports clubs. I just recommend you make it specific so it's memorable.
You know Smith & Co., they donate a bike to the local orphanage for every new client they take on" is more memorable, more re-tellable than "You know Smith & Co. they donate 1% of their profits to the local orphanage, soccer team and soup kitchen." Whatever you choose to give away should ideally become a new KPI and one that you keep score of and tell the world about. Every business wants to grow and make more moolah. But that's a boring, selfish story. No one cares that you want to get rich. It's totally snooze-worthy. Instead, hitch your wagon to a more compelling story that's tied to your Law of Reciprocity KPI. You'll become known, remembered and remarkable for it.
Step 2: Language
Don't ask for reviews (it's awkward)
Did you know asking your clients for reviews is one of the worst ways to actually get a review? For years, most businesses have been asking you "Can you write us a review?"
On the surface, it's the obvious approach. But using this kind of language displays an imperfect understanding of what it takes to get online reviews . We strongly advise people not to use this kind of language. Here's why.
If I ask Angela…
"Can you write us a Google review?"
She can read between the lines and what she really hears is
"Can you write us a GOOD Google review?"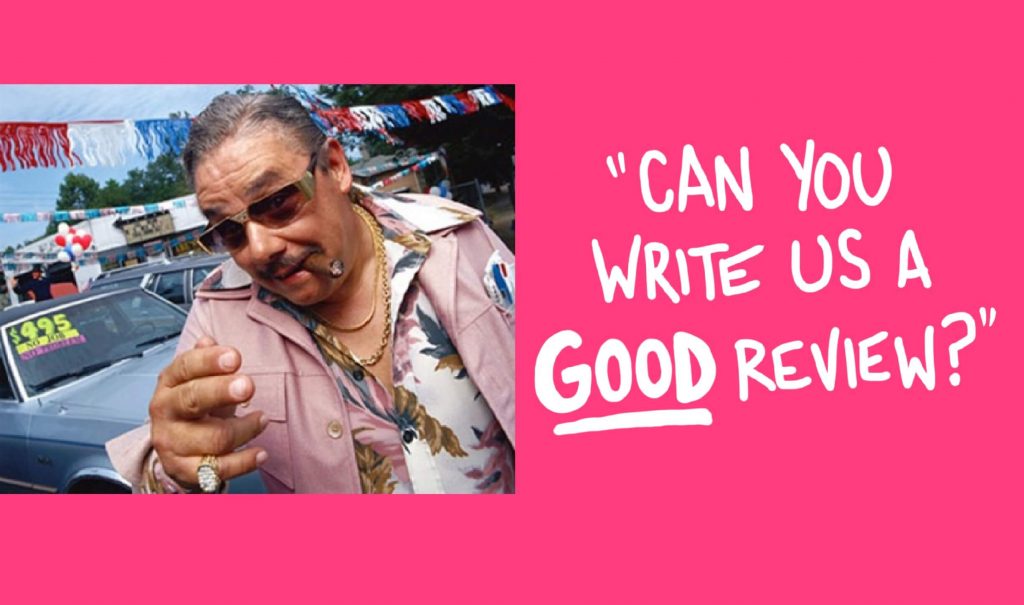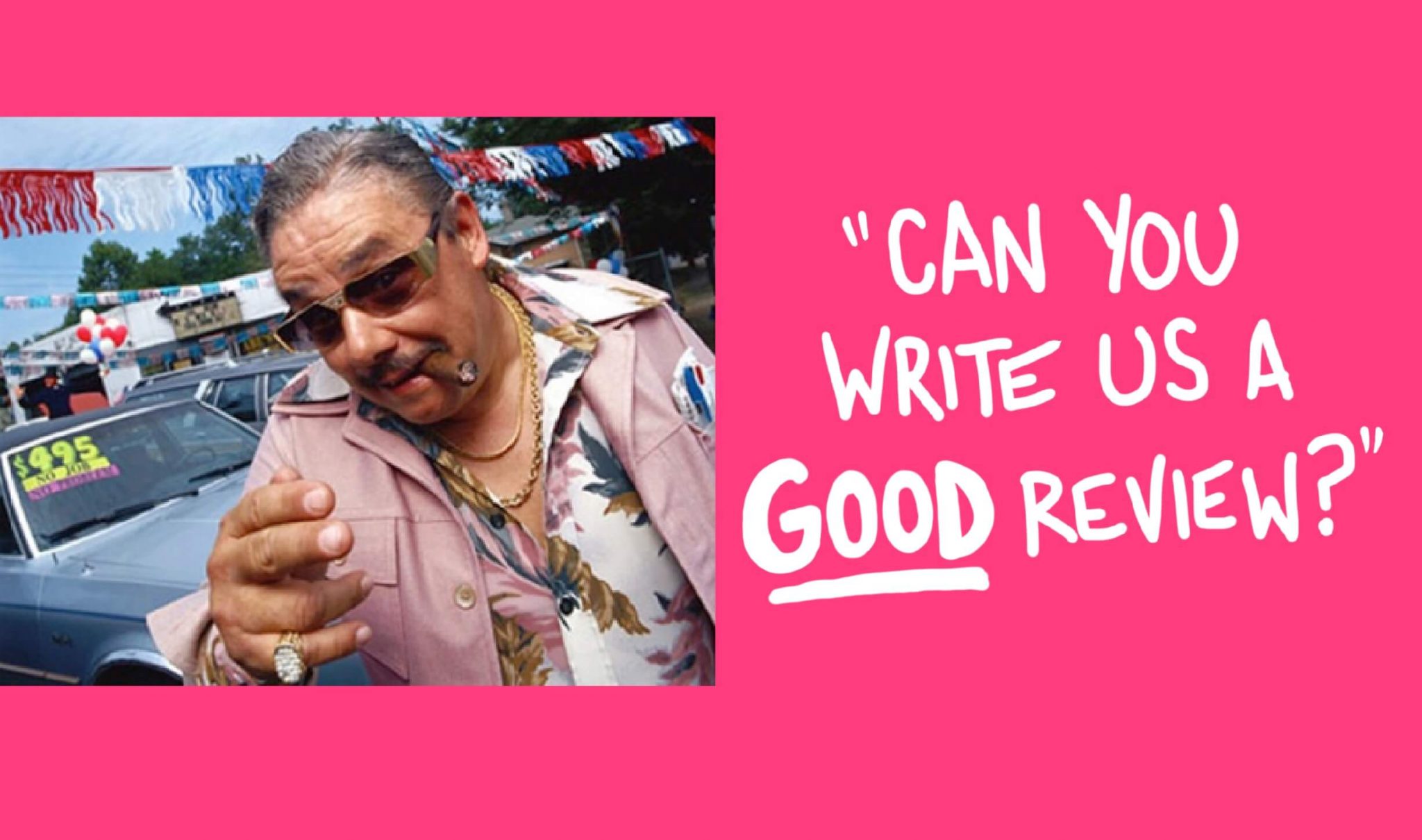 This is a loaded question because I wouldn't ask if I wanted a crappy one-star review. I'm awkwardly obliging Angela to say good things about me. The other big downside is that asking people for a review doesn't come from a place of integrity.
It lowers the status of the person asking
It puts patients in an awkward situation
It can come across like begging
At Starloop, we worked for years on the right language. All of our Members use Natural Language Scripts so teams can tastefully engage patients for online reviews. In fact, Forbes interviewed us about our scripts and our tree planting (more on that in a moment)
Use Natural Language
Using natural language revolves around inviting people for feedback. Compared to asking for a review, the word "invite"
Has connotations of warmth, friendliness and inclusion
Humans respond positively to the idea of an invitation
Compared to asking for a review, asking for "feedback"
Is far less loaded than "fishing for a review"
Has neutral positioning
Implies wanting an honest opinion
Comes from a place of integrity
Roll out your own natural language, remove the awkwardness and get more reviews. Or get in touch with our team to learn our exact scripts that we've testing over the last 6 years.
Step 3: Automation
Save time & dominate
There was once a man with shovel. It took him a month to dig a trench. There was once a woman with a tractor, it took her a day to do the same thing. There's no right or wrong here but if you want to accomplish more, faster, then using the right technology gives you big advantages.
Manually sending out emails and texts to get reviews is miserable work. Sending out the reminders is even more depressing.
The right software allows you to "set and forget". Just get your clients into the software and let it do the rest. This saves you time and money.
Smart reputation management software will know the best times of the day and the best days of the week to engage and convert your customers into five-star reviews. At Starloop we've sent out over a million texts and emails. We can see which days of the week and which times of day are the most effective for getting reviews. Timing matters. It's not just what you say, it's also when you say it that counts if you want to get maximum reviews.
Final thoughts to get reviews
One staggering statistic
Stop for a sec. When you leave this page, remember one thing.
87% of consumers read reviews for local businesses.
Reviews aren't some passing fad. They're a tsunami. We're never going back to a time when reviews don't matter. As consumer behaviour has changes to this extent, we either capitalize on it now or be forced to catch up later.
87% is a huge number. Currently, consumers care about your reviews and reputation more than anything else. Nothing exerts more influence on new client behavior than your online reputation and reviews. Not your Facebook page, your Instagram posts, your Tweets or your website. Someone considering doing business with you isn't going to care about much else except for your reviews and online reputation.
Your reputation is everything
For a typical local business, nothing comes close to the power your online reputation can have in attracting new clients. Having the most reviews puts the wind of the marketplace at your back and helps drive growth. Conversely, if your business doesn't have the most reviews and highest rating in town, then you're facing a headwind in the form of the "top rated most reviewed competitor" in your town.
OK so reviews are epically valuable and your reputation is everything. But when you try to get reviews, you quickly discover it's hard. there are common obstacles to overcome and three main parts that unlock success. These are
Motivation: Your customers are busy people. Are you giving them a good reason to write you a review?
Language: Your customers are humans and the words you choose to ask for a review are incredibly important
Automation: How much time are you saving (or wasting) trying to get reviews?
Once you figure out these three keys, you'll unlock success and get all the five-star reviews you really deserve. Ready? Let's go.
Hacks, cheats & fake reviews
I'm only going to mention this one time. Whatever you do, do NOT hack, cheat or buy fake reviews. This is your reputation we're talking about. Consumers can smell fake reviews and Google always uncovers the cheaters. Raining down penalties on those playing fast and loose on their search engine. Is it worth building a sandcastle here? Nope. Why waste time and money on scummy shortcuts that will just be wiped away in the future. Remember, you're in business for the long haul. This guide will illustrate just how easy it is to get reviews ethically so you can build a genuine online reputation. One that will stand the test of time. Rock solid on every level.
TL;DR
Here are the steps to DIY this protocol and put this all together (if you want the easy way, it's at the end).
Write your scripts (Language)
Find and implement an ethical motivator (Law of Reciprocity)
Choose a platform and build an auto-responder
Set up your emails and texts to engage your clients
Test your scripts and ethical motivator
Fine tune and aim for at least 10% conversion
All this is doable if you want to invest the time and money into figuring it all out. If you want the shortcut, then seek out a reliable reputation management company or sign up for a 14-day free trial of Starloop.