Every business strives hard to get 5-star reviews. On the face of it, five stars seem to be an ideal review rating. After all, you work hard to excel in your customer experience. So, five stars should reflect the hard work and dedication to put into your business. But getting 5-star reviews and having the ideal Google star rating are two different things. The good news is that you don't always need 5-star reviews.
The ideal star rating—the one that instills trust in your business—is between four and five stars. Having five stars seems too good to be true. And anything below four stars makes customers think twice about your business. Not always having a "perfect" star rating is what your business needs.
In this article, you will learn the secret of how to achieve the ideal Google star rating.
Why Getting Reviews for Your Matters to Your Business
Reviews are essential to your business because they impact your online reputation. There is no doubt that four- and five-star reviews are crucial. Without a solid reputation, you will struggle to beat the local competition.
A considerable part of your online reputation comes from reviews. Reviews provide social proof, are a form of free advertising, and boost your visibility. Local businesses who work hard to get more reviews find they experience increased footfall, more online sales, and higher revenues.
But there's a big question to answer: if online reviews are crucial for your business, why settle for anything less than a "perfect" five?
4 Stars vs. 5 Stars — Which is Better?
It's easy to assume that a business only needs 5-star reviews, but this isn't the case. And there are a few issues to face when striving for a 5-star rating. First, you can't ask your customers to leave you a 5-star review or a 4-star review. Also, it's unlikely that every customer will be completely satisfied—no matter how you try.
So, 5-star reviews are always best, and you should strive for them. Providing consistent, excellent service will also earn you a ton of 4-star reviews. But because you will always have a few 3- and 2-star reviews, your average star rating will always be less than five. But don't worry—consumers expect this.
Related reading: How to deal with 3-star reviews.
The bottom line is—the more 5-star reviews you get, the lower the impact any negative reviews have. To ensure your business gets more positive reviews, you need to do three things:
Address all issues mentioned in reviews
Provide an outstanding customer experience
Ask for reviews
Research Reveals the Ideal Google Star Rating
The ideal Google star rating is 4.2 – 4.5 stars. This is the conclusion of extensive research that the Spiegel Research Center carried out. The studies show that, when it comes to the perfect Google Star rating, 4.5 is better than 5. As the ratings get closer to 5 stars, the chances of a customer making a purchase begin to fall.
The Ideal Google Star Rating Shows Authenticity
Why are 4.5 stars better than 5 stars on Google? It's all about authenticity and trust. Consumers use Google reviews to find honest information about a business's product or service. They want to see the good and the bad so that they can make an informed decision.
Potential customers are suspicious when they see a business with only 5-star reviews. We all know that there is no such thing as a perfect business. So, only 5-star ratings look too good to be true. Customers might suspect that you are paying for positive Google reviews. Or they may think you use other unethical methods to acquire reviews. Consumers can become distrustful if they believe a business is editing or deleting reviews.
Having between 4.2 and 4.5 stars shows that you are only human, you have an excellent business, but you make some minor mistakes.
Related reading: How to deal with negative reviews.
Why Review Content is Crucial to Your Google Review Profile
Consumer Affairs tackled the question: "is star rating more important than review content?" The results were noticeably clear. In four different studies, consumers preferred positive content over star rating. This is because the content is what provides the information behind the star rating.
Imagine a customer who left a 4-star rating and a short "absolutely love the product." Readers would wonder why it's 4-stars and not 5. A more detailed description of the product allows customers to decide if this is a problem for them or not.
Suppose there are three customers, and they all buy the same item. However, they leave a 1-star, 3-star, and 5-star review. But looking at the review content reveals why each customer left different reviews. Ratings are often relative to the accommodation of personal needs. Both the positive and negative reviews help customers make an informed decision.
Review content also helps to boost SEO ranking. Google algorithms search through content in reviews, as well as all online content related to your business. The more positive content these algorithms can detect, the higher you are ranked on search results, boosting business visibility.
Does Google Change Star Review Average?
No. Google used to use the Bayesian method. If a business didn't have enough reviews, it would take information from a large set of data to create estimates. Based on data of similar companies or products, they would look at average star ratings. This would sometimes cause a difference in the reviews and average rating.
The only way you can now change your average rating is to continue working hard to get more reviews.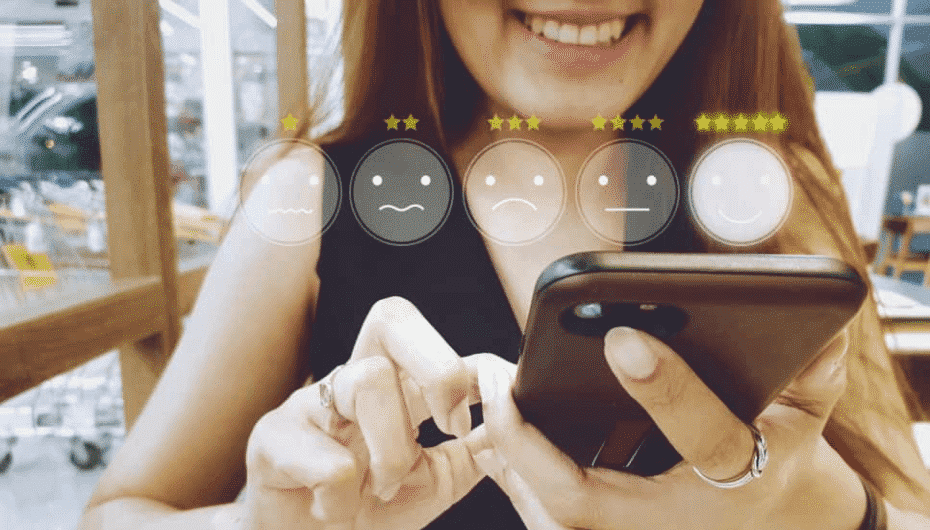 How to Get More Google Reviews
Two things are going to help you to get more Google reviews— a review strategy and consistency. Here are some things that will boost the number of reviews you receive:
1. Make leaving reviews easy
To get more reviews, you must make the process easy. Consumers who have to click multiple times and close popups soon leave the site. People are busy and don't need the hassle of a complicated review process. Customers should have direct access to your Google review site and know how to leave a review.
2. Respond to every review
Responding to every review makes your customers feel special and that their opinion is valued regardless of whether it is good or bad. When readers see that you respond to every review, they are more inclined to leave their own review because they want to be part of the "virtual club" of special treatment.
Related reading: The only way to respond to every type of review.
3. Ask for reviews
If you feel awkward asking for reviews, it is time to overcome this. Approximately 70% of consumers will leave a review if they are asked. Asking in person is often the best way because the positive experience is at its freshest.
The easiest way to get more reviews is to ask for feedback or opinions. You can do this in emails and SMS text messages. Or, you could send thank you notes with deliveries and include a review link.
Related reading: What to say when asking for a review.
4. Explain why reviews are important
Ensure your customers understand how critical reviews are for your business. They may assume that when you ask for a review, it is just because you want to see another 5-star on your profile. By using phrases like "We would like other customers to see your opinions," you are explaining why reviews are vital and encouraging them to leave content rather than just stars.
5. Remind customers to leave a review
It's perfectly normal to send one or two reminders for a customer to leave a review. You need to understand that with everything going on, your review might not be their top priority. However, with a gentle reminder, they are still willing to leave their feedback.
6. Offer an incentive to leave reviews
You have to be very careful when offering incentives as Google frowns upon this and with good reason. Incentives can sway the opinion of a consumer making the review less authentic. So, avoid gimmicky incentives such as a free coffee or pen.
Why Use Starloop to Get More Google Reviews
Starloop has helped its members to get thousands of new reviews. One factor that sets Starloop apart from the competition is its unique incentive program. Starloop plants one tree for every review you receive. This "reforest the planet" policy actively encourages your customers to leave reviews.
Starloop's approach to getting reviews is so effective because customers want to help the environment. This genuinely motivates thousands of people to leave a review. The proof of this is that Starloop has planted over 45,000 trees.
It is also an excellent practice for your business as you add 'green company' to your reputation.
The Starloop review management software is simple to use. Within just a few minutes, you can send automated, friendly invitations to customers via email and SMS. Customers can leave reviews on Google or Facebook, and you have a unified inbox to see them all.
The dashboard is user-friendly. You can quickly see all the details of your reviews and receive notifications when a new review comes in.
Starloop is exceptionally cost-effective and has a fixed price regardless of the number of locations or customers you have. You can also take advantage of a 14-day free trial period to explore all the fantastic features.