Online reviews are a crucial ranking factor for local SEO searches. The number of Google reviews, your average star rating, and the reviewer's positive or negative comments affect your place in Google search results. Getting more consumer reviews is one of the best ways to secure a first page positing in local search results.
Of course, several factors affect Search Engine Optimization. However, when it comes to local searches, the type and number of reviews you have significantly affect rankings. But positive reviews do more. They have a huge impact on a consumer's purchasing decision.
In this article, you'll learn how online Google reviews can boost your local SEO rankings. In addition, helpful tips on getting more reviews for free will help ensure you will dominate search results in your local area.
What is Local SEO?
Local Search Engine Optimization is a strategy to improve visibility and boost local search ranking results. Potential customers in your community are looking for products and local services you provide. Google's algorithms will deliver results based on proximity. Local SEO involves having an optimized Google Business Profile and getting customer reviews.
Related: How to optimize your website for local SEO.
What is Google's Local Pack? Things You Need to Know
Also called the Map Pack, Google's Local Pack is the top three organic search results. The Local Pack includes business information, average review rating, opening times, and other relevant information. The Google map will also show addresses for the top three results. The goal is for your business to get featured here.
How does Google's Local Pack work? There are several ways Google will display organic search results in the Map Pack. Here are a few:
A user could include the name of a city or neighborhood together with a service.
The search query could include the phrase "near me."
Google will also deliver results based on the user's location, even without geographical information.
What does this mean for your local business? In 2021, Google's Vicinity Update started using proximity as a ranking factor. This change levels the playing field for smaller businesses to make them more competitive with larger businesses that may be further away. Therefore, using reviews to boost local SEO search results has never been more critical.
Are Google Reviews Vital for Local SEO?
Getting a steady stream of Google reviews from real customers must be an integral part of a local SEO strategy. Positive ratings, 4- and 5-star reviews, and customer feedback all go into the mix to affect localized organic rankings and boost your online reputation. But is there any proof that reviews positively impact your search engine rankings?
According to statistics, Google controls 92 percent of the search engine market. And the search engine provider processes over 8.5 billion searches a day. From these, approximately 63 percent of users conduct searches on mobile devices. And most consumers use a mobile device when searching for local companies.
In a Google article entitled "How to improve your local ranking on Google," the internet giant outlined various factors small businesses should focus on. One crucial factor is to "manage and respond to reviews." Google clearly states: "Respond to reviews that users leave about your business."
Replying to all reviews shows you value your customers' opinions and feedback. This helps to keep customers happy and address any concerns in negative reviews. Additionally, high-quality, positive reviews improve your business visibility online and increase foot traffic at your location.
How Online Reviews Impact Local SEO
Let's look at why reviews are one of the most crucial SEO ranking factors if you want to dominate the local search results page.
Customer reviews provide fresh content for your website
Updating your website site or Google Business Profile is vital for SEO. Customer reviews provide new, fresh content that SEO bots use when indexing sites. Customers will most likely mention relevant keywords associated with your service or products.
Therefore, reviews should be part of a content marketing strategy because they give you a way to keep content fresh and improve SEO rankings.
Related: How to optimize your Google business listing for local SEO.
Review velocity keeps your business relevant
Getting a steady stream of new reviews is also a critical SEO search ranking factor. Some studies suggest that consumers consider recency when reading online reviews. And most people dismiss reviews that are older than three months. Additionally, the quantity of reviews counts. Most consumers expect trusted local businesses to have at least 40 reviews.
Online reviews build consumer trust
There are several reasons why reviews increase a customer's perception of trust. First, genuine reviews show you have real customers. However, reviews also show you are transparent. For example, how you handle negative reviews shows your commitment to customer service. And reviews build trust because they give your customers a voice.
Google reviews demonstrate social proof
Google's search algorithm uses review signals and sentiment as an SEO ranking factor. For example, factors like positive feedback, four and five-star ratings, and a stream of new reviews give a website legitimacy. This earns the business an extra SEO boost from new reviews.
However, reviews are not just for automated SEO bots. Online reviews increase the perception of social proof in potential customers. Positive online endorsements and sentiments affect buying decisions. Many consumers are persuaded to buy a product just by reading feedback from other people.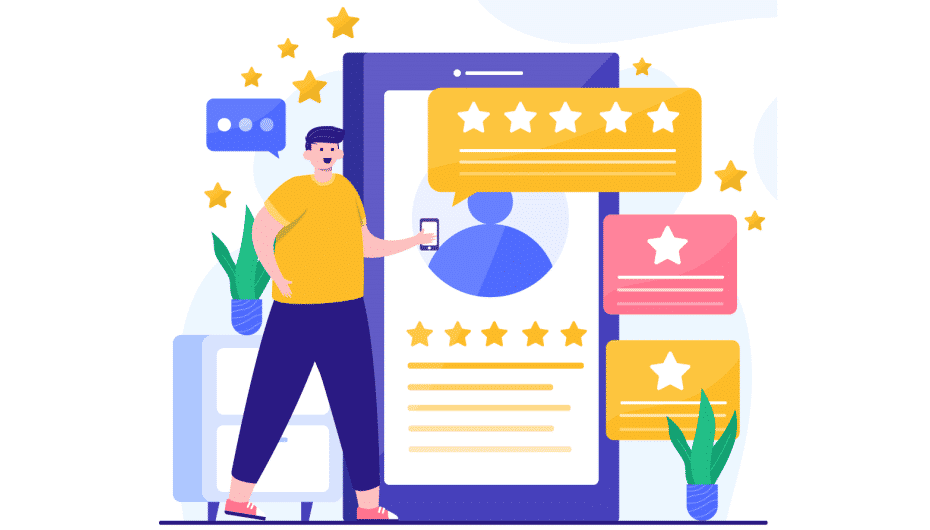 Related: How to develop a strategy to boost social proof.
Four and five-star reviews increase website traffic
It's a no-brainer that consumers are more likely to click on a website with four and five-star reviews than one with two or none. For example, having plenty of four and five-star reviews show your business can be trusted. Therefore, businesses with a healthy review profile increase their clickthrough rate and experience increased website traffic.
A study by McKinsey found that the sale of many products significantly increases around 4.4 stars. And for higher-end products, consumers are willing to pay more for products that get excellent reviews.
Reviews are a powerful as a personal recommendation
Another way how online reviews increase website traffic is because consumers trust them. As most people know, personal recommendations are an influential selling factor. In fact, Forbes reported that it's the number 1 driving factor affecting a consumer's purchase decision.
Considering that over 90 percent of consumers trust online reviews as much as personal recommendations, it's clear why your business's success depends on getting more reviews.
Do Bad Reviews Affect Your Business?
Negative reviews can affect a company's online reputation in two ways. First, negative reviews can turn people away from your business. Some studies suggest that bad feedback can influence consumer decisions to interact with a company. However, bad reviews only negatively impact your online business so much.
Surprisingly, negative reviews can have a positive effect on your online reputation. This is because a review profile that only has positive reviews looks suspicious. After all, no one—not even your business—is perfect. Research by Spiegel found that the ideal star rating is 4.5, not five stars.
This means that you should always aim to get more four and five-star online reviews to offset any impact a negative review could potentially cause. It is also vital to respond to all negative views politely and constructively.
How to Get More Online Google Reviews
The best way to encourage more customers to leave feedback online is to ask them. Other strategies to get more reviews for free include sending email requests, responding to reviews, providing outstanding customer service, and using review management software.
Here are some ways to increase the number of reviews you get:
Invite customers to leave feedback—All you need to do is ask every customer to share their opinions of your product or service. You can do this by having a card with a QR code that directs to your Google business profile.
Send follow-up email review requests—Sending a few reminders can encourage more customers to write an online review. You can either do this manually or use a platform for review management.
Respond to all reviews—Make it a habit to respond to every review. Review responses encourage more people to share their opinions. But it's also vitally important to reply to negative reviews, bad reviews, and fake reviews.
Develop excellent customer experience—Happy customers will likely leave positive feedback. So, develop ways to improve customer service, and you will see the number of reviews increase.
How Starloop Helps Your Business Get More Google Reviews
Using a review management tool like Starloop is the easiest way to start getting more Google reviews today. Starloop simplifies the review process by making it straightforward for your customers to share feedback. With a few clicks, a customer can rate your product or service and leave their comments.
Starloop actively encourages your customers to write a review. For example, the automated review management system sends two or three SMS or email review requests reminding a customer to leave their online review.
Starloop is unique because it offers ethical incentives for your customers to leave a review. For every review you receive, Starloop will plant a tree for free. This simple incentive encourages more of your customers to leave a review. They know they are doing something to help the planet and your business at the same time.
What incentives do you have to use Starloop? You can sign up for a free 14-day no-obligation trial to see how easy it is to use. Starloop members report that the platform helped increase review volume, which increased the number of leads generated. This resulted in getting even more reviews.
Starloop has three simple payment plans to suit every budget. You can click here to sign up for Starloop today.