It would be normal to assume that 4-star reviews are great and 5-star reviews are fantastic. If you're getting a load of 4- and 5-star reviews, it shows that customers are happy with your service. So, there are lots of things to be pleased about.
But those 4-star reviews show people aren't 100 percent happy. Should you be worried about customers leaving four stars rather than five? What's the difference between a 4-star review and a 5-star review? Surprisingly, more than you think, and the difference may not be what you expect.
This article examines how 4-star reviews differ from 5-star reviews. After reading this, you may be surprised to learn that 4-star reviews can help you achieve the perfect review score.
What are 4-Star Reviews?
Four-star reviews are from customers who are generally happy with your product or service. Nevertheless, there might be some minor issues that could be improved. This could be something like the time of delivery, a misunderstanding of the product, or the service could have been a little friendlier. Most people feel that the minor flaw isn't enough to stop them from buying the product again.
So, 4-star reviews are a positive reflection of your product or level of service.
What are 5-Star Reviews?
Five-star reviews show that a product or service is of high quality. Five-star reviews reassure customers and help with their buying decisions. They let other consumers know that it's worth purchasing your product or service. In essence, reviews with five stars are a form of free advertising.
Five-star reviews also benefit your business in another way. Search engine algorithms pick up the positive content, which boosts local search rankings and visibility.
Getting 5-star reviews is crucial to your business because they act as recommendations and endorsements of your product or service.
Four-Star Reviews vs. Five-Star Reviews
It's easy to assume that 5-star reviews are always better than 4-star ones. After all, you want your service to be the best there is. So, why settle for anything fewer than five stars? Did you know that your business could benefit from 4-star reviews?
The Spiegel Research Center carried out extensive research on the difference between 4-star reviews and 5-star reviews. The results showed that a 5-star rating is not always ideal and is even considered undesirable. In many cases, consumers viewed a perfect review profile as suspicious. The result of the research was that the ideal star ranking is between 4.2 and 4.5.
Here are reasons why 4-stars can be better than 5-stars.
A perfect rating is too good to be true
Readers become suspicious when a company only has 5-star reviews. Ultimately, consumers don't expect businesses to be perfect, and they understand that mistakes happen. It's hard to imagine any company being able to make every customer 100 percent happy. This suspicion decreases the value of the 5-star reviews.
Readers may doubt your authenticity
People might assume that you are paying for reviews or offering incentives so that customers leave 5-star reviews. Perhaps you are filtering your reviews and only allowing consumers to read the good. Customers want to make decisions based on the good and the bad, not just what you want them to read. Having 4-star reviews shows that you are a genuine, transparent business.
Only 5-star reviews may cause you to relax too much
It is great to read positive feedback and know that you are doing a great job. However, when it is all good, some people tend to relax a little too much. Taking your foot off the gas means you stop striving to be the best. Before you realize it, your competitors are gaining momentum and overtaking you.
Four-star reviews allow you to improve
Paying close attention to the content of the 4-star reviews shows what you could be doing better. By making these changes, you can attract more customers, leading to more positive reviews. Suppose you ignore the comments and not make the improvements. In that case, readers will continue to see the same negative feedback and assume you are not invested in your business or customers.
Related reading: Are 5-star reviews always necessary?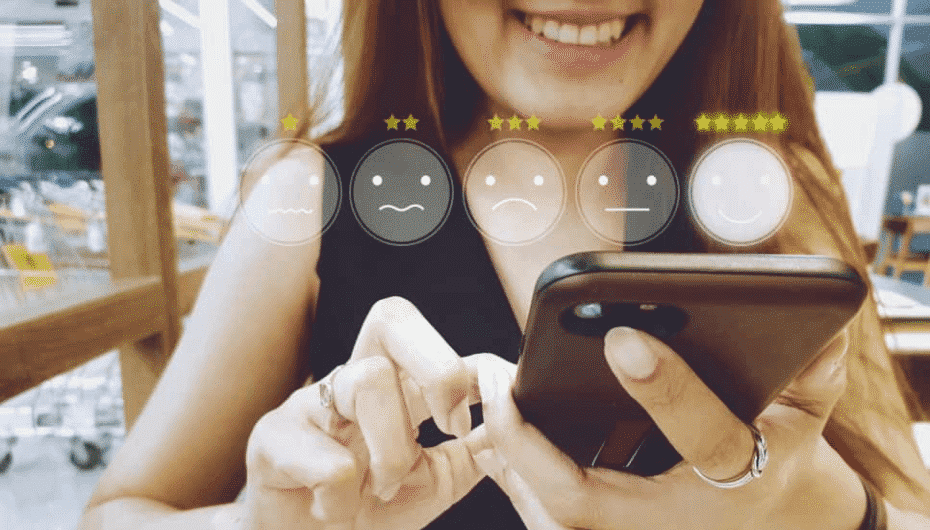 4-star vs. 5-star reviews — It's not just the star rating that matters
The content of your 4- and 5-star reviews also makes a difference. A 5-star review that doesn't contain any content or just says "great product" doesn't provide the reader any information. However, a 4-star review that includes what the customer loved and what could be better gives more information for the reader to consider.
How to Respond to 4-Star Reviews
It's vital to respond to all types of reviews—including 4-star reviews and 5-star reviews. After all, someone has taken the time to advertise your product.
However, it is more important that you respond to 4-star reviews. Responding to reviews with four stars gives you the chance to turn your happy customer into a long-term loyal one. Also, readers pay close attention to how you handle any negative feedback.
Here are steps to respond to 4-star reviews:
Begin by addressing the customer by name so that they don't feel like it is a computer-generated response.
Thank the person for their feedback and reiterate the positive. This helps produce more content for search engine algorithms.
Apologize for any mistakes that were made. Take responsibility for the issues rather than blaming another department. You will earn more respect when you can genuinely say sorry and, after all, every department is your responsibility.
Offer a solution. This could be a discount, refund, or replacement. Read their review carefully because they may have suggested ways to improve.
Add value to your product. You could suggest a way to use the product to gain more or industry tips and tricks.
Provide contact information in case they have anything further they want to add.
Sign off with your name and position.
How to Get More 4- and 5-Star Reviews
The only way to hit the perfect star rating of 4.2 to 4.5 is to get more 4- and 5-star reviews. Of course, it can be tricky knowing how to get more reviews.
Let's look at some ways to boost the number of reviews you receive.
One of the best ways to get more reviews is to ask. And the best way to ask for a review is to invite the customer to leave feedback. Never ask a customer to leave a positive review as it can sound cheap. And it's unethical to offer gifts in exchange for a review.
You can invite the customer to leave their opinion on your service by sending a text or email. You could also include information about leaving feedback by sending in a thank you note with shipped items.
Make sure you make it's straightforward to leave reviews by including a link or QR code. This reduces the risk of customers abandoning the review process. Don't forget that it's usually OK to send two or three reminders as well.
In addition to asking customers to leave reviews, you must reply to every single review. By taking care of those unhappy customers, you might be able to ask them if they would upgrade their review. It makes sense to improve your star rating by optimizing what you already have.
Another reason for responding to every review is that it encourages other customers to leave a review. It is like being in a special treatment club. When others see that you take the time to reply to everyone, they want to receive the same special treatment.
How Starloop Helps You Get More Reviews
Starloop helps its members get online Google reviews without any effort. At Starloop, we understand that managing reviews can be time-consuming and frustrating. That is why Starloop review management software sends out automated review invitations. Your customers receive a friendly invite to leave feedback. Then the review process is as simple as two or three clicks.
But you might be asking: "What are the incentives for my customers to leave a review?" Starloop offers to plant one tree for every review you receive. This unique incentive gives your customers motivation to leave a review, knowing that they contribute to a better environment.
Does this work? Starloop members say that using this software has helped them triple the number of reviews they receive. What's more, you can sign up for a free trial and are not tied into any long-term contract. This is a win-win situation for everyone—you enhance your reputation, and your customers feel they are doing something for the environment.
The Starloop review software allows you to review invitations and see responses. You also get notifications that are accessible from the user-friendly dashboard. This way, you can respond to reviews as soon as they come in.