Getting among the top rankings in local search results requires optimizing your Google My Business (GMB) listing. Google My Business allows you to increase your website's visibility for free. With an optimized GMB profile, you can easily reach the most important people to your business—local consumers who are searching for the services you provide.
Google My Business is one of the essential free tools to rank on local search results. GMB shows your organization or business on Google Maps, Google's Local Pack, Local Finder, and in organic search results. The GMB listing shows your average Google review star rating, links to your website, opening hours, and much more.
All you have to do is claim your business listing and optimize it correctly.
You may already have listed your business on Google. But Google has added many features to Google My Business that you may have missed. If you don't know about these new features, you may be missing out on new customers. Also, if information about your business has changed—opening times, phone numbers, or services—potential customers may not get up-to-date information about you.
There is so much information that people can find about your business on your GMB listing.
In this article, you will find out six ways to optimize your GMB to get more customers and increase revenue. First, we will look at why Google My Business is critical for your business success.
Why Optimize Your Business Needs Google My Business
The answer to the question: "why optimize your business listing on Google?" is simple—Google is the world's top search engine. Statistics show that nearly 90 percent of all internet searches happen on Google. Any person in your local area who is looking for the services or products you provide is probably searching through Google.
Google has also made local searches one of their priorities to meet consumer demands. One way your business can benefit is by ranking well in local search results.
When a person searches for a local service—a plumber, home inspection agency, beauty salon, restaurant, or similar type of establishment—Google shows a map with the top three listings in the local area. Imagine what it would do to your revenue if you got a coveted top-three position.
One of the first things a user will notice is the average of star reviews, map location, and picture. With a single click on "More businesses" or "More places," a list of local establishments shows up and their map location.
Think about the importance of getting Google reviews for your business. If a company has an average star review of 4.5 from 900 reviews, or a similar business has a 3-star review from 10 reviews—who are you going to pick? The answer is obvious.
Here are a few statistics to back up what you already know:
Eighty-two percent of smartphone users conduct "near me" searches.
More than 60 percent of users click on two of the first three results they find.
Other stats show that most shoppers expect more than 112 online reviews for a product or service.
Here is an example of a search for "best home inspector in Calgary."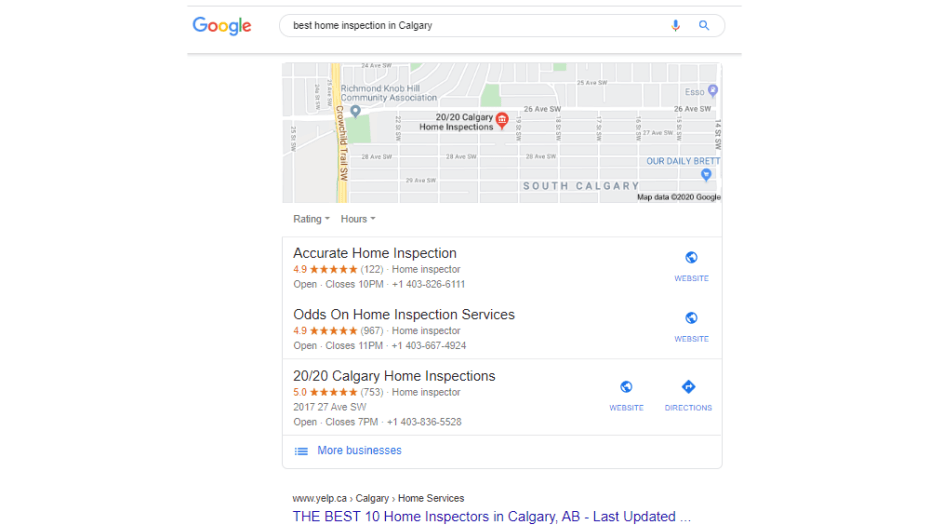 Here you can see that you have three chances to make it into Google's "Local Pack" results. You will also notice that one of these home inspection companies outranks the other three in terms of the sheer number of reviews—almost one thousand. There is also information about their services, opening times, contact numbers, and website links.
6 Ways to Optimize Your Business for Local Google Search Results
Let's look in more detail at six ways to help make sure your business dominates the local search results.
1. Provide accurate information
The first step is to make sure that all your business information is correct.
Log into your Google My Business page and check that your business name, address, and phone number is up to date. Also, double-check all other information and that you have filled out all the relevant fields. Ensure that you have chosen all the business categories that apply to your business.
How's your business description? Take your time to write up the perfect business description in your GMB profile. Include a few relevant keywords, your location, mission, and unique selling proposition (USP).
Writing up a great business description is essential to optimizing your business profile.
2. Claim your GMB short name
Your short business name makes it easier for customers to find your business on Google. This name can be customized and can also include your location—helpful if your company has multiple locations.
Google advises that the short name should be just that—a shortened version of your business name. You can use this name to promote your business and make it easier for customers to remember. Claiming a GMB short name also makes it simple to invite customers to leave feedback.
3. Use high-quality photos
You've heard it said that "a picture is worth a thousand words"—well, a few good pictures could be worth just as many clicks. Consumers love images. Photos and images capture attention and help optimize your Google My Business listing.
According to the advice that Google gives—and, who are we to argue—this is how to optimize your listing for local search results:
Upload a minimum of three exterior shots of your business premises. These images should be from different angles and at different times of the day.
Use at least three interior images highlighting the ambiance and décor of your 'bricks-and-mortar' place.
Pick the best three images—preferably more—of products or services you provide. These should genuinely represent your business.
Use at least three images that showcase your team.
4. Get Google reviews and engage with customers
Getting more Google reviews is one of the most important ways to leverage Google My Business to your advantage.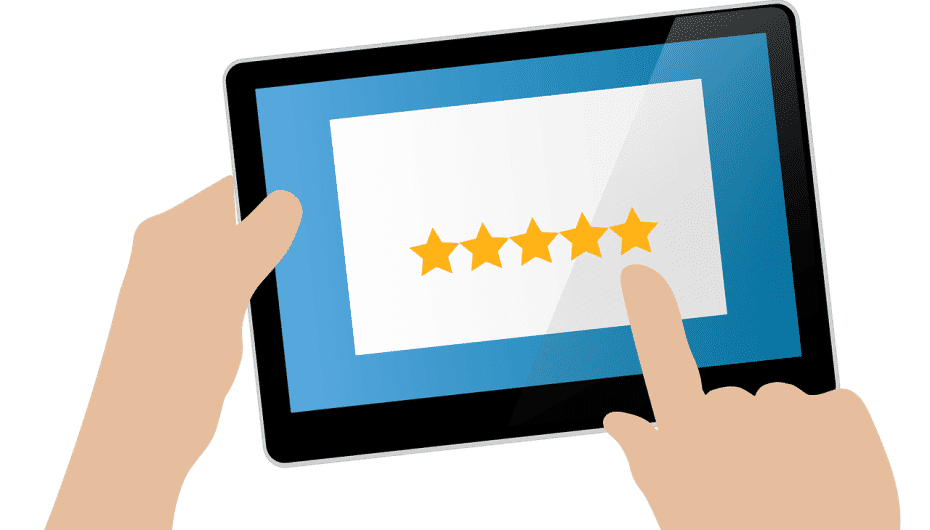 Many studies show that businesses with reviews that have at least four stars perform better than those who have three stars or less. Interestingly, consumers view companies with a 5-star average review as suspicious because it doesn't provide authenticity—after all, no business can "keep everybody happy all of the time."
You may be surprised to learn that a few negative reviews may even help your business.
Recent studies show that if you are looking to optimize your GMB for local searches, you should encourage more customers to leave reviews. More business reviews on Google correlate to increased revenue for small businesses. So, help more customers to leave reviews and don't focus on only getting positive reviews. If you provide excellent customer experience, the positive reviews will come flooding in.
5. Create Google posts on your business listing
You post on social media and write blog posts, so why not post regularly on your Google My Business profile?
Many small business owners forget that they can post pictures, updates, and other information on their business listing.
Google posts are one of the best ways to optimize your GMB profile with new information. All you have to do is log in to your Google My Business Profile, choose 'Post,' and then create your post with a link to your website.
Here are a few ideas to create posts on GMB and increase your visibility on local search results:
Post information about an upcoming event that you plan to hold
Write a short description of the latest blog on your website—don't forget to post a link.
Post images of new products you have or new equipment your business has purchased.
Share information about sales or discounts that new customers can access.
Spread some joy with a holiday greeting.
There is no end to the type of posts you can publish on your Google My Business profile.
6. Use the Q&A feature on your GMB profile
As the name suggests, the Question & Answer feature allows people to ask questions about your business.
This feature can give people searching for your business, information that you never thought about. It also sets your business apart from your competitors—let's face it; your competitors probably don't know about the Q&A options on Google My Business.
The fantastic thing about the Q&As is that you can ask your own questions and answer them yourself. Of course, you need to keep everything ethical and not sink into self-promotion. But you could provide factual information about your business and the services or products you offer.
Optimizing Your GMB Profile for Local Search
Google My Business is an excellent free tool for local businesses to dominate the local search results.
To maximize the impact of your GMB profile, regularly check that the information listed is accurate and up-to-date. Also, have a regular schedule for posting content on your Google business profile to help boost your rankings in the local search results.
One challenge that many small business owners face is getting more Google reviews. What can you do to encourage more of your valued customers to leave feedback?
At Starloop, we have developed a cost-effective solution to get more reviews. Take, for example, the home inspection company mentioned previously. 'Odds On Home Inspections.' This company is one of Starloop's members and, thanks to our automated software, has gained nearly one thousand Google reviews on their business profile. They also feature on Google's Local Pack for local searches.
Contact us today to find out how you can quickly increase the number of Google reviews you receive. Along with optimizing your GMB listing, more Google reviews can boost your search engine results, get you more customers, and increase revenue.