Online Google reviews are one of the best assets for your online reputation. But knowing how to get more Google reviews is challenging. You could leave it to chance; however, most people are too busy to remember to leave a review. Or what about emailing customers to ask for a review? That could work. But do you have the time to be managing Google reviews manually?
There must be an easier way to encourage your customers to leave online Google reviews. The good news is that there is a simple solution to your problem.
According to some stats, a whopping 57 percent of people read Google reviews. And 56 percent of consumers read at least four reviews before making a purchasing decision. Also, consumers tend not to trust older reviews as they are less relevant. So, along with having plenty of reviews, you need a steady stream of new, positive reviews.
So, how do you get more online Google reviews? Here are ten excellent ways to encourage customers to leave reviews for your business on Google.
1. Ask for reviews in the moment
Invite customers to review your product or service at the point of sale. Of course, you could feel uncomfortable doing this. But usually, the highest level of customer satisfaction is when they make a purchase. This is true whether it's face-to-face, by phone, or online. If you provide an outstanding customer experience, they are more likely to leave a positive review.
What is the best way to ask for Google reviews? Instead of asking for a "review," invite your customers to leave "feedback." This avoids the feeling that you are begging for a massive favor.
2. Let customers know you will be asking for feedback
Inform customers early on that their feedback helps you improve your service. So, in the initial contact or when explaining products mentioned, you will invite them for their feedback. Doing this makes asking for reviews a part of your routine.
3. Send invitations to leave reviews
Email is the best way to send review invitations. People tend to check their emails when they have a few spare minutes. And they are more likely to have the time to reply. Emails are also far less intrusive than a phone call. Of course, you can send SMS invitations. But, customers can receive them at inconvenient moments and may forget to write a review.
It makes a lot of sense to use Google review software because most solutions have automated features. This is a great way to save time because it automatically sends emails or SMS invitations with your review link inserted.
4. Provide as many ways to leave a review as possible
It's time to think out of the box if you want to increase your online Google reviews. Email and SMS are great, but there are more options. Thank you cards with instructions on how to leave a review offer an extra personal touch. Make sure you include a review link on your website too.
Posters in store windows with phrases like "Your opinion matters" encourage customers to feel part of your brand. Google allows you to create a QR code that you can include on posters and leaflets. This way, customers only need to scan the QR code to arrive at your review site.
5. Get more reviews by asking at the right time
The best time to ask for reviews is when a customer has referred you to a friend, tagged you on social media, or is a repeat customer. If you haven't asked at the point of sale or arrival of the product, it is best to ask for a review within a couple of days.
6. Send review reminders to get more reviews
Sending a second or third email to leave a review is fine if you correctly word the message. Generally, a follow-up message or email is enough to remind busy customers to leave a review. It is advisable to send review reminders at two- or three-day intervals and no more than two reminders after the initial invitation.
7. Make the review process quick
Not everyone is a technology whizz. Some customers are wary of the sentence "just click on the link" because of negative past experiences. People don't want to click a link and have a series of popups. Nor do they want a five-minute questionnaire about their experience.
It should take no more than two or three clicks to write and send the review.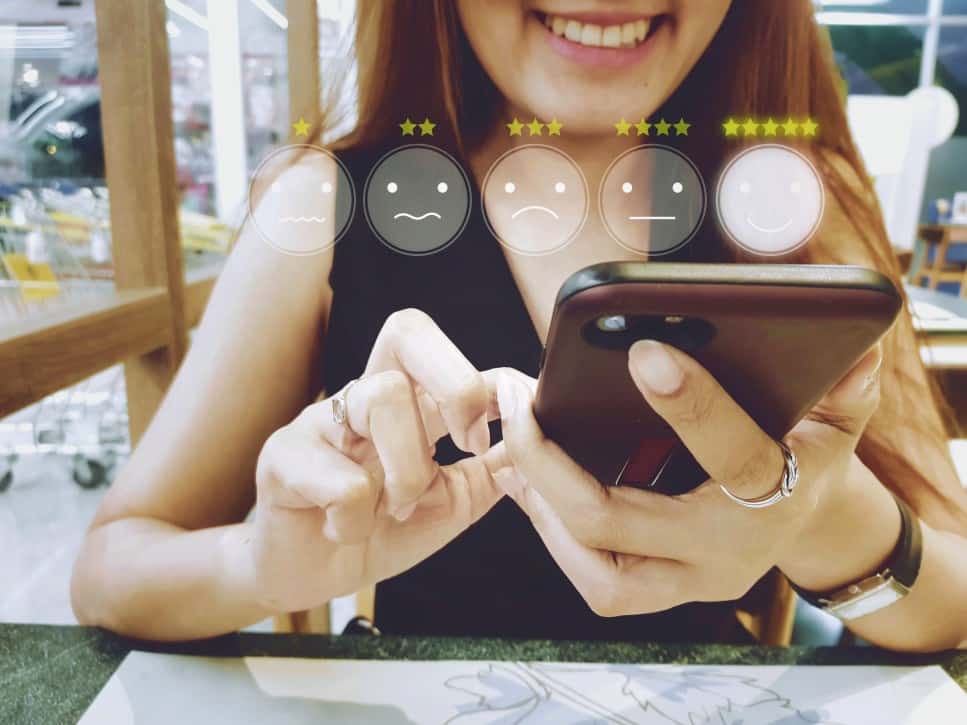 8. Respond to every review
Increase the number of reviews you get by responding to every review. If you only reply to negative reviews, people will not be motivated to leave positive reviews. By ignoring negative reviews, you will only damage your reputation even more. Therefore, you should reply to every review—even leave a comment on 3-star reviews that are a little mixed.
What should you do if you get malicious reviews? Check out this article on how to respond to fake Google reviews.
Of course, always thank your customers for their reviews—negative and positive ones. It's free advertising, so you should show your appreciation. Apologize for any mistakes made and take responsibility for them. Offer a solution and work at correcting the mistakes.
If you can't see the review, then there could be legitimate reasons why Google reviews aren't showing up.
9. Ask to share customer reviews
Sharing reviews on your website and social media accounts boosts social proof. Social proof is a phenomenon where people copy the actions of others. When people see that others leave reviews, they want to be a part of the same action. So, they will "follow the crowd" and write their own review.
Sharing reviews can also increase your online content, which will improve SEO and Google search engine rankings.
Bear in mind that you should always ask your customers if you can share their review first. This is a matter of respect, trust, and in some cases, the law—especially if you include names and photos.
10. Use Starloop to get more Google reviews
All of the above sounds like a lot of work—and it is. That is why successful businesses use Starloop to get more reviews on Google. Starloop review management software takes the time and effort out of getting new, positive reviews.
Starloop ticks many of the boxes on how your business can get more reviews. The software sends automated review invitations to your customers. Careful wording invites customers to leave feedback so that they don't feel pressured. All your Google and Facebook reviews appear on a user-friendly dashboard where you can reply to each one. Starloop is quick and easy for both you and the customer.
Starloop offers your customers a unique incentive to leave feedback. We plant one tree for every review you receive. This opportunity encourages customers to leave a review. They know they are helping the planet and your business at the same time. It becomes less about doing you a favor and more about a sense of duty to save the environment.
This special incentive removes the need for other gimmicks that are ethically frowned upon. Furthermore, it's an excellent boost for your online reputation because customers will see that you are actively working towards a greener company.