You have worked exceptionally hard to provide an outstanding customer experience. You provide superior products, your service is first-rate and personalized, and you have dedicated time to after-sales care. So, after all this, why aren't your Google reviews showing up?
Publishing Google Reviews is an opportunity for consumers to read honest opinions from people who have had first-hand experience with your product or service. Google works hard to ensure that each review provides trust in a product—which requires the good and the bad. Ninety-two percent of consumers read reviews to help them with their purchasing decision. As Google is the most popular search engine today, it makes sense that people trust Google reviews.
Google has a rigorous set of policies on the content of reviews. Even when you think your customers have left the perfect review, they may have unintentionally broken one of the guidelines. This can result in the review not showing up at all.
In this article, you'll find out why your reviews may not be showing up. You'll learn why Google might block your review due to the policy breaches.
But in 2020, there was another reason many business reviews didn't show up.
Google Reviews and COVID-19
Not even Google managed to escape the harsh impacts of COVID-19. Due to staff shortages during the pandemic, Google couldn't verify all reviews. Due to this, Google disabled reviews, and none of them showed up. During that time, customer reviews didn't appear, and business owners couldn't respond to reviews left on Google My Business.
All is not lost, though. Reviews posted during that time showed up when the service came back online in June 2020. And Google confirmed that all review services were back up and running.
10 Reasons Why Google Reviews Don't Show Up
1. There is a conflict of interest
You can't write a review of your own company—which is logical. But your employees can't write reviews either. It would be best to make sure that reviews aren't coming from the same IP address. Not only does the review need to be from a different computer, but it must also be from another internet connection.
Suppose you offer free Wi-Fi at your business. If your customer writes a review while connected to the Wi-Fi connection, Google might block it.
Of course, if you think that competitors are leaving malicious reviews, you should act quickly to remove any suspicious fake reviews.
2. Inactive or new accounts
Customers must have an active account for their review to show up. But if a customer deletes their Google account, the review will disappear too. The same is true for your own account. If there hasn't been any account activity for several months, reviews may not appear.
3. The same review on multiple review sites
Copying and pasting reviews can mean that they don't show up. The first might be that a loyal customer has copied and pasted their review on various review sites and Google. They may have good intentions, but duplicated reviews are not permitted. If many of your customer reviews are similar, they will also look suspicious and may not appear on your business profile.
4. A flood of reviews at the same time
When you release a new product, it is normal to ask everyone you know to leave a review. Some reviews may not show up because of this scenario: You get a ton of genuine reviews and then none for a long time. Google could view this as suspicious behavior and may think that the reviews aren't genuine. This fact shows why you should have an online review strategy to get a steady stream of reviews.
5. You have chosen unethical practices
Paying for reviews is never a good idea. Google's algorithms are smart enough to identify some businesses that pay for reviews. Usually, these reviews are from Google accounts that have very little user information or very little activity.
Another unethical practice is to offer incentives for your reviews. Offering free gifts in return for a review may encourage customers to leave reviews. However, if Google discovers that you've 'bought' reviews, they could punish you by removing them.
6. Your business information is not correct
Make sure your Google My Business information is accurate. It is such a small detail that can have a significant impact on the reviews you receive. So, double-check that your contact information and business address are correct. Also, ensure to update any changes to your business listings.
7. The review contains URLs
Reviews won't show up if they contain any links to other sites, URLs, or contact numbers to businesses unrelated to yours. There is no need for reviews to include such information, and it seems like the reviewer is trying to promote other companies.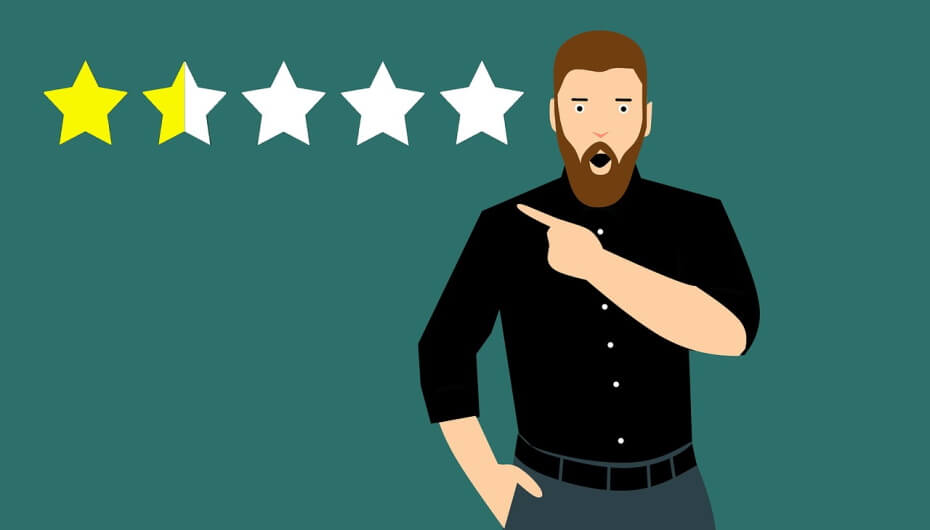 8. Inappropriate content
Google will not allow any review to appear that contains obscene language, violent images or language, sexual implications, hate speech, or bullying. The company will also not tolerate any form of child exploration or terrorism. Reviews also can't contain any personal information, financial details, or government-issued IDs won't appear.
9. The content is not relevant
Reviews won't appear if they talk about other products and services that are not related to your business. They definitely won't show up if the review promotes potentially illegal products such as alcohol, drugs, weapons, or pharmaceuticals.
10. You have more reviews than 'usual'
Google carries out comparisons of similar businesses in the area. If your company has significantly more reviews than others of a similar nature, it could seem suspicious. You might be receiving fake, paid, or spam reviews.
Of course, if you get a steady flow of positive reviews from genuine customers, these will appear on your Google My Business profile. Many studies show that your business can gain a competitive edge when you have more reviews than your competitors. So, it makes sense to invest in review management software that helps your business get more genuine reviews.
What Can You Do About Reviews Not Showing Up?
It can take two to seven business days for a Google review to appear. So, suppose your customer has promised to leave a positive review, and it hasn't appeared yet. In that case, it doesn't necessarily mean it won't. You just need to be patient.
Another small detail is to show your customers how to leave reviews. While letting them know how grateful you are for their feedback, you could remind them of some of the general rules, like keeping it clean and not including any other links.
Google reviews not showing up can be turned into a positive. You should always pay attention to getting reviews from all of your customers. For this, the best marketing strategy is to employ some form of online review management.
Your online reputation is essential in today's business environment. It takes continuous effort to gain a steady stream of reviews. One or two reviews not showing up when you have hundreds is OK, but when you only have a handful, it's going to hurt more.
Do you want to get more reviews to boost your rankings on local search results? Reach out to Starloop to see how you can increase the number of Google reviews you get.