The ideal Google star rating on your business review profile can determine your success. You may think that only a perfect 5-star rating would do. After all, your goal is to provide the best service to your customers. However, potential customers are more likely to visit your business if you have fewer than five stars.
Aiming for the stars—in this case, five stars—should be the aim of every business owner. Unfortunately, many owners assume that only showing 5-star Google reviews will impress prospective customers. But, surprisingly, your future customers are more likely to be impressed with a star rating of 4.5.
What is the ideal Google star rating that will impact the size of your customer base, brand reputation, and profits? Should you be worried about getting negative reviews? How many stars do you need to impress your potential customers?
This article contains the answers to those questions and more.
What is a Google Review Star Rating?
Google reviews use a rating scale of five stars. Therefore, each customer can rank their experience on a scale of one to five. At the same time, they can leave their opinions about your product or service. The customer ratings then combine to show an average star rating.
Why Google Review Star Ratings Matter
Star ratings give consumers insight into sentiment about the quality of your business. The star ratings appear on Google maps, your Google Business Profile, and sometimes on search engine result pages (SERPs). As a result, star ratings affect buying decisions, improve local search rankings, and result in more click-throughs.
Here are some facts and figures showing why Google reviews matter to your business:
Ninety-four percent of consumers are more likely to use a business with positive reviews.
Nearly 80 percent of people trust online reviews as much as personal recommendations.
Google is the most popular online review platform, with 59 percent of consumers using it to read reviews.
Most customers read at least four reviews before making a purchasing decision.
Eight in ten people consult online reviews when searching for a local business.
It's not just the number of stars and average rating that are crucial. The number of reviews is equally important. For example, which is more trustworthy? A business that has a "perfect" 5-star rating from two reviews? Or one with an average of 4.5 stars from over a thousand reviews?
What is the Ideal Google Star Rating?
The perfect Google review star rating is between 4.2 and 4.5. Research by Northwestern University found that purchase likelihood increases when the average rating exceeds three. It peaks between 4.2 and 4.5 stars. Then drops as the star rating average approaches five.
While the "perfect" Google star rating is between four and five, it's not the same across all industries. For example, McKinsey reports that consumers buying pet food are happy with an average rating of 3.4 stars. However, the study also found that an increase of 0.2 stars is enough to impact buying decisions.
Related reading: Why you don't really need five stars.
How to Improve Your Google Star Rating
To improve your average Google star rating, it's crucial to have an active strategy to obtain a steady stream of new online reviews. There are several ways that new reviews can boost your average rating. For example, getting more positive reviews negates the impact of negative reviews.
Let's look at several ways to get more reviews to improve your Google star rating.
How to get more 4 and 5-star reviews
First, make it your goal to get positive reviews from customers. Generally, customers happy with your service will leave positive feedback and give you four or five stars. This is crucial because there is a chance that you occasionally receive a negative review. Therefore, plenty of 4 and 5-star reviews will keep a perfect average rating—between four and five.
Ask happy customers for reviews
To get positive reviews, you need to ask for customer feedback. Most customers respond well when you invite them to leave feedback. Of course, it's crucial to avoid loaded questions like, "Could you leave a positive review?" However, it is usually enough to inform the customer that you value their opinion.
Related reading: How to ask for a Google review.
Respond to all online Google reviews
Replying to all reviews online can significantly impact your average star rating. First, responding to customer reviews encourages more people to share their opinions online.
However, responding to negative reviews allows you to address a customer's concerns. In some cases, a disgruntled customer may be willing to change their original review if you deal with the issue appropriately. But the fact that you respond to negative and bad reviews has an overall positive impact on your brand reputation.
Related reading: How to respond to reviews – three templates.
Continually improve the customer experience
Ensuring your customers have nothing to complain about will enhance the user experience. Therefore, learning from any negative experience that customers share is vital. If you provide the service customers want and expect, they will be happy to leave four and five-star reviews.
Make it easy for customers to leave reviews
If you want to reach the perfect Google star rating, make it easy for people to leave reviews.
The best way to do this is to have a link or QR code that directs people to your Google My Business profile. You could also have a link on your website to your Google reviews page. Even better, you could incorporate Google reviews on your website with a call-to-action to leave a review.
Optimize your Google Business Profile
Ensure your Google Business Profile is fully optimized if you want to improve your overall star rating.
According to Google, displaying the correct business information is crucial for increasing online visibility. Additionally, Google advises business owners to respond to all customer reviews. Google also hints that positive reviews are a factor in local search result rankings.
Use review management software to get more Google reviews
Managing online reviews can be a time-consuming task. Therefore, it's best to use an automated review management tool to simplify the process. For example, review software can automatically send review requests and reminders and make it easy for your customers to leave reviews.
Why should you consider using a review management platform to get more reviews? Studies show that most people who have a negative experience will leave a poor review. However, customers who enjoyed their experience tend to forget. Therefore, using review software to request and remind about reviews helps you get more positive reviews.
The result? Your average star rating increases because a steady stream of positive reviews offsets any negative feedback you have received.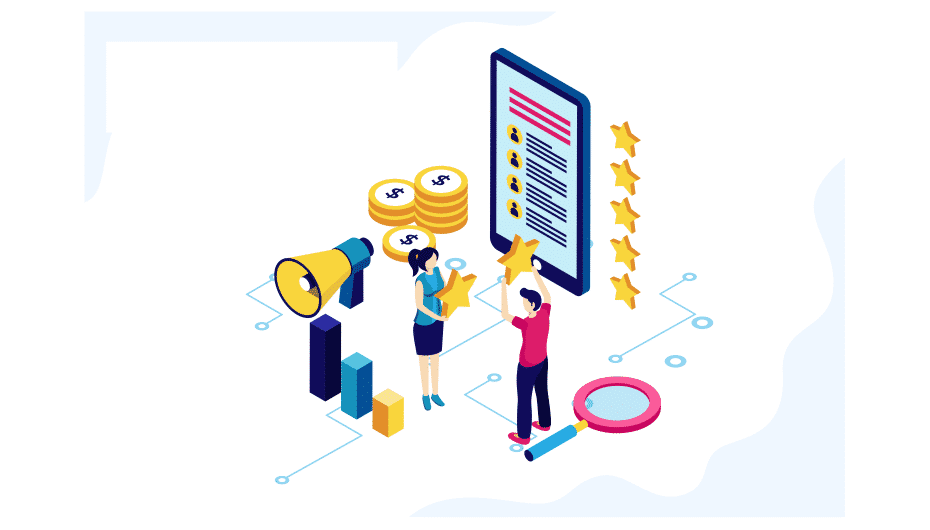 Embrace Negative Reviews to Attain the Ideal Star Rating
Negative reviews can be helpful because they may help you achieve the perfect star rating. How so? First, they give you valuable insights into your business. Second, publishing negative reviews shows transparency and builds trust and social proof.
According to Northwestern University research, a perfect five-star rating is "too good to be true." In many cases, it raises suspicions about transparency as no business is perfect. And according to some studies, 62 percent of people will not engage with a business that censors negative reviews.
Therefore, learning how to deal with bad reviews is essential to boost your brand reputation online.
There are two types of bad reviews—negative reviews and fake reviews.
How to handle negative reviews
Negative reviews are typically online feedback from unhappy customers. They usually didn't like an aspect of your service and shared their opinions. This type of customer feedback allows your business to grow and learn—if you handle negative reviews properly.
How should you respond to a negative review? First, it's vital to acknowledge the customer's concerns. Maybe they have experienced something you were not aware of. Second, make an apology—even if you feel the customer is in the wrong. Lastly, offer to resolve the issue.
Related reading: How to respond to a negative review.
How to respond to fake reviews
Dealing with fake reviews promptly is crucial for protecting your online reputation. Fake reviews are from people who are not genuine customers and are usually left with malicious intent. To deal with fake reviews, it's vital to respond appropriately and flag the bad review for Google to delete it.
Related reading: How to respond to fake reviews.
How Starloop Can Help You Achieve the Ideal Google Star Rating
The best way to get an average star rating of between 4.2 and 4.5 stars is to use a review management tool like Starloop. This automated software saves you precious time sending review requests and responding to every review. Starloop helps you get a steady stream of positive reviews from real customers.
Here is how Starloop provides the solutions your business needs for review management.
Starloop sends a review request to your customer, inviting them to leave feedback.
The email or SMS has a link to direct the customer to the review site.
With a few clicks, the customer can rate your business and leave feedback.
You receive a notification of a new review and can respond immediately.
Starloop will also send out two or three reminders to encourage customers in case a customer hasn't yet left feedback.
As an incentive to get more of your customers to share their opinions online, Starloop offers to plant a tree for every review you receive. Our "plant a tree for every review" policy has helped many of Starloop members get hundreds of new reviews.
Do you want to boost your average star rating and get more reviews? If so, why not take advantage of Starloop's 14-day, no-obligation free trial to see how easy it is to use.