Deleting fake reviews is crucial to protect your online reputation. No business wants to allow people to post misleading information or outright lies on its review sites. But knowing the proper steps to take to delete malicious reviews can be tricky. After all, you can't control which reviews get published.
It's worth taking your time to learn how to delete fake negative reviews. After all, your Google reviews make up a considerable part of your online reputation. They impact your SEO ranking and, essentially, your income. The latest research shows that the best star rating is 4.2 and 4.5, so the odd negative customer review can help.
However, when you suspect a fraudulent review, you need to take steps to flag a fake review for deletion. In this step-by-step guide, you'll learn the easy way to delete a fake review and protect your business reputation.
Can You Delete a Fake Google Review?
The good news is that you can delete fake reviews. However, you can only flag fake content for deletion—you can't delete them yourself. Google has a team for review assessment. This team checks all flagged reviews to ensure they represent a policy violation.
A fake customer review and fake content are high up on the list of violations. If you suspect that a review is fake or not left by an actual customer, you can flag it. This alerts Google to take the necessary steps to evaluate its authenticity. If they think it's not genuine, they take the steps needed to remove it.
It's important to remember that Google won't remove reviews because of a bad customer experience. Also, just because you aren't happy with customer feedback isn't a reason to delete the review. After all, the review may be a bad review for your business, but it's not necessarily a fake review.
It is crucial that you only dispute Google reviews that you confidently believe are fake.
Google's policy on reviews also says you can flag the reviews with the following type of content for deletion:
Off-topic reviews
Inappropriate content
Promotion of illegal products, medical devices, or alcohol
Reviews containing offensive language
Sexually explicit content
Any type of content that is discriminatory
Why Delete Fake Online Reviews
It is crucial to delete fake Google reviews because they impact your star rating. Depending on the number of reviews you have, a few fake reviews could take you below the perfect 4.5-star rating. Potential customers may not realize the review is fake, which could put them off from making a purchase.
Related reading: Why you don't always need 5-star reviews.
How to Determine If a Google Review Is Fake
Look for certain signs to determine if a Google review is fake. It helps if you keep a good record of your customers. Look for reviews that are one or two stars but contain no feedback or content. Generic comments are another tell-tale sign of a fake review.
The Google review will have a username. If the username doesn't match your customer records, they can't leave a review because they are impersonating a customer. Only people who have experience with your business can write a review on Google. Of course, someone may have bought a product for another person. But it's usually easy to realize if the customer is genuine.
You should also check the avatar to ensure it isn't missing because this is another sign of a fake review.
With Google reviews, you can see all the reviews a person has left. Suppose you notice that this person has a habit of leaving only 1-star reviews and negative reviews. In that case, this is likely from a fake reviewer.
You should also be aware of people who always leave 1-star reviews without any written content. A 1-star review without any reason makes it impossible to rectify the problem. These people know that leaving a 1-star review or even 2 stars negatively impacts your overall star rating. So, as a matter of course, always flag one or two-star reviews that don't contain content.
Finally, double-check that the review is about your business. For example, is the review about services you don't provide? Sometimes, an angry customer will mistakenly leave a negative review on your Google profile. Despite being an accident, it is still a fake review.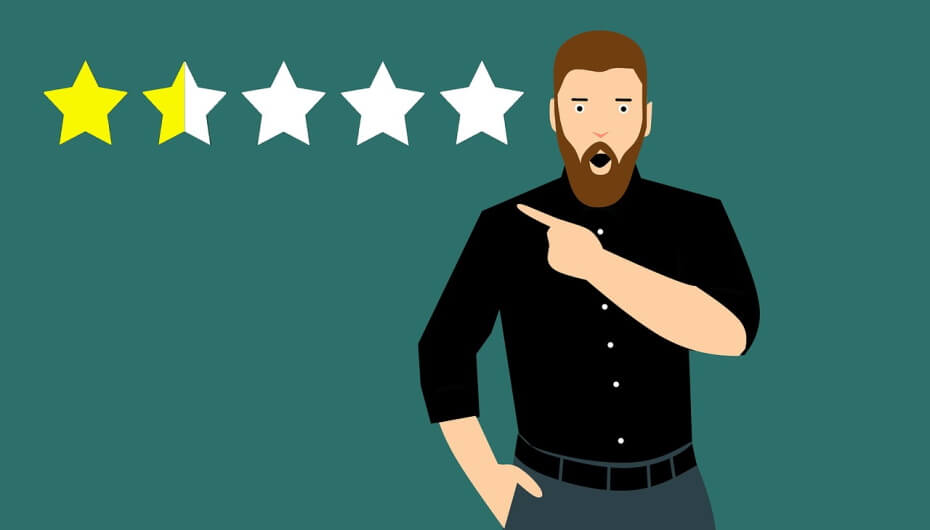 Three Simple Steps to Delete a Fake Google Review
Once you have checked that a review is fake or goes against Google's review policies, it's time to get rid of the bad review. Thankfully, it's relatively easy to delete a fake Google review. There are also various ways you can flag a review depending on the device and operating system you are using.
How to delete a fake Google review from a laptop or computer:
Sign in to your Google My Business (GMB) account and look for the correct location
In the left bar, find Reviews and click on it
Select the review in question that you want to flag
Click the three buttons for a drop-down menu to appear
Choose Flag as inappropriate
Select the reason for the review violation
How to delete a fake Google review from a mobile device:
If you haven't already done so, download the My Business App
Open the app and sign in
Choose the Customers tab
Click on Reviews
Find the review in question and click on the three dots
From the drop-down menu, select Flag review
Select the reason for the review violation
How to delete a fake Google review from Google Maps:
From your Google account, open Google Maps
Find your business and click on your business reviews
Choose All Reviews and then search for the review you want to flag
Click on the three dots and Flag as inappropriate
Select the reason for the review violation
How Long Does It Take to Delete a Fake Review?
It can take three to five business days for google to delete a review if they agree that it violates the content policy. So, you need to be patient. In the meantime, you still need to reply to fake reviews. After all, the review remains online until Google deletes it. It's still there for everyone to read—including prospective customers. Therefore, your response is crucial.
How to Respond to Bad Google Reviews
It can take a few days for Google to remove an online review. Therefore, you must reply to every review. Regardless of whether the review is fake or a genuine negative review you disagree with—you must respond.
If you leave a bad review without a response, readers don't get a chance to hear your side of the story. They might also assume that you are not interested in your customers' opinions and making improvements.
How to respond to fake reviews
To respond to a fake review—let the customer know that you can't find any record of their purchase. Then ask them to contact you on an email or phone number.
How to respond to negative feedback
To reply to a negative review—thank the customer for their feedback, apologize and offer a solution. Again, leave contact information to take the conversation offline. An outstanding response to negative content in a review can turn an unhappy customer into a returning customer and show off your customer service skills.
Related reading: Three examples of Google review responses.
How to Take the Sting Out of Negative Reviews
Negative reviews are always going to hurt. But there is no need for them to damage your online reputation. Having a fail-proof review strategy is the first step towards reducing the damage of negative reviews. When you choose an effective review management software, you can start to gain more positive reviews. The more positive reviews you can get, the less impact a negative review has.
Starloop is an excellent one-stop solution to get more reviews but without costing you a fortune. With Starloop, you can get legitimate reviews from real customers. You get the kind of reviews that boost your online reputation.
Starloop software is simple to use. It enables you to see all your Google and Facebook reviews in one inbox. You receive notifications when new reviews come in, allowing you to respond immediately. You can set up automated review invitations that make it easy for customers to leave their reviews.
To motivate customers to leave reviews in the right way, Starloop plants a tree for every review you get. This is an amazingly ethical way to gain more positive Google reviews. This way, negative reviews will never affect your online reputation.