Review management software is the only way to leverage the impact of online reviews to your advantage. The best online tools to manage reviews save you time, get you more real customer reviews and increase revenue. Additional benefits of investing in reputation management include improved local SEO search rankings, a better business reputation, and a stronger online presence.
Online review management tools are not just about getting more reviews. Review monitoring allows you to respond to negative reviews, delete fake Google reviews, and have positive customer interactions with your current customers.
Before investing in an online reputation management tool, it's vital to know the benefits. After all, you want to see a healthy return in investment in the form of increased profits and a more robust business.
In this article, you'll learn the eight ways that you can transform your business by managing reviews with the appropriate tools.
What is Review Management Software?
Review management software is a digital solution enabling you to see all your reviews in one place. The software sends automated requests to customers for reviews, sends notifications of new reviews, and provides valuable customer insights. The review management tool often has integrated communication tools like web and video chat.
What Review Management Software Does
When you choose to use review management software, your business becomes more organized and more professional. The benefits to your business are that it makes it easier to get more reviews and analyze customer feedback trends. And you can also reply to all new reviews as soon as they come in.
There are also customer benefits. For example, it is easier for customers to leave reviews because they know where to leave reviews, and the review process is straightforward.
Some review management software increases engagement with messaging services for customers to contact you. And to boost collaboration, you can use the same software to delegate inquiries or reviews to employees.
8 Genuine Results of Using Review Management Software
Let's look in detail at the excellent benefits review management services can offer your business.
1. Review management services increase revenue
The more user reviews you have, the greater the chances are that someone will click on your business and visit your website. More website search traffic leads to higher conversion rates, more sales, and higher revenues. This is because readers are far more likely to trust what genuine customers have to say about a business than they will an advert.
2. Review management tools instill confidence
Potential customers trust a mixture of positive reviews and a few bad reviews. This means that customers are more confident in making a purchase. However, customers don't want to see all five-star reviews. They know it is almost impossible for a business to have a perfect reputation score.
According to research, the perfect star rating is between 4.2 and 4.5 stars. Customers want to read the truth, and reviews give them this opportunity.
3. Review management software improves SEO rankings
Reviews are vital for on-page search engine optimization. Search engines use intelligent algorithms to crawl the internet looking for content related to your business. This can include the content on your website, articles, and, of course, online review sites.
Search engine algorithms detect user-generated content. So when they notice businesses with positive content, they place them higher on the search engine rankings. This increases visibility—which links back to increased revenue.
4. Improve customer experience with online review management tools
Software that generates more reviews provides valuable feedback from customers. Reviews from customers allow you to find out what people are saying about your product or service. When you can reply to an online review directly from the software, it's easier to engage customers. In turn, this makes them feel like their opinion is valued, and they are more likely to return.
For example, say an unhappy customer leaves negative feedback. In that case, you can use these insights to make improvements. In addition, however, you can respond in the appropriate way to negative reviews, giving your reputation a boost.
Studies show that 84 percent of businesses that work on improving customer experience see an increase in revenue.
5. You can optimize your product/service
Client reviews contain invaluable feedback and actionable insights. Think about it, without getting some negative feedback, how can you know where to improve? Or, if you read about a customer's positive experience, you can feature this on your social media profiles.
Improved customer service leads to getting more authentic reviews from happy customers. You will also see a reduction in the number of negative reviews you receive.
6. A review management solution boosts brand awareness
Online reviews are the modern version of word-of-mouth advertising. For example, research shows that 93 percent of consumers read online reviews before purchasing online. Even if you have a brick-and-mortar establishment, 76 percent of people search for your company online before walking through the door.
Even if someone doesn't make a purchase at that moment, you want people to be aware of your brand. So when they need your services, they know where to go.
7. Review generation software gives you more insights
Software to generate authentic user reviews gives you excellent insights into your business. Some review management solutions include tools such as sentiment analysis and surveys. You can use these tools to learn more about your customers' thoughts and ways that you do better.
8. Manage business listings
Some review management tools help manage business listings. Your business listings must be accurate across the whole of the web and on all review platforms. For example, business information on Google can't be different from that on Yahoo. Also, your Google My Business profile should contain accurate information; otherwise, your reviews may not show up.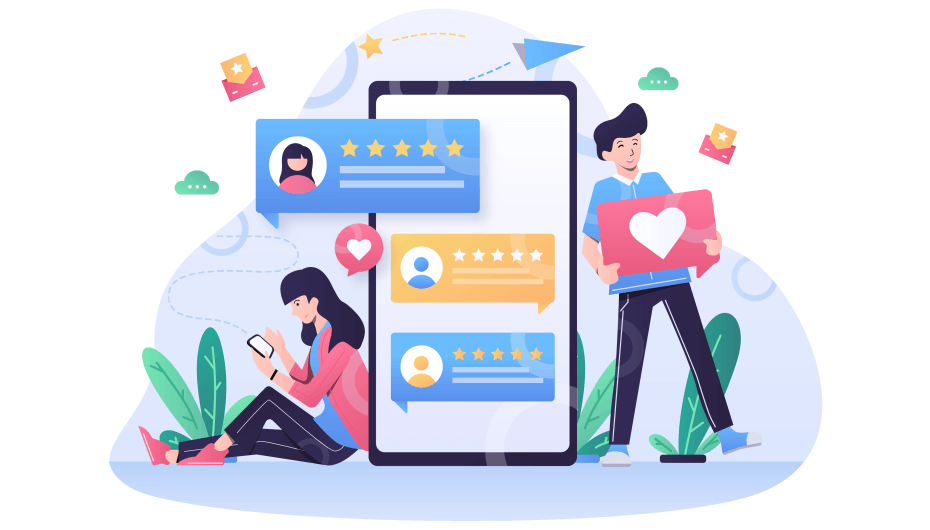 How to Choose Review Management Software that Guarantees Results
When choosing review management software, the first thing to do is to know precisely what key features you need. The essential features you should look for include the following:
Sending review requests
A unified inbox for all your reviews
Automated invitations
Real-time notifications
A clean, user-friendly dashboard
Incentives for customers to leave reviews
Remember, the more unnecessary features you have, the more complex the software is likely to be. The whole point is to save time, not to create a headache for you and your team. Unfortunately, it is also likely that more features come with a higher price.
For example, if you only have Google reviews, then software with multi-site monitoring may not be worth the cost. Also, if you don't have profiles on social media sites, then social media monitoring is another feature you don't require.
It is also good to choose software that offers a free trial and doesn't tie you into lengthy contracts. Also, check if the price has limitations on the number or review invitations or locations.
Finally, check the reviews. Find out what people are saying on independent review sites rather than the review management website. Key features to look for in reviews are the ease of use and the effectiveness of getting more reviews. You can also read articles about the software to learn more about the features from software experts
Is There an Ultimate Review Management Software?
The review management software you choose must be based on your business needs. However, the ultimate review management should have two primary features:
Allow you to monitor your reviews
Send out review requests, so you get more online reviews on Google and Facebook
These are two reasons why Starloop stands out from the competition.
With Starloop, you can transform your business with little investment but massive results. The review management process is straightforward. Unlike many companies, Starloop has transparent pricing plans. For example, there is a flat fee of $197 per month with a guarantee to triple the number of reviews you receive. The low cost stays the same, regardless of the number of locations, users, or reviews you have.
To try out the software, you can take advantage of the 14-day free trial period. Then, if you decide that you love getting a ton of new online reviews for free, there are no lengthy contracts if you choose to invest in your business reputation.
In the free-trial period, you can fully use all of Starloop's key features. There is a user-friendly dashboard showing all your Google and Facebook reviews. You can also see your customers' names, star ratings, and full review content. In addition, you receive notifications when new reviews come in, making it easier to respond.
To save time, Starloop lets you send friendly, automated review invitations via email and SMS. As a result, customers only have to click on a link to leave their review, increasing the chances of completing the process. Furthermore, Starloop plants a tree for every review, meaning that this review management software gets your business more reviews the right way.