Are you trying to find your Google Business Reviews but cannot locate them? It's frustrating to know your customers have left reviews, but you can't find them. Additionally, finding online reviews on Google or other platforms is crucial for monitoring and managing reviews.
Online reviews from customers are a crucial aspect of your business's reputation. They provide potential customers with valuable insight into the quality of your products or services. However, with so many different platforms for reviews, it can be challenging to keep track of where your reviews are located.
You're not alone if you're struggling to find your Google Business reviews. Many business owners are unaware of how to find their online reviews.
In this article, you'll learn how to locate your Google Business reviews. At the end of the article, you will get helpful tips on monitoring reviews and improving your online reputation.
Why Are Google Business Reviews Important?
Google business reviews are an essential part of your online reputation. Online Google reviews are often one of the first things potential customers learn about your products and services. Positive reviews increase trust and credibility, making it more likely they will choose your business over your competitors.
In addition, reviews on your Google business profile (formerly Google My Business) can improve your local search results. Google considers reviews as a ranking factor in local search rankings. And responding to reviews—whether positive or negative—shows you value customer feedback and are committed to providing excellent customer service.
Here are several facts showing why it's vital to find and monitor online Google reviews:
A study found that 93 percent of consumers believe online reviews help them make more accurate purchasing decisions.
The majority of online shoppers pay more attention to negative reviews. Therefore, business owners must have a system to manage reviews and review responses.
Ninety-four percent of online purchases have a star rating of at least four.
Overall, Google Business Reviews are a critical aspect of online reputation management for any business. They influence purchase decisions and exposure in search results.
How to see my Google Reviews?
Knowing how to find online Google reviews is crucial to know what customers are saying about you. Responding to negative reviews and properly addressing a customer's issue is vital. Also, you must know how to flag fake reviews so Google can delete them.
So, how can you see your Google reviews? Here are two ways to find online reviews on your business profile.
How to find my Google business reviews on mobile
Finding your Google reviews on a mobile device is a straightforward process.
First, open the Google Maps app on your phone. Then, search for your business by name. Once you've found your Google profile, scroll down to the bottom of the screen, and you'll see a section called "Reviews." Here, you can read all customer reviews.
To leave a reply to a review, simply tap on the review and then tap on "Reply." It's important to monitor your Google reviews regularly to see the type of feedback your business receives. You can improve your online reputation by promptly addressing negative or low-quality reviews.
How do I find my Google reviews on desktop?
It only takes a few simple steps to locate your Google reviews on a laptop or desktop.
First, ensure you are logged into your Google account with access to your Google Business Profile. Next, open Google Maps, locate your business location, and click on your business. Alternatively, you can do a Google search for your business name. After that, you should see your reviews. You then have the option to reply to any review on the list.
If you are a Chrome user, you can open a new tab in the browser. Then click on the box of dots beside your profile picture at the top right. Next, scroll down until you find the section "Business Profile Manager." From there, you can manage all your reviews effortlessly.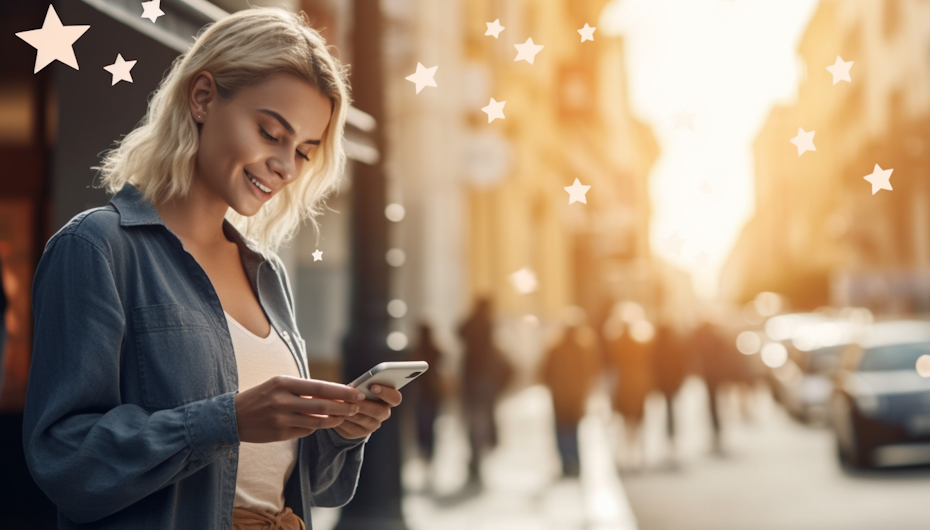 How to Respond to Google Reviews
Protecting your online reputation requires utilizing a review management strategy. This involves monitoring reviews and responding appropriately. This shows your existing and future customers that you care about their feedback and are committed to providing amazing customer service.
Here is a short guide to responding to all types of online reviews.
How to respond to a positive review: Thank the customer for leaving feedback and respond to any specific praise they gave you.
How to respond to a negative review: You must address the customer's concerns and offer a solution or explanation. Remember to remain professional and avoid using defensive language or making excuses.
Related reading: How to fix a bad review.
How to respond to a fake review: First, respond to the review saying that you have no record of the customer or the transaction. Next, you should flag the offending review for Google to review and remove.
Frequently Asked Questions About Finding Google Reviews Online
Sometimes, knowing where to find Google reviews is tricky because they may not show up. In some cases, reviews can disappear, and you are left wondering: "Where has my Google review gone?"
How long does it take Google reviews to show up?
Google reviews typically appear on your business profile within a few minutes to a couple of hours. However, it can take up to 24 hours for a customer review to show up. Sometimes, reviews take a few days to appear if Google's review system checks for spam, fake, and dubious reviews.
Why do some Google reviews never show up?
There could be several reasons why some Google reviews never show up. The most common reasons are that the review is flagged as spam or violated Google's review content policies. Or, the reviewer could have a history of leaving fake or biased reviews. Also, duplicate listings don't appear on Google business profiles.
Related reading: Ten reasons why Google reviews don't appear.
Why do Google reviews disappear?
Suppose you cannot find a 5-star Google review that was previously on your review profile. In that case, the review may disappear due to several reasons. These include that the reviewer has deleted it, the review contained duplicated or inappropriate content, or the reviewer has deleted their profile.
See your Google Reviews With Starloop
The best way to find your Google reviews is to use trusted review management software like Starloop. Using this platform, you can see all your reviews from Google and Facebook in one place. You receive instant notifications when you get a new review. And you can then respond to every review promptly.
Here are some of Starloop's key benefits:
Streamline the review management process
Save time finding and responding to reviews
Improve your online reputation by addressing negative reviews promptly
Starloop sends review requests and up to three reminders to encourage customers to leave their feedback
Triple the number of reviews you receive on Google
Additionally, through incentives, Starloop helps businesses like yours get more reviews. We plant a tree for every review you receive. This system encourages your customers to write a short, honest review with a star rating. If they have had a positive experience, you will surely get a 5-star review.
Sign up for a free trial of Starloop today to get started managing your online reviews. With Starloop, you can quickly find and respond to all your reviews, increase the number of reviews you receive, and improve your business's reputation. Get started now and start seeing how Starloop can help triple the number of reviews you receive.