If you don't ask, you don't get. That is true with regards to Google Reviews. Asking for Google reviews is the best way to get more reviews to boost your business success. But you may be asking the question: "What do I say when asking for Google reviews?" How can you ask a customer to leave a review on Google without appearing desperate?
There are massive benefits to having an excellent Google review strategy. They range from improving your online reputation to customer engagement and boosting revenues. A considerable part of this strategy is mastering how to ask for Google reviews the right way. We are going to look at how to take the pressure and awkwardness out of asking for reviews.
Why Do You Need to Ask for Google Reviews?
There is no doubt that your business needs Google reviews. Google is the most popular search engine in the world. According to statistics, in one month, Google processes over 12 billion searches. The tech giant is also the leading search provider for mobile in the U.S.
Think about it, when was the last time you tried a new product or service and had the idea to leave a review? It's not that you wouldn't gladly do it, but you just need a gentle reminder. People need to read reviews to gain better, honest insights into a business before they visit it.
You might be under the impression that after getting a healthy number of positive reviews, it's enough to sit back and relax. When it comes to Google reviews—age matters. For a massive 85% of consumers, reviews older than three months are irrelevant. To gain a steady stream of reviews, asking for Google reviews needs to become part of your daily routine.
Things to Remember Before Asking for Google Reviews
Google has a strict set of guidelines for reviews. It is worth being aware of the policies so that you can educate your customers. This will prevent reviews not showing up because a customer has added obscene language or a URL. Google will not accept reviews if you pay for them.
Secondly, you should verify your business before asking for reviews. Only verified businesses appear on Google Maps and in local search results. Also, you can't reply to reviews unless you verify your business. Take a minute to make sure your business information is up to date. Again, you don't want to risk asking for reviews, but then they don't appear.
As a general rule, you should never ask customers to leave a review. That implies you want them to leave a positive review. Instead, always invite customers to leave feedback. That way, you go about asking for reviews in the right way.
How to Ask for Google Reviews
1. Send email invitations to ask for Google reviews
Email invitations are one of the most successful ways to ask for reviews. Studies show that around 70% of reviews come from email requests. Emails are non-intrusive and don't interrupt your customer's day. As people typically check their emails when they have a few spare minutes, they are more inclined to write a review.
Emails also provide a chance to include more details. Here are some tips on writing emails to ask for reviews the right way:
You must have the link for your review site
Let customers know that it will only take a few minutes
Thank them in advance and take the opportunity to inform them of any upcoming events or promotions.
Keep your emails personal.
Add a subject line so that you avoid a customer's spam inbox.
Email template to ask a customer to leave a review:
Subject – We need your feedback!
Hello Customer's name]
It was great that you visited [Business name], and we hope that everything was up to your expectations. Reviews help us to improve our services and let others know what we can offer. We would be so grateful if you could take just a few minutes to leave your feedback. This link [add Google Review link] will take you straight to the right page. Thank you in advance, and we look forward to seeing you again for our [name event].
[Your name and position]
2. Send SMS invitations to ask for Google reviews
Most consumers are attached to their smartphones. This means that SMS text message invitations can be highly effective. Text messages have a much higher open rate than emails. Furthermore, over half of all online reviews are posted from a mobile device.
Text messages have to be more to the point as customers may be put off by a long message. But the same essentials from email invitations still need to be in the SMS. This includes the link, personalization, and a thank you.
SMS text message template to ask a customer to leave a review:
Hello Customer's name]
We would like you to become part of our Google community and share your valuable opinions. Please, could you take a minute to click on this link [add link] and share your feedback? Thank you so much for choosing [Business name].
[Your name and position]
At Starloop, we have found that email the best way to contact customers to ask for reviews. People tend to catch up on emails when they have some time and are more likely to leave a review. Also, SMS notifications can arrive at inopportune moments, and the person could forget to leaves their feedback.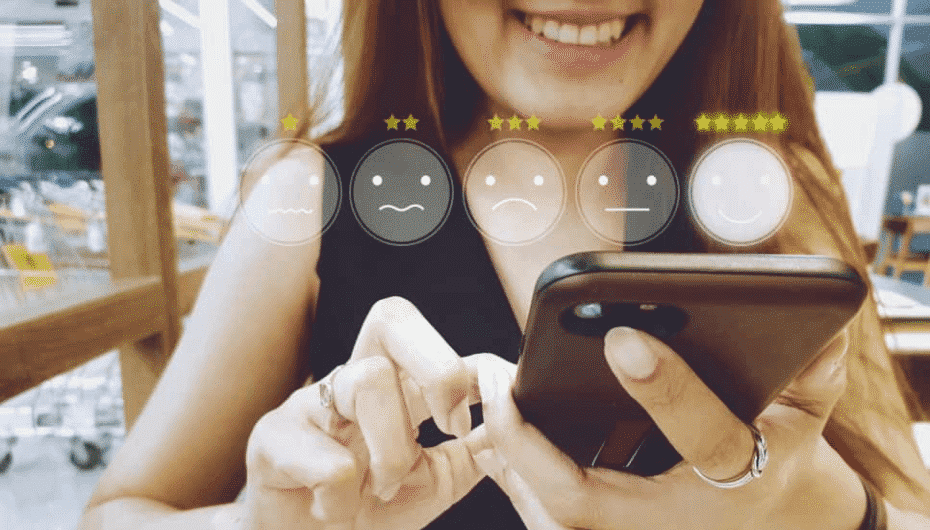 3. A landing page to collect reviews
A landing page dedicated to Google reviews is another way for customers to leave their reviews quickly. You can boost the professionalism of your landing site by including survey forms and review widgets.
Once your page is ready to go, find as many ways to get your page seen as possible. You can create a link, include it in promotional emails and messages, and share it across your social media pages.
There is no need to fill your page with lots of text. Two short lines of text are enough. These two sentences should thank the customer and remind them of the importance of their reviews.
Have a clear icon for customers to click on your Google review page and other review sites you might have. Remind them to choose one site as duplicate reviews won't show up. Another good idea is to have some of your posted customer reviews on your landing page.
4. Ask your customers for reviews face to face
For some reason, many business owners don't like asking customers for reviews face-to-face. But this moment is usually the best time to ask for a review. It is typically the point where customers are the most satisfied. They have the product in their hands and like the fantastic customer service you provide.
It may not be practical to ask a customer to sign in to their account and write the review on the spot. You can have a digital form or even just a pen and paper where customers can write down details, and you can send an SMS or email with the link later on.
5. Use review management software to ask for reviews
The easiest way to ask for reviews is to use review management software, such as Starloop. With Starloop, most of the processes are automated. So, getting more reviews is more straightforward than you'd ever imagine. All you need to do is enter the email address or cell phone number. The review management system automatically sends out emails or SMS text messages and up to two reminders.
Review management software is more than just to send review invitations. You can manage all of your reviews from a single dashboard and even combine various review sites into one location. You also get notifications when you receive a new review. You can then reply to every review directly from the dashboard. What's more, you can take advantage of pre-designed templates and automated requests to save time.
Starloop members say that they were able to triple the number of reviews they received. What are the reasons for this? First, Starloop encourages your customers to leave a review because we plant a tree for every review you receive. Second, Starloop knows the right way to ask customers to leave feedback.