Receiving a 4-star review is a reason to celebrate. Your customers were delighted with your product or service. However, there is still that question: "Why wasn't it a 5-star review?" So there is still some room for improvement. But because it's four stars, you could feel like you don't need to respond. After all, why bother replying if the customer was happy and doesn't have anything to complain about.
In this article, you'll learn why you should respond to all 4-star reviews. But more importantly, you'll find out how to reply when a customer leaves you four stars in their feedback.
The Importance of 4-Star Reviews
Generally, 4-star reviews are no cause for concern. But it's still essential to pay attention to them and respond to them. One study showed that restaurants with a 4-star rating sell out 19 percent more often than those with a 3.5-star rating. In the hotel industry, increasing a rating by just one star meant owners could raise prices by 11.2 percent and not experience a drop in occupancy.
These figures are just a snapshot of the studies carried out on star ratings and reviews. To increase income, it is necessary to work on bumping your 3-star reviews to four stars and then those 4-star views to five stars. But don't worry about not getting five feedback. Studies show that you don't always need five stars to improve your reputation.
Why Respond to 4-Star Reviews?
Responding to a perfect 5-star review is easy. Responding to negative reviews is more challenging but even more critical. Four-star reviews tend to give the impression that the customer was "happy enough," so there is no urgency to reply.
Related reading: How to respond to fake Google reviews.
When you put yourself in the customer's shoes, you will notice how frustrating this is. Every other star rating seems to get a response from the business owner except theirs. They may start to feel like their opinions are not valid or that you are only interested in great reviews or fixing the negative ones.
Further research shows that 52 percent of consumers expect a reply within seven days, regardless of the star rating. When experts say to respond to every review—it means responding to all reviews, including 4-star ones. This way, you ensure that all your customers feel respected and appreciated.
Your replies to 4-star reviews show potential customers how you value your relationship with customers. Responses reflect your company's attitudes and values, which will strengthen your online reputation.
On top of this, with the right balance of keywords, responses can be an excellent marketing tool with no additional cost. Google's algorithms detect company names and keywords associated with that company. If you can naturally add keywords to your response, Google will reward you by placing you higher up on the local search engine rankings.
Related reading: Why my Google reviews are not showing up.
The Best Ways to Respond to 4-Star Reviews
With a 4-star review, there might be just a small issue with your product or service that needs addressing. When a customer knows that you have resolved the issue, they will likely make another purchase. These issues might be because of a problem with the product, the customer service wasn't 100%, or they misunderstood the information.
Here is a step-by-step guide to responding to 4-star reviews:
Address the person by their first name when available—Personalizing responses shows customers that you have taken the time to reply rather than using an automated service.
Begin by thanking them for their feedback—Remind them that you love to hear their feedback, and you're pleased they enjoy the product or service. Reiterate the positive feedback so they know you have read their review.
Apologize if necessary—Sometimes 4-star reviews contain praise along with some criticism. Even when it isn't your fault, an apology shows your willingness to take responsibility instead of passing the buck onto someone else.
Suggest how you can resolve the issue—Be sure to read their reviews carefully as they might have already made a suggestion. If they have, thank them for their idea as it has saved you time in trying to find one.
Add value to your product or service—Let them know where they can get more information on your website.
Provide contact details—If you detect they are unhappy with something, let them know where they can contact you if necessary. This way, you avoid further threads on the review site.
End on a positive note—Sign off using your name and your title, again, adding a personal touch.
Once you have pressed the send button, it isn't all over. At this point, it is time to address any issues the customer has mentioned. Discover ways you can fix the problem. If you don't, you will receive more reviews with the same negatives. If there is a problem, some customers may not be so generous to give you four stars.
As with reviews with three stars or fewer, it is worth contacting the customer after a suitable time. You can find out if the issue is resolved and if they are happy with the product. This is the perfect opportunity to ask them if they would mind updating their review.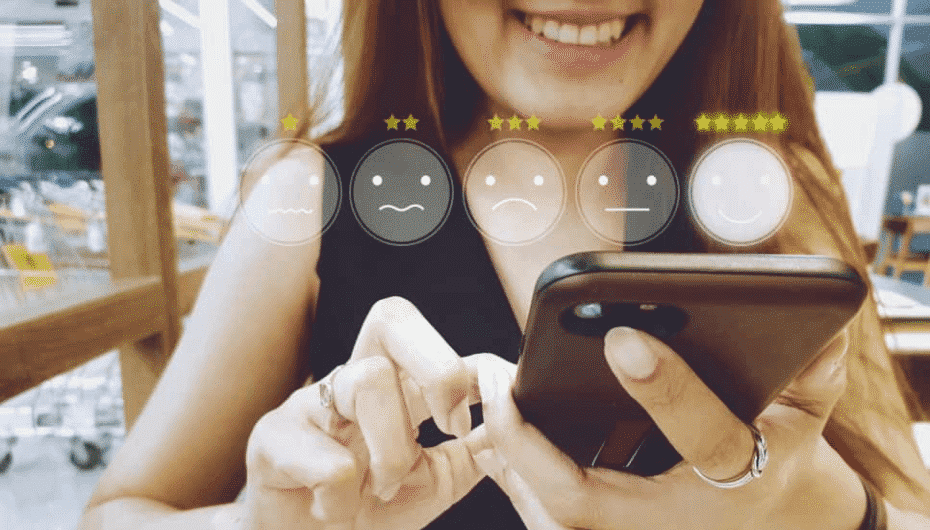 Examples of Responses to a 4-Star Review
Here are examples of how to respond to two different kinds of 4-star reviews. One is responding to a product review, and the other is how to respond to service-related reviews.
Example #1 — Unclear information about a product
Dear [customer name]
Thank you so much for giving us your feedback. It is great to hear that you are using our [mention product name] and that it fulfills your needs. It's great that [mention something specific they praised you for].

We are sorry that you had this issue with [mention the problem]. On our website [add link], you can find a demo video that explains how to resolve the issue. If this doesn't help, please feel free to contact me by email at [add email], and we can provide further assistance.
Again, thank you for choosing [your company name].
[Your name and title]
Example #2 — Slow service in a restaurant
Dear [customer name]
We are so happy to hear you liked [menu item], it is a popular choice with many of our customers. Thank you for sharing your feedback with us. It really helps other customers to decide which menu options to try.
I apologize for the slow service. This is not how we operate at [restaurant name]. I will personally address the problem and ensure that this doesn't happen again. The next time you come to us, you will be able to enjoy [menu item] in a speedy fashion. You may also want to try our [menu item], which uses the same special sauce as the [menu item].
If you have any other suggestions, we would love to hear them. You can contact us by [add phone or email. Thank you again, and we look forward to seeing you soon.
[Your name]
Naturally, there are plenty of other industry-specific issues that may come up in your 4-star reviews. But you will notice that both response examples follow the same format:
Thank the customer for feedback
Mention something positive they mentioned
Address the complaint or negative feedback
Tell how you plan to resolve the issue or direct them to where there get more information
Finish in a friendly tone
Finally, you should also ask your customers if you can share these reviews on your website and social media pages. This will increase your online presence and show readers that, while your product is impressive, it's not always perfect. This is an excellent strategy to increase your social proof.
Responding to 4-Star Reviews — In Conclusion
To strengthen your online reputation, always be in the habit of responding to all reviews. Four-star reviews are a valuable asset for your company. Reviews with four stars show potential customers that you provide excellent service and customers are happy. The fact that things don't always go to plan shows you are only human. In fact, companies that only publish 5-star ratings can seem suspicious and untrustworthy.
The most important thing is that you always respond to your 4-star reviews. You can strengthen your brand reputation and show your dedication to your business and your customers.
Do you want to get more four- and five-star reviews today? Check out Starloop to see how you can triple your online reviews—guaranteed.