Google reviews are vital for every business. Your potential customers are reading reviews of your company before making a purchasing decision. Online reviews help build trust, increase brand awareness, and provide valuable feedback. But are you struggling to get more Google reviews? This step-by-step guide will show you how to get 5-star reviews for free.
Online Google reviews are so essential for your business's success that it would be a mistake to dismiss them. Unfortunately, some business owners may shy away from publishing genuine customer reviews, possibly thinking that a bad review would damage their reputation. However, consumers—your potential customers—want to read honest reviews.
In reality, there is no reason to be scared of online reviews. On the contrary, if you have an online customer review management strategy, you will find that your average star rating improves, you start to rank higher in local search engine results, and you will get more customers.
Do you want to grow your business online by getting more Google reviews? If so, please read on to learn easy steps on how to acquire authentic reviews without spending a cent. But first, there is a vital question: why are Google reviews so critical?
Understanding the Importance of Google Online Reviews
To know why Google reviews are crucial for your business, think about your own purchasing habits. For example, suppose you want to go to a restaurant or buy an item online. The chances are that you will look at the average review rating and check out a few reviews.
But it doesn't stop there. You will probably pay particular attention to what customers say in positive and negative reviews. In fact, statistics show that consumers actively search for negative reviews to help make an informed purchasing decision.
Here are a few facts to show why you must take online reviews seriously:
Ninety-three percent of consumers read online reviews before purchasing a product
Over 90 percent of people trust online reviews as much as a friend's recommendation
Sixty-two percent of consumers say they would avoid buying from a business that censors online reviews
Google is the most popular review platform
Having at least 40 online reviews builds trust in potential customers
Customers trust companies that publish negative reviews
Google Reviews Affect Local SEO Rankings
There is another reason to have a review generation strategy. Google factors in review sentiment in their local search result rankings. According to research, this can be as much as 13 percent—almost as important as having a healthy backlink profile.
Although Google doesn't provide specific data, they encourage businesses to manage reviews actively.
Do you want your business to appear in local search results? Google advises that you manage and respond to reviews. They say that "when you reply to reviews, it shows that you value your customers and their feedback." Furthermore, Google continues, "high-quality, positive reviews from your customers can improve your business visibility and increase the likelihood of a shopper visiting your location."
Step-by-Step Guide — How To Get More Google Reviews
Now you know why Google reviews are crucial, but how can you go about acquiring more? The easiest way to encourage customers to leave online feedback is to ask them and remind them. Let's look in detail at how to do this.
1. Ask customers to write a review
The easiest way to increase the number of Google reviews customers leave is to ask them. You may be surprised at how many of your customers would share their feedback when you ask. Unfortunately, most people are busy, and it's easy to forget to review your product or service.
What is the best way to ask for a review? The easiest way is to invite the customer to share their feedback. You can also let them know that you value their opinion and that their online review will help your business.
Should you ask your customer to leave a 5-star review? Generally, it's best to avoid loaded questions. Therefore, the best way to ask customers for feedback rather than a positive review. If your service or product is top-notch, you will have no issues getting 5-star reviews.
When is the best time to ask for a review? Typically, when the customer is at their happiest. This could be when you've completed the service, they have purchased a product, or you conclude a conversation on the phone.
When making a review request, it's good to give them a reason. Using the word "because" can help improve the response rate. For example, you could ask for a review this way: "When you get the time, could you leave feedback on Google because we'd love to hear your thoughts."
Related reading: The best way to ask for a review.
2. Make it easy to leave a review online
The next step in the review process is to make it as straightforward as possible. In some cases, you may have to explain the process and where to find your Google My Business. However, you can create a link to your review page or have a QR code in most cases.
The key is to make leaving a review simple. This is why many businesses have a review acquisition strategy. It makes it easier for customers to share their opinion and rate the number of stars.
Related reading: How to get more reviews without effort.
3. Remind customers to leave a review
One of the most important ways to get more reviews is to remind your customers. Let's face it—we're all busy, and it's easy to forget simple tasks. Usually, a helpful reminder is all it needs to give your customer a gentle nudge.
In Google's "best practices to get reviews," they recommend reminding customers as an effective way to get more reviews. All it takes is to send a friendly email or SMS message as a reminder. Typically, you can send two or three reminders without annoying someone.
4. Provide excellent customer service
You will have no trouble getting plenty of 5-star reviews if you provide stellar customer service. This means you will never have to ask the awkward question: "can you please leave me a 5-star review?"
A negative review from a customer could also be a way to improve customer service. For example, the review could have valuable information where improvement is necessary. In addition, if you respond to negative feedback in the right way, you can turnaround the review into a positive one.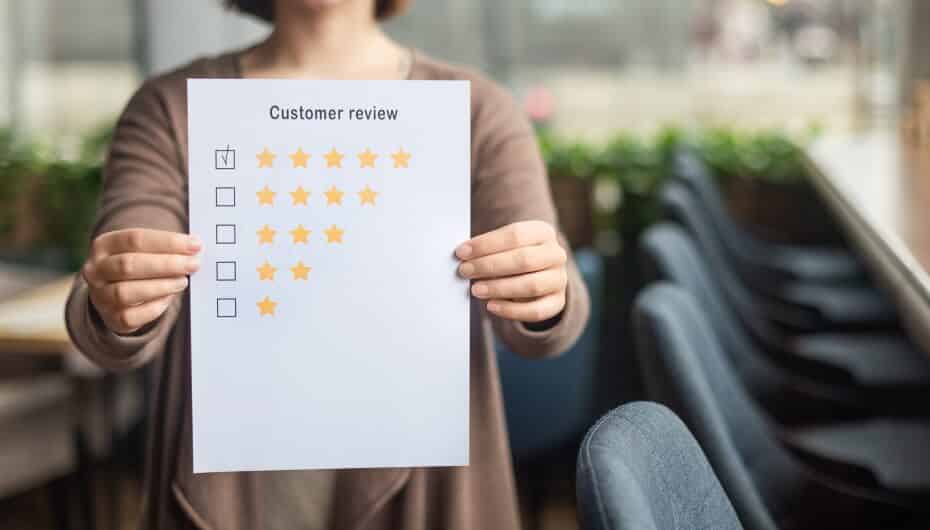 Related reading: The best way to respond to a negative review.
5. Respond to all reviews
To increase the number of 4-star and 5-star reviews, always be in the habit of responding to each review. While you should respond to a 3-star review or poor review, it's also best to reply to positive reviews. This shows customers that you care about their opinions. It will also incentivize others to leave quality reviews.
Related reading: Three ways to respond to a review.
6. Offer an ethical incentive to get more 5-star reviews
Can you offer to pay for 5-star reviews or give a gift in exchange for a positive review? No, this goes against Google's review policy. And if you're caught, you could lose all the reviews you have built up. So, what is an ethical incentive to encourage more reviews?
At Starloop, we plant a tree in exchange for every review you receive. This encourages more people to leave a review without violating Google's policy. Instead, it helps the planet get more trees and gives your business a boost.
7. Have a review management strategy
Many business owners have a review management strategy to get more 5-star Google reviews. This review strategy involves asking customers for a review, responding to all reviews, and sending review reminders if necessary. This is one way to get more online reviews for free.
However, managing online reviews can be a time-consuming process. And the worst thing you can do is neglect business reviews. This could result in missing negative reviews or—worst still—ignoring fake reviews that could damage your online brand reputation.
Related reading: How to respond to fake Google reviews.
8. Use review management software to get more Google reviews
The most effective way of getting a steady flow of new online reviews from customers is to use review software. This software automates the entire review process. All you need to do is enter the customer's email address or phone number and sit back for reviews to pour in.
Here is how review management software works:
The customer review request system sends a friendly message, inviting the person to leave feedback.
The customer can follow the link, share their opinion, and rate your product or service.
You then receive a review notification, allowing you to respond appropriately.
If the customer doesn't leave a review, they will receive two or three reminders.
Companies that use review management services find that the number of reviews they receive significantly increases. This has a positive effect on the business. More positive reviews mean more happy customers, rankings in local search results increase, more people visit the business and revenue increases.
How Starloop Can Help You Get More Online Reviews
Starloop is a trusted review generation tool that helps businesses get thousands of new reviews from genuine customers. The automated software takes the effort out of getting more 5-star reviews. You can manage all reviews from an easy dashboard, monitor review status, and respond to all reviews.
Starloop has a friendly pricing plan to suit businesses of all sizes manage online reviews. However, you can try it before you buy it.
Sign up today to take advantage of a 14-day free trial to test its unique features. Before long, you will have more positive Google reviews from real customers.