Your online reputation is crucial in today's digital environment. A large part of this reputation comes from Google reviews. Life is great when you receive plenty of reviews from happy customers. But it's the negative reviews that hurt. Your negative reviews might be genuine. Or they could be your competition leaving fake negative reviews you need to flag. Either way, you might start to consider buying fake Google reviews.
If you are already using excellent software to get good reviews, you've made a great start at getting more reviews.
But why would you consider buying fake Google reviews? You might be tempted to buy fake reviews to get a higher star rating. After all, low star ratings cause customers to dismiss your business without checking out your responses. Or maybe you're starting out and want to get more reviews fast.
So, it may seem the logical option to buy fake Google reviews. And there are a ton of companies selling reviews and promising spectacular results. But is purchasing fake reviews worth it? How much will fake reviews help your business, and how much could they damage your reputation?
How to Buy Fake Reviews
For a practice that is generally frowned upon, it is surprisingly easy to buy fake reviews. Ironically, type 'buy Google reviews' into the Google search engine, and you will have a list of options. You can do the same with pretty much all of the major review sites, and a list of companies will appear.
It's not clear whether or not the claims of these "buy review sites" are real. Buy some companies offer paid-for reviews from all over the world. Most importantly, they say that all the reviews have local IP addresses. Or course, Google isn't stupid—100 reviews from the same IP address are obviously fake.
Prices for these fake reviews will vary. You might be able to buy bundles, and in which case, the more fake reviews you buy, the bigger the discount. If this goes too far beyond your ethics, you can also advertise on freelancer websites. Some companies post ads for people to try their products and leave a positive review. The company will pay for the product and a commission. At least, in this case, the person is more likely to have tried your product.
The Pros of Buying Fake Google Reviews
What are some of the perceived benefits of buying reviews? Here are a few that many people say:
Buying reviews fast—If you need more positive reviews, you can pay for a service and start seeing new reviews on Google in just days.
Buying fake reviews is relatively cheap—The cost per review can be a few cents. Getting genuine reviews takes time and effort. You must reach out to customers and ask for reviews. Then send reminders and monitor your review profile. Buying reviews could save you time without having to spend a fortune.
Buying reviews can be useful—One Harvard Business Review study showed that after recruiting reviewers, the average number of reviews doubled, and sales increased by an average of 12.5 percent.
The Cons of Buying Fake Google Reviews
What impact on your business could buying fake reviews have? Let's look at the many cons of fake reviews and why they could seriously damage your reputation.
When you stop buying fake reviews, the negative impact is greater— The Harvard Business Review study (quoted) early found that your business suffers when you stop paying for reviews. For example, business owners found that their average star ratings fell by 6.3 percent and sales fell by 21.5 percent.
Buying reviews is against Google's review policy—Google says explicitly that you can't offer or accept money in exchange for reviews. Suppose Google discovers you are buying fake reviews. In that case, they can close your GMB account—you will no longer be visible on Google, and your reviews will disappear.
Purchasing reviews is illegal—The Federal Trade Commission (FTC) is cracking down on the practice of buying fake reviews. You could be fined thousands and some larger companies, even millions. That's a massive expense for a short-lived meager increase in sales.
You lose customer trust—Buying reviews damages your business reputation because it undermines trust. The point of reading Google reviews is to gain a complete overview of a product or service—the good and the bad. If a customer finds out that you buy your reviews, you will break a trust that is almost impossible to get back.
You can't improve your business—Buying fake reviews seems like an excellent way to bury your negative reviews. However, it's the negative reviews that you can learn from and make the necessary improvements to gain more genuine, positive reviews.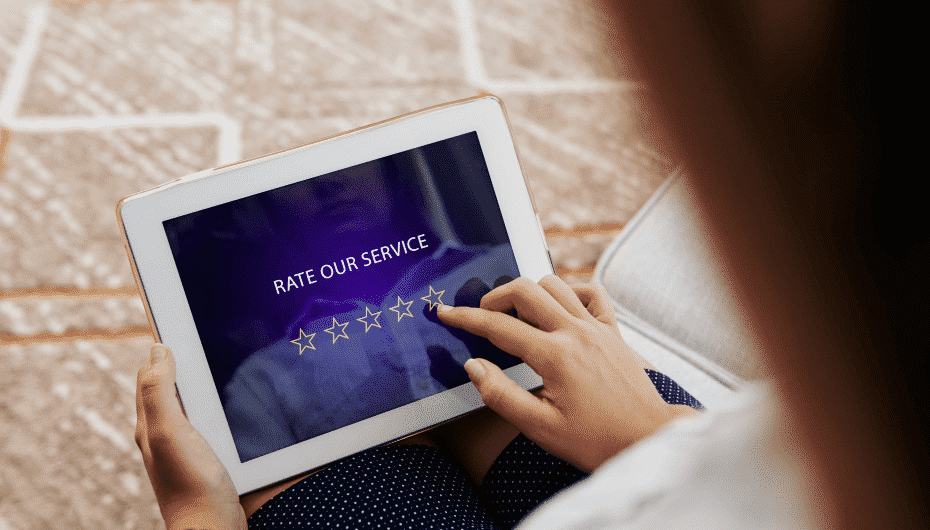 Can Buying Fake Google Reviews Hurt Your Business?
Simply put—buying fake Google reviews destroys your reputation. Think of it as not backing up your data on your PC. You think, "it won't happen to me." When you turn your PC on, all data has disappeared. The reality is, all review sites are getting better at detecting fake reviews and then 'naming and shaming.'
Imagine your customer visits your view site and there is a big alert warning consumers that the review has been paid for. Or if they try to find you on Google and you aren't there anymore. Emotions will run from feeling you are a bit cheeky to complete suspicion. Either way, it's unlikely that they will visit your website and make a purchase after this red flag.
Financially, losing these sales, plus the risk of a fine, could be enough to finish your business. Even if you have the cash flow to survive, your online reputation will have taken a massive hit, reflecting in future sales.
How to Get Real Google Reviews Easily
Suppose you have chosen the sensible option not to buy fake Google reviews. In that case, the question now is how to get real Google reviews quickly. Reputation management software such as Starloop is the solution to solve many of your problems the right way.
Starloop takes just a few minutes to set up. Once you are ready, you can begin sending automated invitations to your customers to leave genuine Google reviews. When you get new reviews, you receive a notification. You can then quickly check the reviews on your user-friendly dashboard. So far, it sounds like any other reputation management software—right?
Starloop has many features that set it apart from other review management software. Here are some of the incredible features of Starloop:
One of the most straightforward reputation management software solutions
It is cost-effective
One payment plan for all companies, regardless of how many locations you have.
Fourteen-day free trial period
30-day guarantee to triple your reviews
No lengthy contracts
Another unique feature of Starloop is its "one review for one tree" policy. Your customers know that if they leave a review, Starloop plants a tree. This ethical incentive encourages your customers to leave feedback.
There are no gimmicks or tacky incentives—just a genuine desire to help the planet and your business. Customers are far more likely to complete the easy review process allowing you to see more Google reviews easily.