Adding Google reviews to your website is a great way to showcase positive customer feedback. But showing Google reviews on your website is crucial for your success. According to statistics, 95 percent of your potential customers consult online reviews before making purchase decisions. And 58 percent would pay more for products that have positive reviews.
This article explores three simple ways to include customer reviews on your website. In addition, you will also learn how every Google review and star rating can contribute to your business success.
The Power of Adding Google Reviews to Your Website
Reviews on your Google Business Profile (formerly Google My Business and Google Places) are a powerful tool in your marketing strategy. Online product reviews are the new word-of-mouth advertising you can leverage to boost sales and improve SEO rankings. For example, did you know that 91 percent of consumers trust online reviews as much as personal recommendations?
And you do not have to worry about negative reviews on your website. Spiegel research shows that the ideal star rating is 4.0 to 4.7. This is the "too good to be true factor." In other words, consumers are wary of businesses that only post 5-star testimonials.
Therefore, a few bad reviews in the mix of positive online customer reviews show that, generally, most customers enjoy a positive experience.
3 Ways to add Google Reviews to your website
Google business reviews show up on your Google Business Profile and Google Maps. For example, people searching for businesses similar to yours will find on Goole maps the average star rating and relevant business information. However, you want prospective customers to read customer feedback on your website.
Here are three easy ways for reviews from customers to show up on your website.
1. Install a review plugin or widget
If you use WordPress, installing a Google reviews widget is the best way to showcase positive customer reviews on your website. Widgets are usually free or very low cost and are easy to install on WordPress and other Content Management Systems (CMS). 
Once installed, you use the widget editor tool to connect it to your Google Business Profile. After that, you decide where to make reviews visible on your website. For example, you could have a dedicated review page or a selection of reviews on the homepage.
2. Use HTML code to add reviews to a website
If you have some knowledge of HTML, you can copy the code of a specific review. To do this, find the review you want to share. Then click on "Embed post" and copy the code. Then, all you have to do is paste the code into a relevant part of your website.
3. Use an API or Google review tool
Many trustworthy review software tools provide an API or review widget to embed real customer reviews on your website. For example, review management software like Starloop has the advantage because it allows you to manage reviews directly. You have easy access to customer reviews, and you can reply to every review.
Google also has an API that you can use to display customer reviews on your website. This is a good option if you have some knowledge of HTML. With it, you can show all reviews or filter reviews to show specific ones. However, it is tricky to use if you lack programming skills.
Four Benefits of Adding Reviews to Your Website
Embedded reviews on your website contain user-generated content vital for your online marketing.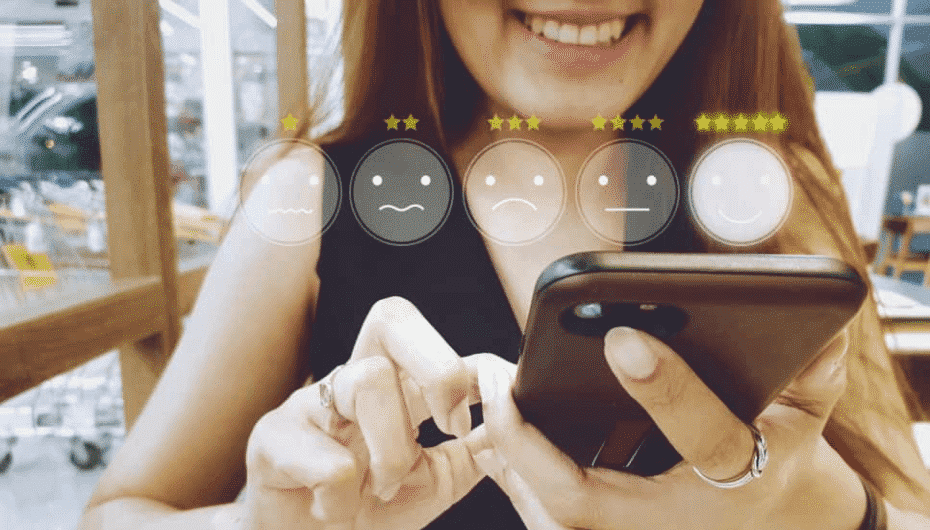 Most consumers search out reviews before making purchasing decisions or deciding to visit a brick-and-mortar establishment. In addition, Google says that reviews are a ranking factor in their algorithm. And customer sentiment also influences where your business shows up on local SEO search results.
Here are several benefits of displaying reviews on your website.
1. Reviews help in building trust and credibility
Embedding reviews on your website helps customers be sure of a trustworthy experience. Seeing positive customer reviews help visitors make informed decisions when making online purchases. And if reviews are already on your website, customers don't have to look elsewhere.
Displaying actual testimonials from real customers also increases social proof. This means that consumers will be encouraged to make a purchasing decision because many others have.
Related reading: What 5- and 4-star ratings really mean.
2. Online reviews are a significant search ranking factor
Google takes into account customer reviews when ranking websites. The more positive reviews you have, the higher your website will rank in SERPs (search engine results pages). According to some research, review signals can make up to 13 percent of local SEO ranking factors. This increases your chances of making it to the coveted "local pack."
Related reading: How reviews boost local SEO rankings.
3. Showing reviews on your website increases conversion rates
Showing reviews on your website can also help increase conversion rates. First, potential customers will spend time reading reviews, increasing the time on the site and reducing bounce rates. This boosts their chances of making a purchase when they see positive customer feedback on your website.
4. Positive and negative reviews enhance your brand image
Showing authentic content from customer reviews enhances your reputation and brand image and reputation. Customers want to read real reviews online. And many are put off by websites that only show 5-star Google reviews. Therefore, a few negative reviews increase transparency and boost brand trust.
Of course, too many negative reviews can harm your reputation. Therefore, it's vital to have a review strategy to get a steady stream of reviews from happy customers. Additionally, it is vitally important to reply to every negative or fake review.
Use Starloop to Get More Google Reviews
Starloop is a vital tool in your review management strategy. Getting more honest reviews from satisfied customers can help boost trust, engagement, and conversion rates and improve your SEO rankings.
Starloop makes the review process straightforward for your current customers, increasing the chances they will share their opinions. Additionally, Starloop offers Google-friendly incentives by offering to plant a tree for every review you receive.
Why should you choose Starloop to get valuable reviews from customers?
First, the software is easy to use with no setup fees or long-term contracts.
Second, a free 14-day trial lets you start getting reviews for free.
Third, Starloop has a proven record of helping its clients get hundreds of real customer reviews.
Fourth, Starloop sends an email or SMS message to your customers with a direct link inviting them to share their customer experience.
Finally, Plus and Pro Users get access to review widgets, allowing you to display online reviews on your website easily.
Check Starloop's competitive pricing plans to see which suits your budget and needs.