Getting a five-star rating and a glowing review must be your goal. But should you be worried about online reviews with star ratings of less than four? And what about an average customer review with a three-star rating? Deciphering what star ratings in online reviews mean and if they impact your business can be confusing.
Star ratings are extremely useful for your business. They give potential buyers a quick overview of how customers rate your product or service. Therefore, the number of stars in a consumer review can impact buying decisions. Online service and product reviews also build customer trust, boost local search engine rankings, and improve conversions.
However, with the emphasis on getting five-star reviews, you may wonder how damaging bad reviews with one or two stars could be to your business. The good news is that if you get lots of reviews with 4- and 5-star ratings, negative reviews have a minimal impact.
This article is a complete guide to finding the meaning of online ratings. You will find the perfect average star rating for your business review profile — surprisingly, it's not five stars. And you will learn the easiest way to get more positive reviews for your business.
Why Online Reviews Are Crucial For Your Business
Online reviews are vital for any business to succeed. Whether the review is a negative 1-star review or a glowing online customer review with five stars, they provide insight into real customer experience. Positive reviews show that customers loved their experience and recommend it to others. Conversely, negative feedback from unhappy customers shows you must improve.
In addition, Google reviews help you increase your online visibility. For example, a Google My Business listing is only as strong as its reviews. If there are no reviews, people will struggle to find your business when searching for local businesses. Or, if you have a poor average rating, prospective customers will stay away.
How can online reviews with four or five stars impact your business success? Here are some facts showing how consumer ratings affect purchasing decisions.
Customers are willing to spend 31 percent more on a business with excellent reviews.
Nearly three-quarters of consumers have more trust in local businesses with positive reviews.
Positive reviews influence the buying decisions of ninety-four percent of people.
Nearly 80 percent of people trust online reviews as much as personal recommendations from family or friends.
Many consumers are wary of local businesses that have a perfect 5-star rating.
What is a Good Star Rating For My Business?
The ideal average star rating in online reviews for your business is between 4.2 and 4.5 stars. This was the result of research published in the International Journal of Advertising. So, a good star rating for your business consists of lots of reviews with 4-and 5-star ratings and some with three stars or fewer.
Related reading: How toget the ideal star rating for your business.
How Many Stars is a Good Review
A good online business review should have four or five stars. This means that customers are generally pleased with their positive experience and recommend your business to others. Having a few 4-star ratings in the mix ensures you reach the perfect star rating of 4.2 – 4.5 stars.
Unraveling the Meaning of Stars in Reviews
A star rating system can be very useful for a consumer looking to make a purchase decision. But how can you interpret star ratings in reviews? How many stars should there be? Are five stars better than three, or vice versa? Here are helpful insights into the meaning of stars in reviews.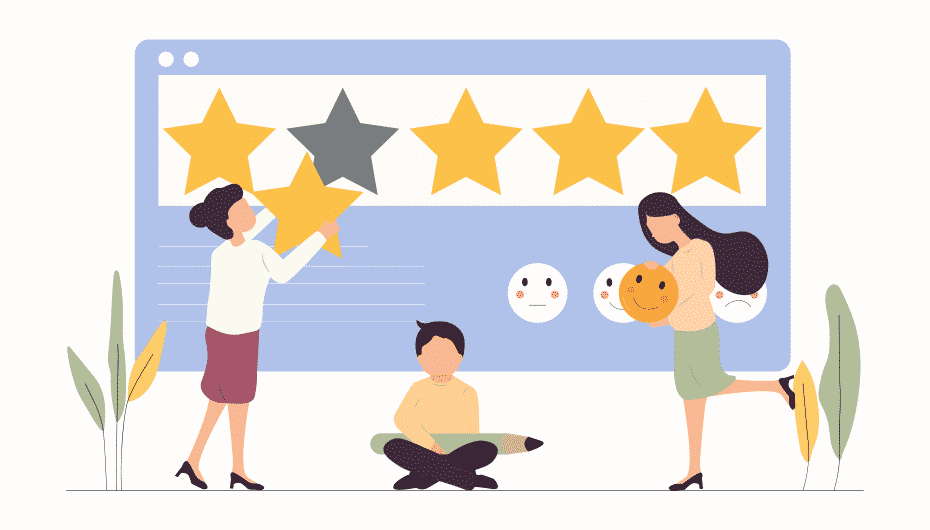 What do 1 and 2-Star Reviews Mean?
A customer who leaves a review with one or two stars usually is dissatisfied with the product or had a bad experience. However, negative reviews are typically not an honest appraisal of the business. These are just some specific aspects. For example, it could be that a product failed or the service wasn't up to expectations.
The good news is that one or two bad reviews with a one-star rating won't automatically impact your business. However, you must have a strategy to encourage happy customers to leave positive reviews online.
Why do customers typically leave bad reviews? Here are a few reasons.
The customer wants an explanation for the poor service
They want a refund or some kind of compensation.
They could be angry and want to alert others.
They want to see how your respond.
The customer initially failed to get what they wanted. So now it's time to address the situation and give them what they want. Therefore, if you get a one-star or two-star review from a customer, it's crucial to resolve their problem. And how you respond to negative customer feedback can improve your rating in the future and show them that you're listening.
Are 3-Star Reviews Really That Bad?
A three-star review is an average review — it's neither excellent nor terrible. Customers usually leave average reviews if your product failed to impress. Therefore, a 3-star review may mean the customer will go elsewhere in the future. Typically, these average reviews lack enough details to be useful.
Three-star reviews can be tricky to decipher because there may be room for improvement. But you lack the details to know what to improve. However, like positive reviews and negative reviews, it is vital to respond to 3-star average reviews.
Related reading: The best review responses to 3-star reviews.
Do 4-Star Reviews Benefit My Business?
Getting a review with four stars means you are providing good service and meeting customer expectations. However, there remains a question — why was it just four, not five stars? A five-star rating is obviously better than four stars. What's the takeaway? You impressed, but there's still room for improvement.
The good news is that getting several four-star reviews means you increase the chances of hitting the perfect 4.2 to 4.5 average star rating. This means customers trust you more because you embrace transparency and meet customers' expectations.
What Does a 5-Star Review Mean?
A five-star review means you provide excellent products or services for your customers. These glowing testimonials are excellent to use in your marketing strategy. Positive feedback from genuine customers provides social proof that others are satisfied. It also means that potential customers can expect the same.
It's good to remember that your business could suffer if you don't get a lot of 5-star reviews. According to some statistics, a lack of positive reviews could mean you risk losing up to 12 percent of your customers. Additionally, a study by McKinsey reported that even a small increase in your average start rating could produce a meaningful improvement in sales.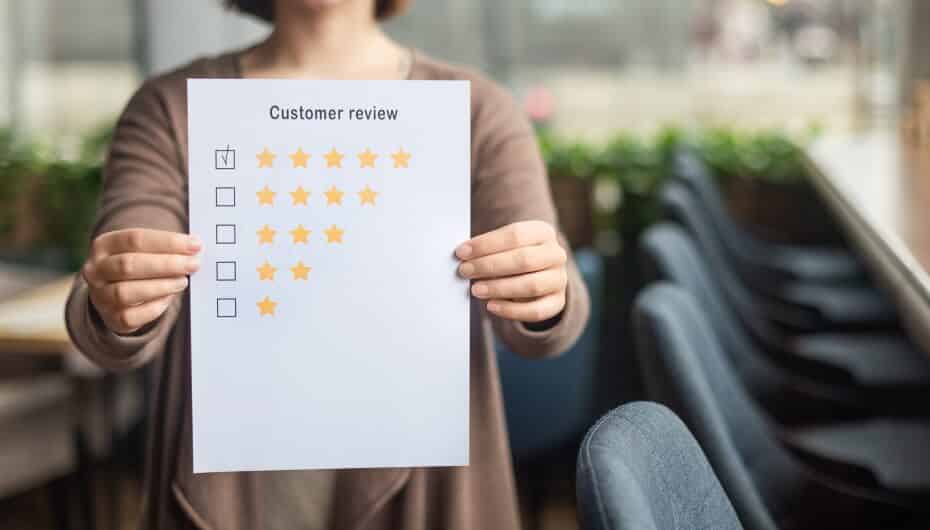 Answers To Your Questions About Star Ratings in Reviews
What is the purpose of online business reviews?
Customer reviews help companies and customers understand the overall level of customer satisfaction. Additionally, they help business owners address potential issues with products or services.
Why do customers write online reviews?
Customers want to share their experiences about using a product or service. Positive and negative reviews from real customers help others make purchasing decisions. They can also influence whether someone will visit your store or not. People also write feedback to highlight issues, seek an apology, or express gratitude.
Are reviews important for my business?
Reviews are crucial for your business on various levels. Besides increasing sales, online reviews with positive ratings drive traffic to your site, increase brand awareness, secure your online presence, and boost customer engagement. Positive online reviews also increase consumer confidence to buy from you.
How to Get More Reviews Four and Five Stars
Getting more reviews is one of the most important marketing strategies for your business. Whether your business is big or small, reviews will boost your revenues. But unfortunately, you'll likely end up spending hours managing reviews and sending review requests. That is why it's best to use an automated service to manage online reviews on Google and Facebook.
How to Choose a Service to Get More Positive Reviews
What features should you look for when choosing an online review management service? Here are some of the essential things to check out:
The service is easy to set up, and there is a short learning curve.
The review software can provide tangible results, as proven by testimonials from existing customers.
The review management tool automates most of the processes involved in getting more positive reviews.
The software adheres to Google's review policy regarding offering incentives and flagging fake reviews.
How Starloop Can Help Your Business Get More Reviews
Starloop has the tools you require to make getting more Google reviews easy. We know how important reviews are to your business. Therefore, Starloop review software contains automated features to give you more time to concentrate on your core business.
How does Starloop work? The software sends emails inviting your customers to leave feedback. However, it also tracks responses and sends friendly reminders if someone forgets to write a review.
Starloop helps businesses get more reviews thanks to a unique incentive program. We plant a tree for every review you receive. This encourages more of your customers to write an online review for your business. Customers are happy knowing they can help your business and the planet simultaneously.
Starloop can also help you get more reviews for free. You can try out the 14-day free trial period to see how easy it is to manage your reviews. And you get to keep all the reviews on your Google or Facebook profile you get during that period.
Why not sign up for Starloop today? First, you will be impressed by our flexible pricing plan, which is suitable for any size of business. Then, very quickly, you will see what getting a ton of 4- and 5-star reviews can mean for your business success. Just take a look at our testimonials to find out what people are saying about us.