Do you want to boost the visibility, credibility, and trustworthiness of your business? If so, encouraging customers to write Google reviews is an essential step. Google reviews benefit your business because they help potential customers make purchasing decisions. Additionally, genuine feedback from customers provides social proof—real reviews from real customers that influence consumers more than advertising or paid ads.
Getting customers to write an online review on Google can be challenging. Let's face it—we're all busy. And it's easy to forget to write positive feedback even when we've had a stellar experience. Additionally, some customers may not know how to write a review or leave a star rating on your Google Business Profile (formerly Google My Business). Therefore, getting more Google reviews can be challenging. But is it?
In this article, you'll learn why Google reviews are important for business owners. You also learn how to encourage happy customers to leave reviews on desktop and mobile devices. You'll also find out the best ways to get more customer reviews for free.
Why Are Google Reviews Important?
Google reviews provide valuable information for future customers. Honest feedback from previous customers serves as proof of your business's credibility and customer satisfaction. Additionally, Google's algorithm uses online review sentiment to rank businesses higher in local search engine searches and Google Maps.
Here are three crucial reasons why reviews from customers are so important:
Local search ranking: Google reviews help your business increase online visibility and local search ranking. You stand out in local search results and Google Maps. Also, a positive star rating on Google encourages customers to visit your website or your store.
Boost credibility and trust: Positive business reviews on Google help build trust with potential customers. Reading honest reviews increases the trustworthiness of your business. Even negative reviews can benefit your business if you address them correctly.
Google reviews influence buying decisions: A 2022 study in the journal Frontiers in Psychology found that 93 percent of consumers use online product reviews to make accurate purchase decisions. So, yes—reviews matter.
How to Leave a Google Review on Desktop
Positive reviews have a crucial role in promoting your business online. However, you may need to help or remind customers to write a review. Google also encourages business owners to remind customers to leave reviews. In their words, "Let them know it's quick and easy to leave reviews."
Here is how to write reviews for businesses:
The customer should be signed into their Google account.
Then they should do a Google search for your business using the search bar or on Google Maps and look for the reviews tab.
Next, click "Write a review."
The customer fills out the information with their real experience.
They can then include star ratings from one to five stars.
Finally, hit "Publish."
How to Leave a Review on Mobile
According to statistics, over 60 percent of online searches occur on a mobile device, not a desktop. Therefore, the chances are that most of your customer reviews will take place on a smartphone. Interestingly, studies show consumers are more likely to believe reviews left on mobile devices than on a desktop.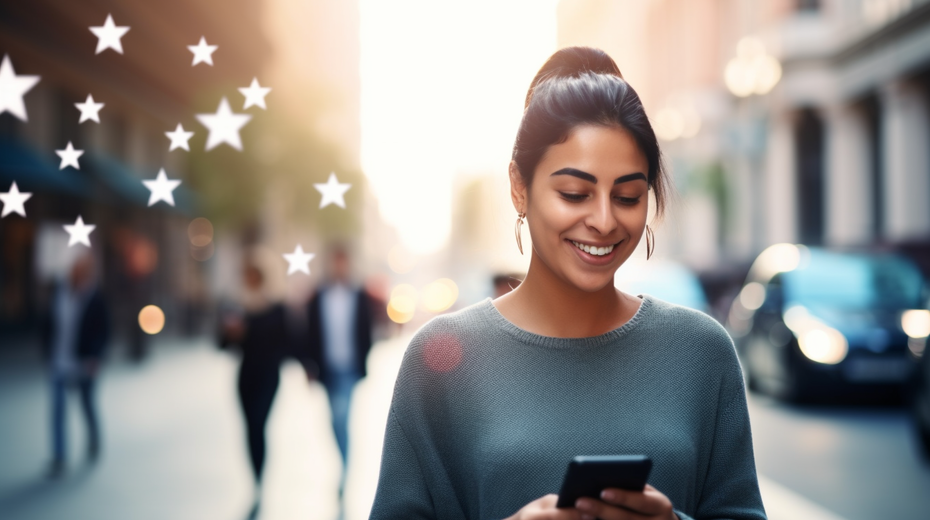 Here is how to leave business reviews on a mobile device:
Open up the Google Maps app on the smartphone.
Type the business's name into the search bar.
Next, click on it to open up the Google Business profile
Choose the option to "Write a Review."
Fill out the necessary details, including the star ratings.
Lastly, hit "Publish."
The Google review usually takes an hour or two to go live. However, in some cases, the Google review never shows or disappears. If that happens, the online reviewer may have inadvertently breached Google's Content Review Policy.
Related reading: Where have my Google reviews gone?
How to Edit a Google Review
Can you edit a Google review? Yes, that is possible. However, only the person who wrote the review can make edits. Unfortunately, business owners cannot edit a bad review or alter the content in reviews.
How to Delete a Google Review
You can delete a Google review to remove it from a business's online profile. However, like editing review content, only the reviewer can delete a review. This can be why business owners notice that a review has disappeared.
What can you do if a customer writes a fake review? First, it's crucial to reply to the review politely and calmly. You should also flag suspected fake reviews for Google to delete them.
The Rules When Posting a Google Review
Writing a great Google review is easy—as long as the reviewer follows Google's review content policy. So what are the rules regarding writing a Google review? Here are a few highlights:
Customer feedback must reflect their experience of the product or standard of service.
Reviews cannot contain content that contains prohibited and restricted content.
Customer reviews cannot be copied from other websites, even if the reviewer wrote those reviews.
There should be no conflict of interest. For example, current or former employees cannot write reviews.
The review should not contain links to products or competitors' websites.
Google reviews are important in helping customers make informed decisions about businesses they may want to support. Therefore, for customer reviews to be useful, they must follow Google's guidelines.
Why Use Starloop to Get More Google Reviews
Do you want to get more online for free? If so, you should sign up for Starloop's free 14-day trial. Starloop is a review management platform that helps businesses get more Google reviews. The review software works in five easy steps:
A review request is automatically sent to customers.
The SMS or email contains a review link so the customer can easily write an online review.
You receive notifications of all new reviews, allowing you to respond immediately to customer feedback.
Starloop offers to plant a tree for every review to encourage more of your customers to write reviews.
Two or three reminders are sent to customers to help your business get more Google reviews.
Getting more Google reviews can be a time-consuming task. Thankfully, you can use review management software such as Starloop to simplify the process and get more positive reviews.
Does Starloop work? Why not check out real results from what our members are saying?
Starloop is free to use for 14 days. After that, if you decide the review management software meets your expectations, you can sign up for a pricing plan that suits your budget and goals. But don't worry—you are not connected to any long-term contract and can cancel anytime.
So why not take advantage of this great tool and start getting more Google reviews today?