Before buying a product or using a service, there is a 90% chance a future customer will research your company before making a purchase decision. This sobering fact shows how important it is for your business to get more Google online reviews. Your customers want to share opinions of their experience, and potential customers want to read them. Google reviews are the new power behind a business, and therefore, getting more is crucial.
What Is a Google My Business Review?
A Google My Business (GMB) review is an online published opinion from a genuine customer. The review isn't necessarily limited to the product or service but can be about all aspects of the entire customer experience, from the location to the delivery. As a result, Google reviews provide a business with credibility—and for free.
Related reading: How to optimize Google My Business to get more customer reviews.
The Importance of Reviews in Google My Business
Google is by far the most popular search engine in the world, with other search engines lagging far behind. A consumer's first stop when researching any product or service will be Google. In the first place, what customers read about your business will influence their decision. 40% of people will decide about a company based on one to three reviews. 45% of people will change their minds based on something they discover about a business.
What is equally important is the visibility that positive reviews give your business. Google uses intelligent algorithms that scan through reviews, picking up keywords and positive and negative feedback. Based on these reviews, Google will reward those offering excellent service and place them higher on the search engine rankings. You will know from your own Google searches that you rarely pass onto the second page or even "below the fold."
The more positive customer feedback your GMB account has, the more keywords Google can detect and the greater your chance of coming up in those coveted first results. So, naturally, this leads to more web traffic and an increase in sales.
Negative reviews from unhappy customers can have a huge impact on your business. But a poor customer experience can also be a source of valuable information. You can learn where to make improvements and even read suggestions for new products and services by giving your customers a voice. In addition, by providing excellent customer service, you increase your chances of getting more positive feedback online and building customer trust.
Finally, because Google reviews are a free service, a business can save a fortune on advertising. Happy, loyal customers are doing this for you, boosting your online reputation with social proof.
9 Simple Steps to Get More Business Reviews on Google
Google reviews may come in at a trickle without much effort from you. Still, considering their importance, it is crucial to make every effort to lots of reviews. Did you know that 85% of consumers find reviews over three months old irrelevant?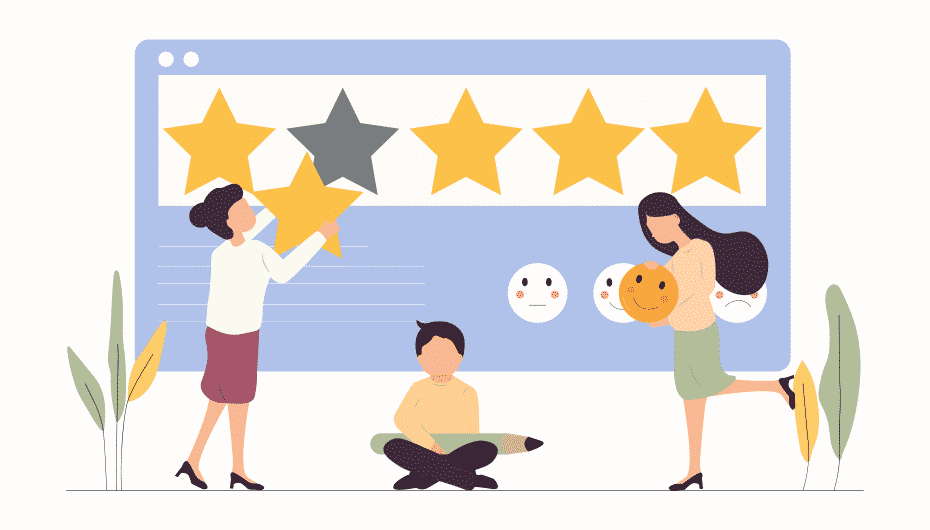 1. Update your Google My Business Profile
If your business profile isn't up to date, people won't be able to leave their reviews. Double-check that your contact details, opening hours, and pricing information are current. Find your business on the map, give the icon a wiggle and make sure the icon falls back in the correct position. If a GMB has no activity in six months, the account will become inactive.
2. Reply to all your reviews
Google recommends replying to all views to build trust. Customers like to know that their opinions are valued. Taking the time to respond to all reviews shows potential customers that you care, and this offers peace of mind when they make a purchase. In addition, when you reply to every review, people are more likely to share their feedback online because they want to be a part of that special attention.
Related reading: Examples of review responses.
3. Ask your customers for a review
Asking customers for a review is simple and effective but often hard to do. But, as the adage goes: "if you don't ask, you won't get." The good news is that there are multiple ways to send requests for reviews.
If you feel uncomfortable asking customers for reviews, ask for feedback instead. It takes the pressure off you and the customer. Other ways to ask for a review include sending an SMS message, a simple email, or thank you note with deliveries. Also, have a direct link on your website for customers to access your review site.
4. Send review reminders
Consumers are used to receiving two or three reminders, so there is no need to feel invasive. The fact is customers are busy people, and many simply forget. An SMS or email is often enough to jog their memory.
SMS and emails are the best methods for reminders because people tend to check their phones when they have spare time. However, make three reminders your limit. You don't want a bombardment of reminders to lead to a negative review.
5. Keep the review process simple
Ideally, the link or QR code should take a customer straight to your review site. All they should have to do is click on the review star rating and write their comments. If you make the process too long, they will stop halfway through, and you have missed out.
6. Include your review link on social media sites
Many social media and online review sites include the option to leave a review. Still, as Google is the most popular search engine, it is best to encourage customers to leave reviews on Google. Businesses aren't allowed duplicate reviews on different sites. So, a link to Google reviews on social media pages prevents this problem.
7. Know Google's review policy
This may seem out of your control, but educating customers on what can't go in a Google review is vital.
For example, customers cannot post content that would be offensive to readers, whether that is racial hate speech, sexually explicit content, or comments about minorities. Likewise, any illegal content, URLs, or off-topic reviews won't be published. It might seem harmless, but even an offensive emoji could go against Google's policies.
8. Be careful how you ask for reviews
If you send out bulk reviews, you risk triggering Google's spam detectors. Also, suppose people leave a review from your location. In that case, it may not appear because Google doesn't allow reviews to come from the same IP address. This could be one reason why your online reviews aren't showing up.
9. Never pay for reviews
Paying for reviews or offering unethical incentives may seem like the easiest way to get more Google reviews, but Google frowns upon this. As a result, Google could block your entire GMB profile, which will severely affect your online reputation.
Why Use Starloop to Get More Google Reviews
The review management process can be highly time-consuming, and this is the time every business owner could put to better use. Because you can't ignore review management, using software like Starloop to automate processes and strengthen your marketing efforts makes sense.
Starloop is a user-friendly review management software that allows you to monitor reviews from both Google and Facebook in one unified inbox. After just a few minutes to set up your account, you will be able to see the customer details, star ratings, and the review. Notifications of new reviews mean you can reply faster. You can also take advantage of email support, reputation monitoring, and reports from the dashboard.
There are three price packages with Starloop for $47, $97, or $194 per month, depending on the number of review invitations you want to send. Starloop stands out from all other review management software because of the pledge to plant a tree for every review.
This is the most ethical way of getting more reviews. Customers are encouraged to leave reviews because they know they are helping the planet and supporting a green company.