Every real estate business can benefit from getting more online reviews. It may be that you only associate online reviews with buying items online, choosing a local restaurant, or booking a hotel. However, online Google reviews can boost your real estate business brand. The success of your real estate company depends on getting online reviews as much as any other business.
Did you know that 97 percent of consumers check out online reviews when deciding which local services to use? That fact includes real estate companies in your area. It's essential for real estate agents to invest time and resources into their online reputation.
Why are online reviews for your real estate business so vital? Think about it—buying a home is probably the most expensive investment a person will make. Before deciding on which real estate agent to use, house buyers or sellers will consult online reviews. They actively scan review sites for real estate agencies with the most four- or five-star reviews and a ton of positive comments. Savvy consumers realize the need to choose a real estate agent with a good reputation when it comes to buying or selling a home.
Related reading: Why you don't always need 5-star reviews.
The Benefits of Online Reviews for Your Real Estate Business
1. Online reviews generate more business
Consumers in the real estate market check out what others are saying about real estate agencies. Statistics show that people need to read at least 40 online reviews before they believe the star rating. Another study revealed that reviews can increase conversion rates for high-priced products by a massive 380%. That's not surprising—before anyone parts with a lot of cash, they need to trust who they're doing business with.
2. Responding to your reviews instills confidence
There are two reasons to respond to all of your reviews:
You improve customer satisfaction because clients feel you care about them.
People looking for a real estate agent see that your customers and their opinions are important to you.
You need to be very diligent and respond to every review—the good and the bad. Responding to positive reviews makes a client feel special, and they will be more likely to recommend your business. Knowing how to respond to negative reviews can help to resolve issues. You also show potential clients that you are on top of every aspect of your business.
If you're worried about negative reviews, check out this article on how to respond to fake Google reviews.
3. Monitoring online reviews lets you see which directories are reaching the best audience
Google My Business is a logical start for all businesses, as is Facebook because of the massive audience that you can reach. There are also specific real estate directories such as Zillow and Trulia that can increase your client database. It's necessary to get a good number of reviews on lots of different review sites. This way, you will help make your real estate business more successful.
4. Reviews boost your SEO ranking
Online real estate reviews contain keywords and phrases specific to your industry. Google's search engine algorithms pick these up. Suppose you're getting many new positive reviews, and you have at least a 4-star rating. In that case, you'll find that your business starts beating your competitors in the local search results.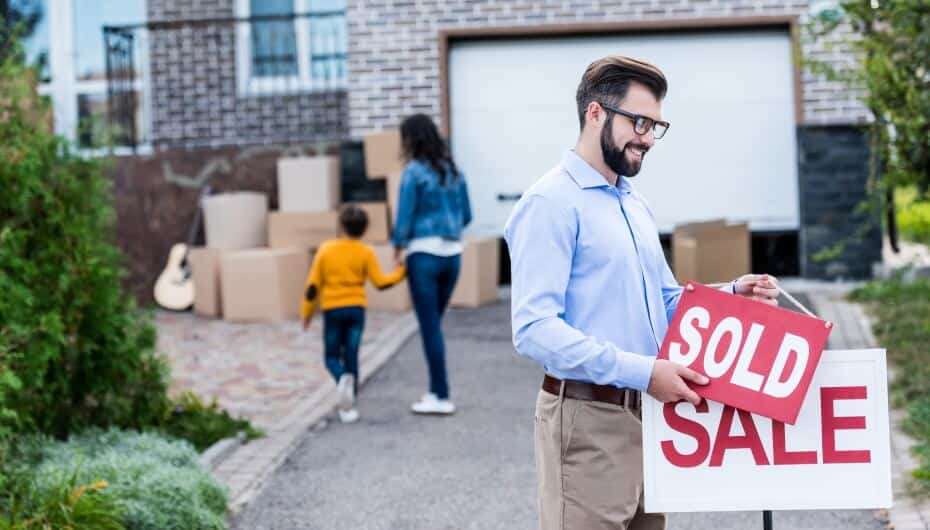 How to Get More Online Reviews for Your Real Estate Business
There is the right way to ask for online reviews, and there is also a wrong way—so much so that it can backfire on you. Let's take a quick look at how not to ask for reviews in the real estate industry.
All the major review sites have strict guidelines on the content of reviews. Reviews don't show up if they advertise other services or contain any content that will offend or upset others. Online reviews can't be biased. So even if you genuinely sell your sister's home, she may not be able to leave a review because it is considered a conflict of interest. And the same goes for you or your employees leaving reviews about your business.
Some might think about offering incentives for reviews. But this is seen influencing a client's opinions. You may even be tempted to pay for Google reviews—something we strongly advise against. Paying for reviews only undermines your reputation and puts you at risk of a Google penalty.
Here are five things you can do to get more reviews for your real estate business the right way:
1. Ask for reviews
You might feel that asking for reviews is bold and presumptuous. However, our experience is that most happy clients are willing to leave a review if you ask them. So, once you've completed the deal, all you have to do is invite your client to leave feedback on their experience. You can ask by sending an email or in person.
2. Let clients know that reviews are important to you
Clients don't realize how critical reviews are to your real estate business. If you explain to your clients that their feedback helps you improve your service, they are more likely to leave a review. You can let clients know this when the sale is closed and happy with your service. Again, this is a great time to remind clients to leave a review.
3. Don't be scared to send a gentle reminder
Moving to a new house is a huge job. And with everything else going on, it's expected that your client forgets to write a great review for you. It's OK to wait for a couple of weeks to let them settle in their new home. Then you can send an email to check everything is OK—and ask if they managed to leave a review.
4. Make it easy for clients to leave reviews
Get more reviews for your real estate business by making it straightforward for your clients to leave feedback. The only downside to real estate websites is that you often need an account to leave a review. Not everyone will want to go through this process, despite how excellent your service was. All you need is to provide them with a link to your Google My Business profile.
For example, in a reminder email, you could provide an easy link where they can leave a Google review. Also, you could provide links to your review sites and include them in emails and newsletters. Or you could even leave a thank you card in the new home to welcome the homeowners and give them the link. QR codes are also an easy way for clients to use their smartphone to access your review sites.
5. Use Real Estate Review Management Platforms
You can't leave it to chance if you want to get a nice consistent flow of positive reviews. However, asking for reviews and sending reminders can be a very time-consuming process and leaves room for errors.
Using an online review management system such as Starloop is the best way to get more reviews for your real estate business. Starloop sends automated review reminders and links that take clients directly to your review site. All you need to do is enter your client's email address and wait for reviews to come.
As an ethical incentive for your clients to leave a review, we plant one tree for every review you receive. Not only do your customers feel good about doing something for the planet, but your reputation also gets a boost with every positive review.
With our review management software, you receive notifications on every new review. This gives you a chance to respond to every type of review appropriately.
If you're interested to see how Starloop can get you more reviews, click here to try our service for free. You will quickly see how online reviews are your biggest asset when it comes to your online reputation.