Your online reputation doesn't come about by accident. A company's reputation is the result of online reviews, word-of-mouth marketing, and what customers are saying about you. The key to local business success is to develop a robust reputation management plan. In the end, your products and services are only as good as customers—and potential customers—think they are.
The challenge for managing your business reputation is that—like it or not—people are talking about you. They are leaving online reviews, posting on social media, and telling their friends. The good news is that you can do a lot to influence how people think of your brand or company.
This article answers common questions regarding your online reputation and why you need to develop a plan to manage it.
What is Reputation Management?
In essence, reputation management is a strategy to control and improve how others perceive your brand. Several factors make up your online reputation, these are:
Your company's website and how professional it looks.
Blog posts you post on your website.
Review sites such as Google, where customers can leave feedback.
Social media posts that customers share.
How successful your competitors are.
It's clear from the above list that you have direct control over some aspects of reputation management. However, there are many factors that you can't control. A reputation management plan should involve strategies that aim to positively influence what consumers are saying about you. In many cases, this could be as simple as getting more online reviews.
The Importance of Reputation Management
Every business can benefit from having a reputation management plan in place. For example, if you search for your business name on Google, what kind of results come up? Chances are that your "Google My Business" profile appears. Here, people can see your overall star rating, and they just are one or two clicks away from reading reviews. Whatever appears on the first page of Google is the first impression that potential customers have about you.
Here are a few facts that the Spiegel Research Center published showing why it's crucial to manage your reputation.
People are more likely to purchase a product that has at least five reviews than if there are no reviews.
Consumers are suspicious of perfect five-star ratings. The optimal range for an average star rating is between 4.0 and 4.7.
Negative reviews can influence a consumer's perception of the brand if the business doesn't address the concerns. A study showed that responding to negative reviews can boost brand reputation.
What is Reputation Management Strategy?
Any type of reputation strategy is based on two fundamental principles:
Reputation monitoring—You need to know what consumers and competitors are saying about you online.
Responding to negative reviews—It's essential to respond to all reviews. However, it's vital to respond to negative reviews to maintain your brand's reputation.
Five Steps to Develop a Solid Reputation Management Plan
Let's look in more detail at strategies you should develop to manage your online reputation. These strategies are based on the two principles of reputation management—monitoring and responding.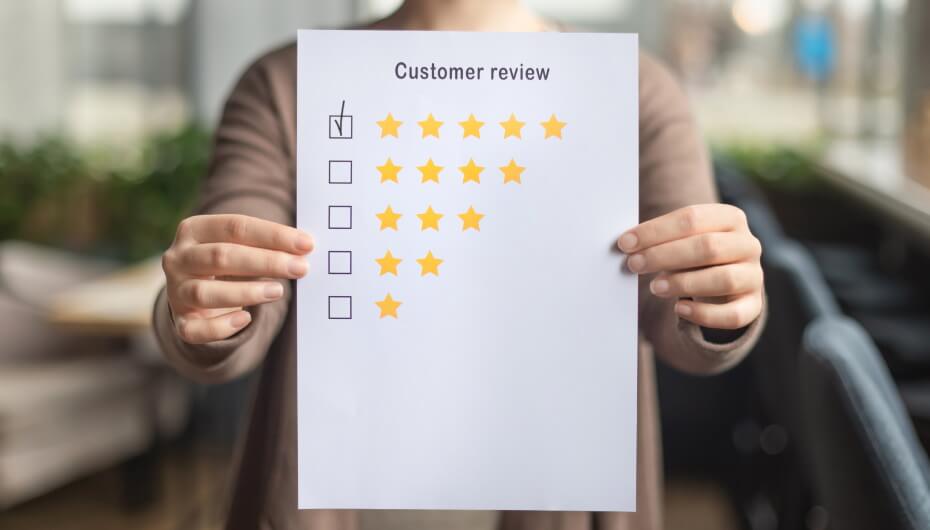 1. Monitor your reputation
The first step is to know what consumers are saying about you. So, you should be aware of where your customers are talking about you online. They could be leaving reviews on Google or Facebook. However, some could also use other review sites to leave their feedback. A solid strategy to monitor your reputation would be to identify the main channels where your customers leave reviews.
If you have a "bricks and mortar" location, then monitoring review sites is essential. For example, a study by BIA/Kelsey found that 97 percent of people read online reviews before visiting a local business. Another study found that consumers are also willing to spend 31 percent more on companies that have excellent reviews.
Reliable reputation management software can help monitor what people say about you online.
2. Develop a response plan
Now that you know what people are saying about you, the next step is to work at improving your online reputation. Responding to feedback shows consumers that you are listening to them and are interested in their needs. Coming up with a plan for responding to comments involves the following:
Monitoring reviews—Assign an employee to monitor review sites daily. This could be someone in charge of your social media accounts.
Appropriate responses—Next, come up with a template for responding to all comments and feedback. It is best to avoid standard generic responses and keep them polite and personal.
How to address issues—Decide on how to respond to any negative or critical feedback you receive.
Related reading: 5 reputation management mistakes to avoid at all costs.
3. Dealing with negative feedback
Even if your business provides stellar customer service, things can go wrong. There could be a mix-up with scheduling, broken items arriving, or it was just "one of those days." Maybe the customer was having a bad day. So, getting negative reviews is just a fact of life. As long as it is not only negative reviews you get, there is nothing to worry about.
However, there is a right way and a wrong way to address negative reviews. First, avoid the temptation to delete negative reviews. That is one of the worst mistakes to make—and one that could seriously damage your reputation.
The key to dealing with negative reviews is how you respond to them. Always respond to negative reviews in a polite, professional, and friendly manner. Remember—you are working on reputation management. Even if you feel the criticism is not warranted, others will read your response.  To help turn negative reviews to your advantage, this is what you should do:
Be understanding and polite—Whatever the reason for the complaint, the customer felt let down by the experience. You can briefly address the issue and mention what you are doing to avoid this happening again.
Respond quickly—Try to be quick when addressing negative feedback. If you can solve a customer's issues fast, they are more likely to change their opinion.
Take feedback on board—Maybe there is something to learn and improve on? Listening to customer feedback—positive and negative—is a way to improve your business to provide a better customer experience.
Take the conversation offline—If your first response doesn't satisfy a disgruntled customer, offer to discuss the matter in private.
Remember that a few negative reviews won't ruin your reputation. Businesses who use reputation management solutions to get more reviews find that getting the occasional one- or two-star review doesn't negatively impact their business. Getting one or two negative reviews is a way to show social proof—they add more legitimacy to your overall review score.
4. Get more reviews
Getting positive reviews is one of the best ways to improve your online reputation. Did you know that nearly 90 percent of consumers trust online reviews as much as personal recommendations? So, think about what getting more positive online reviews can do for your brand's reputation.
The reputation of any business benefits from more reviews. The best way to increase the number of reviews you get is to ask. All you need to do is invite customers to leave feedback. If you deliver an excellent customer experience, you can be confident of a positive review.
5. Other reputation management strategies
Apart from getting more reviews, what additional strategies can strengthen your brand's reputation? Here are a few practical ways to build up and maintain a positive reputation online:
Claim your business profile on all of the major review sites.
Blog regularly about industry-related topics.
Encourage customers to upload photos of how they are using your products.
Regularly post on social media and choose the platforms that your customers use.
Showcase customer testimonials to strengthen your reputation even more.
Reputation Management Strategies: A Takeaway
Your reputation can make or break your business. Investing in a reputation management strategy positively affects the perception consumers have of your brand. You are also in a better position to avoid any type of reputation crisis that could damage your business.
Getting reviews is one of the best ways to strengthen your business reputation. Starloop review management software is an excellent solution to get more online Google reviews. You can easily monitor and respond to reviews your customers leave. Our easy-to-use software takes five minutes to set up. And, before you know it, you will be getting lots of positive reviews from your satisfied customers.
Please contact a member of our team today to see how Starloop can help strengthen your online reputation.