Are you wondering why your Google reviews aren't showing up? There are several reasons why you can't find a specific online review. The reasons could be due to inaccuracies, duplicate listings, or policy breaches. In most cases, you can do something about it. You can also find out how to get more Google reviews.
It's frustrating when a Google review doesn't show up. You spend time and resources getting these essential Google business reviews. Your loyal customers have also dedicated their time to helping you. After all, positive customer reviews are something that your brand needs.
There are several reasons why you can't find a Google review. This could be because the customer has included something in breach of Google's review policies, duplicate content, or a fake review. Finally, it could be a genuine mistake that neither of you realized.
Also, disappearing Google reviews could be due to your Google account not being up to date or accurate. Both of which are simple fixes.
Why Do I Need Google Reviews to Show Up?
You need Google reviews to show up because they are a large part of your online reputation. Consumers no longer rely on company adverts. Instead, 84 percent of people trust customer reviews as much as their friends' opinions. Today, consumers want to hear about a business straight from the "horse's mouth"—people who have tried and tested the products and services.
When consumers read the honest opinions of customers—genuine reviews—they have more trust in the company. Furthermore, Google rewards you for positive reviews by placing you higher up on search engine results. Greater visibility leads to more traffic and an increase in revenue.
Reasons Why Google Reviews Don't Show Up—What to Do About It
Understanding why Google reviews don't show up is the first step to knowing what to do about it. But, first, have you asked customers for reviews? Getting feedback from clients is a great way to boost your online review profile.
Here are nine reasons why your Google reviews aren't showing up and simple steps to fix them.
1. Your customers have forgotten to leave a review
Despite eagerly saying yes when you asked them, a customer may have forgotten to leave a review on Google. After all, we're all busy. By sending a friendly email or SMS reminder with a link to your review site, you can remind customers to share their opinion. Of course, you must make the review request process easy for them.
It's common practice to send two or three reminders. If your customer doesn't leave a review after this, it is best not to persist as you might find they leave a negative review.
2. Google is processing the review
It can take up to seven days for a Google review to appear on your profile. Therefore, part of your review management strategy should be to check reviews daily so that you can keep an eye on the time passed.
If, after seven days, the review still hasn't appeared, contact the customer and double-check they sent it. Then, when you are sure, contact Google via your Google My Business account.
3. The Google review was flagged for prohibited or restricted content
Google's Prohibited and Restricted Content Policy is both detailed and strict. All reviews must be from genuine customers without fake content. For example, reviews with links are not acceptable. Additionally, a review can't contain contact information, promote illegal goods or services, or have promotional offers for unlawful products. Illegal content covers any images or text referring to criminal activities, terrorism, or child exploitation.
Google won't publish any user review with inappropriate content such as offensive language, images, or symbols. It also has a stringent policy on harassment, bullying, and hatred towards individuals or groups.
If your review doesn't show up, you could contact your customer. Kindly explain that reviews can't contain certain things. It might be something silly like a hashtag. Still, as hashtags are often used in URLs and personal information, Google algorithms may filter it. Kindly ask if they wouldn't mind double-checking and editing anything that goes against Google's policies. This way, you can help educate your customers on the form of feedback that's acceptable.
4. There has been suspicious review activity
Getting a flood of reviews at once could trigger Google's spam filters. This is because a sudden increase in reviews could mean that someone is paying for reviews. This is why it is best not to send out bulk invitations or reminders for reviews. Instead, make getting more genuine reviews a part of your regular review management strategy.
5. The review appears elsewhere online
It's fantastic that your customer is so happy that they have left positive feedback on various websites. However, each review has to be original, and duplicate listings are not allowed. Customers can't copy and paste their reviews from a different review site. It is worth mentioning this in your review invitations and reminder requests.
6. The Google review has been sent from your business location
A review station might be a good idea to help those who don't know how to leave a Google review. But the risk is that reviews will come from the same IP address as your business location. Google's concern is that you may be hovering over them or influencing what they say.
Or even worse, you could be getting your employees to positive online reviews.
A solution to this problem is to create a review link. This way, customers can easily use their device once away from your location. You can also generate a QR code that will help customers leave a review.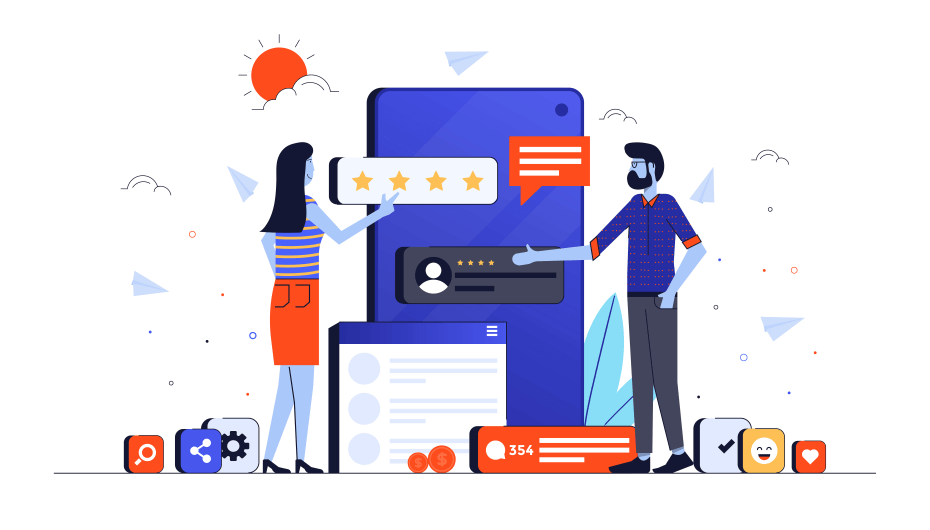 7. The customer has left reviews for various locations
If you have more than one location, a customer can only leave a review for the particular location. Feedback from a customer should be about their experience based on that place. Reviews for multiple locations might not appear on Google. So again, as keen as your customer is, remind them only to review the site they have visited.
8. Your business listing is not up to date
Duplicate business listings could stop reviews from showing up. For example, an incorrect listing on your Google My Business account could make reviews disappear. This can include things like contact details, opening hours, and photos.
Fill out as much as possible, and be sure to keep the information up to date. You can do this from the Info section on your GMB dashboard. While you are there, give the icon on the map a little wiggle and check it falls back into the correct place.
9. You have offered incentives for your reviews
Reviews won't show up if you are caught offering incentives for them. Google frowns upon this, and it's a breach of policy. However, there is a greater risk to your business. The Federal Trade Commission can fine business owners who buy fake reviews.
Incentives like discounts and free items influence the customer, and the review can reflect this. Rather than relying on incentives for reviews, make sure you provide the best product and customer service.
How to Get More Google Reviews to Show Up
If you want more Google reviews to show up, your business needs a steady stream of reviews. Getting lots of reviews also protects your business if the occasional review goes missing. Additionally, you protect your reputation from the damage that bogus reviews cause.
But considering the time and effort this takes, it makes sense to use review management software such as Starloop.
Starloop is one of the most user-friendly review management solutions available. After taking a few minutes to sign up, you have a visually appealing dashboard showing all your positive feedback from customers. You will also receive notifications of new reviews so that you can promptly reply.
Through Starloop review management software, you can send your customers review invitations via email or SMS. You can also take advantage of response management and negative feedback management.
There is no risk using Starloop because you can take advantage of a 14-day, no-obligation free trial. This allows you to explore all that Starloop has to offer. We are confident you will find Starloop excellent value for money. Prices start at $47 per month, regardless of the number of clients or locations you have.
And, to overcome the issue of unethical incentives, Starloop has a "plant-a-tree" promise. So for every review you receive, Starloop plants a tree. This ethical, Google-friendly incentive means that customers are happy to share their opinions, knowing they are helping the planet. At the same time, your business gets more Google reviews that show up.