Hearing what customers have to say about your business has proven to be a valuable tool for marketing strategies. Positive reviews help potential customers make their minds up on a purchase. However, all of the business reviews received on your Google Business Profile significantly impact local SEO search results. If you aren't sure what search engine optimization is or how valuable it is for your business, let's find out!
What Is Local SEO?
Local SEO, or local search engine optimization, is a ranking system that lists website results based on a customer's search query. The more relevant a business is for the customer, the higher the ranking.
Every time you type a phrase into a search engine, Google searches all the websites in the world. Google has a set of programs or algorithms called spiders to generate relevant results. These spiders 'crawl' websites looking for content and keywords and then categorizes websites into indexes. The search takes the user to a specific index based on the keywords in a phrase.
Local SEO uses a slightly different system and has grown in popularity since smartphones and mobile internet access. For example, imagine you are at work and want or order a take-out. Your Google search results come up with a list based on your local area and proximity to your location. If you repeat the same search query at home, you get a different set of business listings.
Spiders crawling and indexing keywords from websites are excellent for large and international businesses. However, for small businesses, local SEO is crucial. Small businesses can take advantage of appearing in Google's organic search and the unique algorithms used for local search rankings.
Related reading: How to improve local SEO rankings.
Reviews Are an Essential SEO Ranking Factor
Do Google reviews matter for SEO? Absolutely. Google determines local SEO rankings based on relevance, distance, and prominence. The first two are logical and perhaps out of your control. However, your business can dominate local SEO by increasing its authority. Reviews are one way to do this.
Any local business can build its authority by ensuring it gets plenty of reviews and its Google business profile is well-optimized. This way, algorithms used with Google's search engine scan the internet for information regarding your business. This could be links from other websites, articles you are mentioned in, and other directories. Another source of this is your reviews. The more reviews you have and the more positive customer reviews, the higher the ranking.
High ranking is essential for all businesses because it encourages more customers to your business, whether that is foot traffic or web traffic.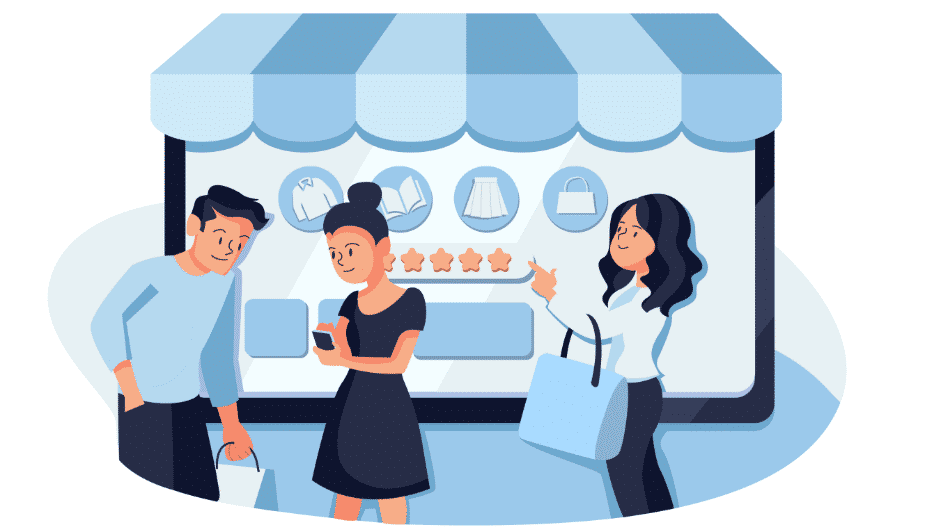 6 Facts About Google Reviews and SEO
1. Reviews add credibility to your business
Genuine customer reviews give credibility to a website, placing a website higher on the search engine results page (SERP). But customers also need this credibility. Future customers are more likely to believe reviews from customers who have used a product and left an honest opinion than they trust their friends.
2. Replying to your reviews shows dedication to the customer experience
Nobody likes receiving a negative review, but at the same time, they can be beneficial. Only having 5-star reviews on your profile can make potential customers think it's too good to be true. How you handle negative reviews shows future customers that you are committed to improving your service. Replying to positive and negative reviews also gives Google algorithms more content and keywords. They are a vital source of fresh content.
Related reading: Are 5-star reviews necessary?
3. Incomplete Google Business Profiles negatively impact local SEO
Formerly known as Google My Business, an incomplete Google Business Profile is extremely important for local SEO and customer trust. Not knowing accepted payment methods, opening hours, the physical address, or the facilities at your location could cause a customer to scroll down to the next business. Complete business profiles are seven times more likely to get clicks and generate more revenue. Make sure your business profile is up to date with as much information as possible. This includes checking your location is correct on Google Maps.
4. Images are necessary for local SEO rankings
Images give customers clear expectations and reduce their skepticism. The average number of photos for a complete Google business profile is 11, and including things like local landmarks can make your business a more significant part of the local community. In addition, images instill so much trust that you could raise your revenue per visitor by up to 17 percent.
5. It's not just the number of reviews
If you are wondering how many reviews is good for a business, the average is 39. But, once you have hit this number, you shouldn't take your foot off the gas. Those reading online reviews will generally consider a review over three months old irrelevant.
6. The use of "near me" is on the rise
More and more consumers conduct online searches on mobile devices using the "near me" phrase. In fact, the use of the "near me" searches has increased by around 200% in the last couple of years. This means 72 percent of users will visit a business within five miles. This is another excellent reason to ensure your business address and Google Maps location are updated.
Do I Need an SEO Expert?
An SEO expert isn't necessary, as many of the critical factors that will improve your business search engine rankings are things you can do yourself. However, a website expert may be more beneficial if you aren't a technical person.
In terms of websites and SEO rankings, your website needs to be secure and running at optimal levels. This includes page loading speeds, mobile friendliness, redirects, and error pages.
The content of your website will also impact your rankings. Google includes 'high EAT' as a significant influence on search rankings. Your site should be full of high-quality content focusing on Expertise, Authority, and Trustworthiness. Google won't point potential customers in your direction if the content is misleading or could be potentially harmful.
Other content that will factor into your rankings will be your keyword strategy. Keywords aren't always obvious, so it makes sense to use keyword research tools. Along with this, it is a good idea to have both inbound links and outbound links. Inbound links are those from other business websites that direct customers to your site. Outbound links are embedded in your website for other businesses. Inbound links give your website more authority.
Finally, if you don't have an online review strategy, your first task should be to start here.
How Do You Get More Customers to Give You Google Reviews?
To get more genuine and positive ratings, review management software like Starloop makes easy work of your online review strategy. Starloop sends friendly review invitations for your customers to leave reviews on either Google or Facebook. The link takes the customer straight to the review site, keeping it simple and more likely for them to leave a review. You can also take advantage of reputation monitoring and review reporting from a straightforward dashboard.
What sets Starloop apart from the competition? Aside from the affordability of the four pricing packages is the company's promise to plant a tree for every review. This is all the motivation a customer needs to leave a review, knowing their review will help the planet.
Starloop has a 14-day free trial with no lengthy contract or setup fees. This gives you the perfect opportunity to see how effective Starloop can help your business increase the customer experience, boost the number of positive reviews, and, essentially, your local SEO ranking.
Why not sign up for Starloop today because you have nothing to lose? You will see how Starloop can help boost the number of quality reviews you can get from your valued customers.