Undoubtedly, Google is the most popular search engine in the world. With 90 percent of the population only clicking on search results on the first page, your Google reviews are more vital than ever. But are you lagging behind the competition and asking yourself, "How do I get more genuine Google reviews?" look no further.
This article explains nine easy ways how business owners can get more authentic reviews from genuine customers on your Google business profile.
9 Ways to Get Genuine Google Reviews
Your business needs genuine Google reviews for credibility, higher SEO rankings, and greater revenue. Considering a Google Business Profile (previously Google My Business) is an effective form of free marketing, customer feedback via Google should be every company owner's priority.
Here are nine ways to ensure your online reviews add to your positive online reputation.
1. Ensure your Google Business Profile is current
The first step to getting more reviews is to ensure every detail on your Google Business Profile is accurate and relevant. This should include information like email addresses, opening hours, physical location, images, and other information. It's important to note that a Google Business profile with photos receives more clicks, so be sure to add quality photos of your location and services. Check the marker on your Google Maps to ensure this is correct.
2. Create a review link to make the process easy for customers
Customers are busy people, and a long or complicated review process will put people off. Therefore, you should make the review process as straightforward as possible.
From the Home tab of your GBP page, there is a section called 'Get your first review.' By following the steps, you can create a review link that will take customers straight to your online business reviews. It's worthwhile using a third-party site like bit.ly to shorten your code.
3. Dedicate a page on your website for reviews
Genuine Google reviews won't only come from one source. Adding a review page to your website has three benefits. First of all, you can display some of your great reviews for potential customers to see. Secondly, you can use this page as an additional source of reviews by adding a 'click to leave a review' button. Finally, customer reviews will also give you regular fresh content, which will help boost rankings in the search engine page results.
Finally, sharing reviews on your website increases keywords for Google to detect and place your business higher on the search rankings. In addition, you can use the Call To Action on your review page and add to the footer of your website.
4. Send email and SMS invitations
SMS and email invitations are convenient for customers. They are gentle reminders with a link included to keep the review process simple for them. Email and SMS reminders have a high success rate because people tend to check their messages when they have spare time. In addition, you increase the chance of receiving Google reviews by letting the customer know that sharing their experience will only take a couple of minutes.
In addition, you also help loyal customers to leave reviews in case they forget.
5. Don't forget hard copies
In a digital world, we forget that not everyone wants to click on a link, and not everyone checks their emails and messages. So include steps to leave a review in thank you notes and on business cards, even newsletters or catalogs you print. You can include the review link or add a Google QR code to increase the number of reviews you get.
6. Send follow-up emails and messages
The general rule of thumb is to send up to three follow-up emails or messages to remind customers. A good review strategy will enable you to track which customers have received follow-up emails and how many. Once you have asked for a review three times, don't push it. You don't want to risk negative reviews because of over-persistence.
7. Respond to all reviews
Google's support on how to get more genuine reviews states to value all reviews and reply to reviews to build customer trust. This means responding to all reviews —negative reviews as well as positive reviews. In fact, by carefully wording a reply to bad reviews, you are demonstrating your phenomenal customer service by showing others that all consumer feedback is valued. You have the opportunity to turn an average rating into a 5-star rating. When customers see that you reply to all reviews, they are more inclined to leave their reviews too.
8. Ask customers for reviews
For some reason, many business owners think they are asking for a massive favor when they ask for a review. True, it requires a couple extra minutes of your customer's time, but you have earned this. Customer satisfaction is often at its highest during personal contact or the point of sale. This is the optimal moment to ask for a review. In most cases, the best way is to invite the customer to leave feedback or inform them that you value their opinion.
9. Introduce customers to Google Opinion Rewards
Google Opinion Rewards is an app available on the App store and Google Play. Customers can complete short surveys and share their opinions. In return, they can earn credit with either Google Play or PayPal.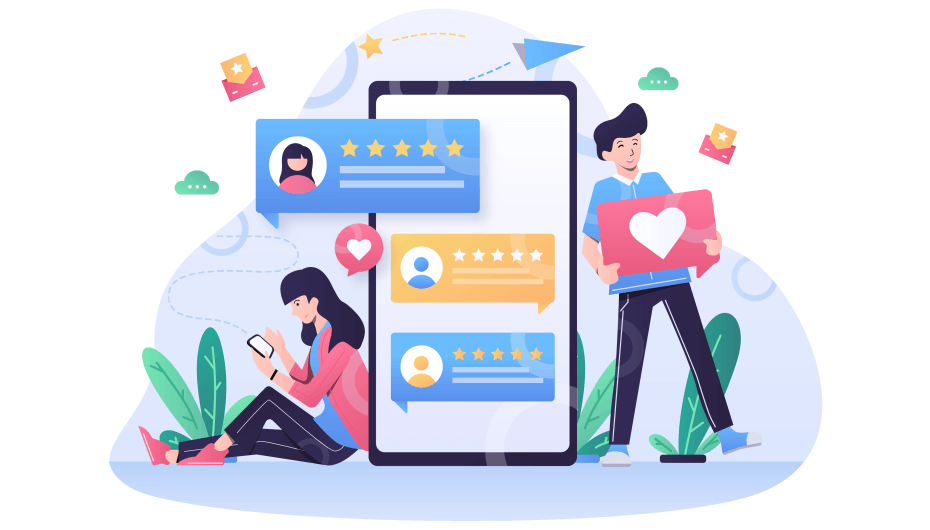 What to Do About Fake Google Reviews
How can you tell if reviews are fake? First, identifying fraudulent reviews is vital because they can severely impact your business's online reputation. In many cases, Google's automatic spam detection filters block fake reviews from websites. However, if fake reviews sneak through, you should address them appropriately.
Fake reviews may be genuine customer reviews, but the customer has made a mistake with the business or even the product. Other fake reviews come from competitors or gruntled ex-employees. Either way, they can tank your star ratings and put future customers off. That is income you can't afford to lose.
Google has spam detectors that should stop fake reviews, but it is still possible that some fake reviews will slip through. Here is how to spot a fake Google review:
The review lacks detail: Fake reviews typically lack detail because the reviewer has no genuine experience of the business.
The reviewer profile is lacking: By clicking on a Google reviewer, you can see what other reviews have been left. If they are all negative, this is a red flag. Also, if there is little detail in their profile, it could be fake.
Check the language: A lot of verbs and few nouns is an attempt to make a review sound more convincing, but a genuine review uses nouns to describe experiences. If the review is full of grammatical mistakes, this could be a company outsourced from a non-English speaking country.
Check your records: The review can't be genuine if the customer's name and date don't match your records. The same can be said if the review date was before the product release.
If you suspect a fake review, you should use your Google Business Profile to search for the review and click on the three horizontal dots to flag the review.
Related reading: How to flag a fake review.
Should You Buy Google Reviews?
The bizarre thing is that you can type into Google "Can I buy good reviews?" and several feasible options pop up. But there are many reasons why you shouldn't buy Google reviews.
A flood of new reviews will trigger Google's spam detectors, and the reviews won't appear. This is why you must be careful with email campaigns and sending out mass invitations at once. If Google catches you buying positive reviews, you can find your business in hot water. Google may completely remove your business listing. If customers and potential customers discover what you have done, your reputation will be seriously damaged. Furthermore, you risk being fined by the Federal Trade Commission.
Discounts, gift cards, and other incentives for reviews are also highly frowned upon. Incentives can be seen as a way of persuading customers to leave positive reviews. Google has strict policies to ensure only real customer experiences are found via Google Search and Maps.
How Do I Get Genuine Google Reviews?
A complete review strategy for any company is going to be time-consuming. Each step, from asking for reviews to replying to all of them, is crucial. Starloop can help save you time and ensure you have a steady stream of new Google reviews.
Starloop is a review management software with a simple, user-friendly dashboard with all your Facebook and Google review information. With review reporting and reputation monitoring, you can keep track of your review statistics and protect your online reputation.
Starloop has removed the need for meaningless incentives. Instead, Starloops plants a tree for every review left. This genuine motivation encourages many of your happy customers to share their feedback. As a result, many Starloop members report that they see a steady increase in new customer reviews. What's more, there is a 14-day free trial for you to start getting real results straight away.