Online reviews are a powerful tool to influence consumer buying. So, it may seem tempting to buy positive reviews to boost your Google Business Profile and online reputation. But before buying Google reviews, it's essential to understand the potential consequences and ethical implications of buying Google reviews.
This article answers the question: "Should you buy Google reviews to increase online sales?" Please read on to find the answer.
How to Buy Google Reviews
Businesses can buy reviews by searching for "the best sites to buy Google reviews." For a fee, various service providers offer review packages of positive reviews on several review platforms. However, just because it's possible to buy Google reviews doesn't mean you should.
Unfortunately, buying reviews goes against Google's policy, as reviews must be authentic and reflect genuine customer experiences.
Why Buy Google Reviews?
A business may resort to buying fake Google reviews to try and stand out from the competition. Positive reviews can generate trust and provide social proof. These reviews can make a business appear more reputable and reliable. This can help potential clients make purchase decisions.
While getting more reviews can drive sales and increase your customer base in the short term, it can negatively impact your success.
Should You Buy Google Reviews?
Buying Google reviews may seem like a quick fix to boost your business's online credibility. But the risks and consequences far outweigh the potential benefits. For example, buying Google reviews is unethical and against Google's strict policies.
Also, buying false reviews is not a sustainable strategy. Google has spam detection algorithms that detect fraudulent reviews and takes action to remove them.
Instead, your businesses should focus on getting real reviews from genuine customers. For example, it may be enough to encourage your customers to leave feedback on review sites like Google, Facebook, Yelp, and Trustpilot.
Is Buying Google Reviews Legal?
Buying Google reviews is not only unethical, but it is also illegal. The Federal Trade Commission (FTC) reports that it actively pursues businesses that purchase fraudulent reviews to boost their online line reputation. Several companies have faced hefty fines of millions of dollars for buying four and five-star reviews.
Why Buying Google Reviews is a Bad Idea?
Buying Google business reviews can have detrimental consequences for your business. First, it can seriously harm your online reputation. Fake customer reviews undermine the trust and credibility of your business. After all, if a business must resort to deceptive practices to boost its reputation, what other shady deals does it do?
Therefore, buying reviews damages customer trust. When consumers discover that a business has resorted to purchasing reviews, they question the integrity and authenticity of the entire customer experience. This can lead to losing trust and deter potential customers from doing business with you.
Moreover, review content is often low-quality and generic feedback and doesn't provide any useful information for customers. And most customers can spot fake 5-star reviews. Typically, phony reviews lack the depth and authenticity of real customer experiences. Therefore, rather than boost your reputation, fake reviews risk damaging it.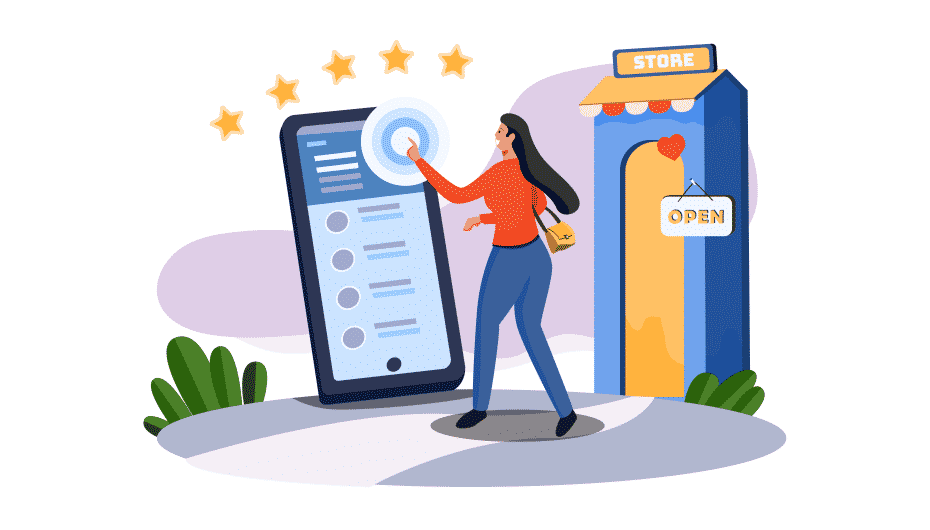 Five Ways Buying Google Reviews Harms Your Business
Buying Google reviews can harm your business by damaging its credibility, suspending your Google Business account, and causing a loss of customer trust. In a worst-case scenario, you could also face a hefty fine from the FTC.
Let's look in detail at five ways non-legitimate reviews can damage your business.
1. Google removes fake reviews
Buying fake reviews is a false economy because, sooner or later, Google removes the reviews. Purchased reviews are fake reviews. Therefore, Google has the right to remove them. This happens because generic reviews, low-quality reviews, and phony 5-star Google reviews also damage Google's reputation.
Related reading: Where have my Google reviews gone?
2. SEO penalties
Google penalizes websites for purchasing bogus reviews. This can result in SEO penalties—the opposite of what you hoped to achieve. You may see that your website has lower search rankings, reduced visibility in search engines, and decreased organic traffic. Ultimately, lower search engine rankings mean attracting potential customers is difficult, impacting your bottom line.
3. Damage to your business reputation
If you want to build a strong reputation, buying fake reviews is the wrong strategy. Experts in reputation management say that fraudulent reviews erode trust and credibility. When exposed, it shows a lack of integrity, making customers question the authenticity of all reviews.
The damage to your business credibility can be costly. It can deter genuine customers from engaging with your business, harm brand image, and result in long-term reputation damage that's difficult to overcome.
4. Google can suspend your Google Business Profile
Think of what would happen to your business if you lost all your Google reviews in a day. Or if prospective clients couldn't find business reviews on Google Maps? This can happen if you buy spurious reviews.
Google can suspend your Google Business Profile for policy violations. Google uses sophisticated algorithms to identify suspicious activity. Once confirmed, they can suspend your profile, making it inaccessible to potential customers and potentially leading to a loss of credibility and trust in your business.
5. Consequences of legal action
Buying Google reviews can cost more than your reputation and lost income from a dwindling customer base. You face severe legal action if the Federal Trade Commission (FTC) decides to take action. And they are proposing to crack down even more on fake reviews.
For example, the FTC targets companies engaged in the following practices:
Obtaining fake customer testimonials and online reviews from people who don't exist
Buying positive or negative reviews
Writing misleading reviews for a business you own
Threatening anyone who writes a negative customer review
How to Earn Google Reviews Without Buying Them
The best way to get real customer feedback, influence purchasing decisions, and build customer trust is to have a review strategy. Your happy customers will be willing to share their opinions, knowing they will benefit your business. Remember, earning Google reviews is crucial for your business to establish a positive online reputation and attract potential customers.
Here is a list of ways to get genuine customer feedback from real people to boost your reputation online:
Be proactive and ask satisfied customers for reviews
Respond to all reviews—negative and positive reviews
Provide incentives to customers that don't violate Google's review policy
Ensure your service and products result in excellent customer experiences
Make the entire process of leaving reviews easy
Related reading: How to get Google reviews for free.
Use Starloop to Generate More Genuine Reviews
Do you want to get more honest reviews with 5-star ratings? If so, Starloop review management software is your answer.
Here are ways Starloop can help you get more high-quality reviews:
Send review requests to get feedback from customers
Offer Google-friendly incentives by planting trees in exchange for reviews
It integrates seamlessly with Google and Facebook
User-friendly dashboard to monitor and manage reviews
Review management for affordable prices
In conclusion, not only can buying Google reviews harm your SEO, reputation, and Google Business Profile, but you may also face legal action.
However, getting legit reviews is a vital digital marketing strategy. High-quality reviews increase online visibility and help potential clients make informed decisions. Actual reviews (real ones) are also the best strategy for building customer trust.
The best way to get real customer feedback is to provide excellent customer service, have a review strategy, and use review management software like Starloop.